A NEW DARK AGES
The Anti-Occult Campaign Explained
For the past few years I have persistently cajoled and browbeaten both individuals and leaders within occultism about the existence of an anti-occult campaign and their apathetic response to it. A few enlightened and visionary occultists were prepared to accept my prognosis and helped greatly in my campaign to mobilise the occult generally but so many others refused to act or even admit that a campaign existed that educating everyone became uphill work.

Some in fact actually mounted a reverse campaign to try and convince other occultists that the campaign was a figment of my paranoia. Due to the inaction and self-centeredness of such unworthy leaders (who seemed prepared to put more effort into disagreeing with me than protecting their freedom of belief) the anti-occultists succeeded in leaps and bounds during 1988/1989 in destroying the bridges that progressive occultists had been building towards the establishment and effectively ostracised the occult from general society yet again.

The fundamentalists achieved this simply by a three point formula which was superbly successful because MOST OCCULTISTS WERE COMPLICIT IN THEIR MANIPULATION. By conspiring with the media and using stereotyped terminology fundamentalists split occultism with the very same human prejudices that motivated the fundamentalists and in doing so divided and conquered easily. So much of what happened was allowed to happen because of the ignorance and magical immaturity of occultists themselves, many of whom are hamstrung by the same self-righteousness and lack of self-knowledge that besets the anti-occultists.

Instead of listening to my words and seeing the true intent behind the anti-occult campaign which is to suppress all beliefs which are not fundamentalist Christian in outlook, the Wiccans by and large fell in with the game-play and spent the whole time re-iterating that the campaign was against Satanism and stuck to their blind faith that the public would differentiate between a Pagan and a Satanist!

Beginner Occultists who had still not attached themsleves to a permanent path persuaded themselves that as they hadn't adopoted a title themselves they were outside the scope of the campaign and the 'Lovers of Light' (who consider that no genuine personal spiritual development is possible unless divinely inspired) continued their compulsive benignity as though the campaign was not their concern.

The result was a continual and growing success on behalf of the fundamentalists. Because of their very success the fundie anti-occult campaigners feel confident in now climbing out from behind their pretences and going public in a more bare-faced way. My public statement is to further warn occultism and occultists of the specific dangers which will be faced in the years ahead, to reveal that anti-occult campaigners are religious zealots who aspire to suppressing ALL aspects of occultism bit by bit and that ABSOLUTELY NO OCCULT INVOLVEMENT IS SAFE from their attentions.

What follows is perhaps the only complete overview of both the psychology and the politics of anti-occultism. IT IS TIME FOR YOU TO LEARN TO PROTECT YOUR FREEDOM OF BELIEF for if you do not then the bright optimism of the New Age which could have promised so much for humanity will be denuded very quickly to the moral level of the dirty mackintoshes and sex shops brigade where to expound your quite legal alternative beliefs in public could lead to social ridicule, deprivation of livelihood and disenfrahchisement within the local community.
WEAKENING OF ORTHODOXY:

The rise in fundamentalism is as a direct result of the weakening power of the orthodox churches and has had a remarkable and consistent growth curve over the past six years. So much so that in the last year both the ARchbishop of Canterbury and The Pope have, on behalf of their individual theocracies issued edicts warning their clergy and their congregations about the dangers of fundamentalism.

The numbers of fundamentalists rise in direct proportion to the losses of congregation at orthodox churches and this trend is set to continue. It is not a fad and Christian fundamentalism has a corpus of MILLIONS of converts throughout the western world. Currents of evolution are always detected by occultists first and then refracted throughout our society. The modern Magical Revival of Ancient Wisdom, Pantheistic cultures and Mystical knowledge has as its basic precept a recommencement of the will of the individual over their own destiny. This freedom from heirarchy and taboo released the same creativity and power within the Christian evangelical movement as it did within the occult movement. Our purpose as humans is to fulfill ourselves; their purpose as fundies is to fulfill their dogma and set themselves against all aspects of the New Age Movement which they fear will replace their theology if allowed to grow unchecked.

They do this not realising that we are ALL involved in the Human Condition and that repeating mediaeval witch-hunts would not improve our species one jot. Key fundamentalists evoke atavistic fears in themselves and others using stereotypes and projected unconscious fears which come from the deepest recesses of the human mind and which have been burned into our Christian based culture over hundreds and hundreds of years.

Instead of seeing clearly that these fears were originated by the Churches for political and theological reasons entirely inappropriate for our day and which largely involved archaic, immature, unevolved, self-interested projections of a racial or tribal nature these modern fundamentalists created an intellectual justification to explain why their world-view was being dismantled. The Satanic New Age Global Conspiracy Theory. Yes folks, it's largely a rehash of the biblical dictum that before the end of the world ensues, the devil will make one last stand to try to take over and that a symptom of this will be everything that Puritans hate.

THESE ARE THE LIES THAT ARE PEDDLED:

REACHOUT ATTACKS HINDUS: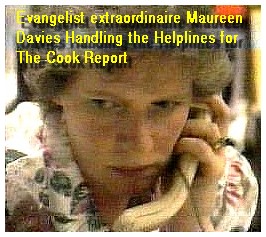 As the fundies become stronger they begin to show their hand more readily. In a tape recorded lecture about her visit to USA fundamentalists Maureen Davies attacks Hinduism. Accusing schools of promoting Witchcraft and Cannibalism to four year olds , in the same breath she goes on:
"They're not allowed to have Christianity, but they're bringing in Hinduism, reincarnation, all these things through their visualisation. ... And it is being brought in in a very subtle way. And then they'll bring in a Hindu to share and the whole lot. ...I think we need to realise how our education is being contaminated. "
Fundamentalist justification is not only very complex (blind 'em with science) it is also ultimately self-contradicting, weaving together subtle aspects from Facism, Zionism, Communism, Racism, Pantheism, Gnosticism, Rosicrucianism, Atheism, Agnosticism, Freemasonry, Paganism, Satanism, Abortion, Moonies, Theosophy, Rock Music, Pan-Global Papal Conspiracies, Jehovah's Witnesses and Mormonism etc but as each of these facets is normally presented detached from the rest the criticisms sound convincing to non-committed outsiders and are even entertained to logical argument by occultists who should know better. For example, veiled racism is behind fundie claims of Hinduism being a 'pagan' religion and worshipping 'demons' (see rightmost panel)

Often the exact arguments they use are circular and when traced to their logical conclusion in most instances actually end up condemning their own standpoint. E.G. In a psychological rating table designed to identify a misdirected loyalty within cults the higher the marks awarded to total and unquestioned obedience by a single authority the more condemnation is attached.

In short there is no logic in these arguments. They are designed solely to appeal to the insecurities of a particular social grouping in order to control the actions of that group.

For example, when converting liberals Facism is put on the agenda and all occultists are claimed to be Fascists, yet it is an undeniable fact that a majority of White Supremaists are fundamentalists and base their world-view on the supremacy of the White man.

When manipulating white working class folk the talk decends to Zionism and becomes anti-semitic, and so on. (see http://saff.nfshost.com/nwo.htm for full details)

Certain of these scares appeal across the spectrum and are most valuable to those who would wish to manipulate others. As almost all people end up having offspring the Satanic Child Sexual Abuse scare was really useful to the fundamentalists as we saw during 1988/9.

All such prosleytizing is based on the Occult Formula of Aquiescence. This basically says that all suggestions which are not instantly refuted by the conscious mind are immediately accepted by the subconscious mind as the logical truth. Whether you convert to becoming a Jehovah's Witness has more to do with whether you have exhausted your intellectual arguments than whether their assertions are real or make sense.
THIS IS WHERE IT ORIGINATED:

We should be careful of falling into the same Conspiracy Trap that the fundamentalists themselves develop. When victimised by circumstances which seem without our control Paranoia can too easily set in but then, Just because you are paranoid doesn't mean to say they aren't out to get you. But for what reason?

Most of the spiritual zombies who make up the rank-and-file of fundamentalism are manipulated by leaders and primed to do their work on the basis that their own philosophy or religious belief is under direct attack by a competing belief. But the psychology of their leaders is more temporal. Whatever altruistic aims a leader may have are outweighed by his/her necessity to get the job done. Whether the aim is to erradicate poverty in the third world or to chase a figment of their own imagination the POWER which is vested in them has to be used and it has to be seen to be used in order for it to continue to be awarded them.

The benefits of that power may be monetary gain, political clout, revenge, obsession, sex , exorcism of guilt, fame, noteriety, even more power or any of the thousand and one secret personal reasons which subconsciously motivate humans. This is classicaly illustrated in the current fundamentalist scenario by the involvement of Lyndon La Rouche who's organisation and platoons of 'LaRouchies' instrumentally aided and abetted the anti-occult campaign to the extent of printing the usual child-abuse lies in his Executive Inteligence Review magazine and New Federalist newspaper.

He hosted a conference on child-abuse and anti-occultism in Rome and has published and distributed British anti-occult literature in the U.S.A. LaRouche is now in prison for fraud but his actions still confuse analyses in the States. His mammoth multi-million dollar information retrieval organisational system was so well informed that even the CIA and Police used it to garner data on political intrigue and his organisation even met and advised the Whitehouse yet we know that he published and traded in barefaced lies.

Originally a darling of the left when he was anti-Facist and published condemnations of Nazi Philosophy, accusing others of being Right Wing Facists, he spent years working to confound extreme Right Wing groups liasing with Marxists and other left wing groups; only to switch from left to middle and then to the extreme right wing of politics latterly being involved in a Neo Facist Anti-Zionist White supremacy stance.

Observers have racked their brains to find some logical conspiratorial plan to all this but the simple answer is that La Rouche THRIVED on intrigue and power. Like Hitler he saw how easy it was to manipulate the masses by telling them what they wanted to hear and appeared to change his personal philosophy with the wind when necessary in order to keep that power and influence. A charysmatic person who found the secret key to becoming a leader of hundreds of thousands of 'LaRouchies' worldwide.

The La Rouche International Connection
On 19th January 1989 the Schiller Institute held an international conference in Rome about the then coming Hot topic; Satanic Ritual Child Abuse, which clearly set out the fraudulent claims about freemasonry and their supposed involvement in child abuse and white slavery as though fact.
"You will see. that it is a combination of Bolshevists, Communists, and liberal bankers in the West, and , which to some of you may come as a surprise, for others not, that actually Satanism as a political factor in world politics is part of the problem we are dealing with." (extract from opening speech by Helga La Rouche)
Over 300 delegates including key members of the British phalange of activist social workers who started the Satanic Ritual Child Abuse Myth in the U.K. went home to popularise the 'Freemasonic conspiracy'.
The Rome conference was a networking device designed to promote the NWO lie. It was hosted by Helga La Rouche the wife of disgraced CIA informant Lyndon La-Rouche who played off both left and right political factions in the 1980s with his 'Rouchies' (private network of information gathering and propaganda which greatly influenced the US. media).

Full story: http://saff.nfshost.com/norway.htm

If it hadn't been for the fraudulent funding of his empire LaRouche might even have become an influential politician in the U.S. system for his organisation had already fielded several SUCCESSFUL candidates in American politics.

The intellectual mind seems to want to enlarge all human activities and DEMANDS a conspiracy and the more complex the better. Such a simple answer as the one above defeats the 'logic' of their thinking yet it is the very same psychology, on a smaller scale, which epitomises the archetypal fundamentalist.

Historically all religions have involved political power to create and maintain their theocracies. Originally changes in religious perspective occured when a civilisation was conquered and a new order imposed. Realising the powerful control over the masses which is contcomitant with large-scale religion all Oligarchies relied upon their priesthood to enforce the status quo as an economical and effective method of imposing behaviour which supported their power structures.

Later, changes in political perspective occured in concert with and by agreement of the priesthood. The classic example of this responsibility and interplay of power structures occured during WWII when the Vatican provided an escape route for Jews and other refugees to flee Nazi occupied Europe whilst giving tacit approval to the Third Reich.

After the Germans were routed in the allied landings the Vatican in turn provide the same escape route to important Nazis whilst condemning the activities of the Third Reich. Tails we win; heads you lose.

Today things are different. The same diplomatic gobbledegook and hypocrisy exists but the technological revolution has broken the monopoly on informaton dispersal and distribution. Hence religious edicts now conflict with competing points of view and the cross pollination of information and factual data moves on apace with the Information Technology revolution. Now there is space for everyone to lodge their opinion and that results in schisms of thought and belief aplenty.

The well resourced fundamentalist operation kitted out with on-line computers can co-ordinate information and strategy and produce propgaganda which can influence the WORLD from a caucus of half a dozen part-time activists which would have previously only been possible with a permanent public relations office and a horde of full-time professionals.

In short the well-equipped fundamentalist group is more able to influence our society and individuals within it, than can the lumbering edifices of the orthodox churches - AND THEY ARE SUCCEEDING. Most of these fundamentalist organisations have a cell of perhaps half a dozen hard-working activists. It is an astounding fact that the whole of the child-abuse scare during 1989 which generated national headlines throughout the summer and autumn were all originated by less than a dozen fundamentalist activists.
THIS IS WHAT THEY PLAN FOR THE FUTURE;
THIS IS HOW IT WILL AFFECT YOU;
THIS IS WHY OUR SOCIETY WILL NOT DEFEND YOUR RIGHTS :

Unlike in the U.S.A. There is no British Constitution which safeguards the rights of religious minorities. The ability to exercise your religious belief is directly proportional to political power and wealth. Just as a poor person can be disadvantaged by a wealthy person so the rights of a religious minority is automatically usurped by an Establishment which has historically shared power and wealth between state, government and church. In such a society the structures for gaining justice and fairness are biased throughout based on a system of condicension.

The plain fact is that IN PRACTICE THERE IS NO STRUCTURE, LAW, VOLUNTARY DEVICE, OR DEMOCRATIC PROCES BY WHICH WE CAN EXERCISE OUR RIGHT TO FREEDOM OF BELIEF.

In THEORY there may seem to be but in practice we are denied them. I know this because I have tried every possible avenue personally and failed. The conclusion is that the State and the Establishment are disinterested in the fortunes of occultists and their freedom of belief; the media deal in stereotypes and will not release us from the ones projected onto us by the church; the fundamentalists prime aim is to identify and erradicate the source of evil in the world and due to their cultural and religious conditioning and their ignorance of metaphysical things do not doubt for one minute that evil resides in the practices of occultism whether that is Satanism or Russell Grant's syndicated Astrology Column.

THE CONFRONTATION BATTLE IS APOCHRYPHAL BUT IT HAS NEW PERSPECTIVES AND RAMIFICATIONS IN OUR TIME. The public and the Media instantly identify any Christian Ministry with GOODNESS, ALTRUISM, BENIGN AND HELPFUL ACTS TOWARDS HUMANITY; SOCIAL ACCEPTABILITY AND HONESTY.

In comparison the public and the Media instantly identify any aspect of the occult, supernatural or alternative philosophies as ANTI-SOCIAL, DEGRADING, CRIMINAL, ABNORMAL, VICIOUS, DANGEROUS AND MISGUID ED.

These untrue generalisations are the result of a thousand years of cultural sculpting, conditioning and propaganda which still has such a powerful influence upon the mind that even ardent occultists and leaders within occultism are susceptible to it. Occultists themselves will often immediately fall in with an illusory argument about good and evil, straightaway acknowledging that the fantastic allegations by the fundamentalists about satanists are true but that their brand of occultism is more wholesome.

They completely miss the point that in admitting that they are not satanists the value of their opinion on satanism is as valid as that of a Christian's about Paganism. Ignorant. Hence, by being diverted from the real issues into the historical arena set for them by the Christian Church it is clear that only fundamentalism and the media will ever benefit from the debate.

The formula serves only to perpetuate centuries old lies and blood libels. LOGICAL ARGUMENT AND FACTUAL INFORMATION IS IRELEVENT AND WILL NOT WORK IN THIS CONTEXT .

ARGUMENT AND DEBATE IN THE MEDIA IS A USELESS ENTERPRISE. During 1989 the British Press printed OVER 350 anti-occult articles without one shred of opposing views from the people they were accusing of the most dastardly crimes. Virtually all of these articles were spawned by activity from fundie agent-provocateurs and contained gross inaccuracies, mistruths, misrepresentations, part truths and downright lies - none of which were ever challenged by the great British Media.

THIS IS HOW YOU CAN ACT TO STOP THE SUPPRESSION OF YOUR BELIEFS.

This public statement invites leaders and interested individuals to put aside internicine rivalries and disagreements and combine within the auspices of the S.A.F.F. (which already holds a mammoth source of information on this campaign) enlarge the working fund and PREPARE THEMSELVES to stop the rot NOW by making other occultists aware of the dangers and by circumventing the strategy of the anti-occultists which always has been plainly obvious to anyone who cared to look.

I will be pleased to hear from anyone; individuals or groups and liase with them, donating all my research and resources to bring them up to date and accepting help, direction and their knowledge in order to get the job done.

Historically all religions have involved political power to create and maintain their theocracies. Originally changes in religious perspective occured when a civilisation was conquered and a new order imposed. Realising the powerful control over the masses which is contcomitant with large-scale religion all Oligarchies relied upon their priesthood to enforce the status quo as an economical and effective method of imposing behaviour which supported their power structures.

In applying their strategy so successfully against a common foe of their own invention the fundamentalists found that occultists were virtually defenceless and at their mercy. Occultists could not fight back through the media because the media is not there to report the Truth, but to entertain and increase their circulation in order to attract more advertising.

Occultists could not obtain redress through the courts because they were prejudiced against.

Occultists could not expect MPs to risk their majority by taking up individual or collective cases of prejudice.

Government turned a blind eye.

The Police, if called to a rumpus, would most likely arrest the occultist.

In my experience the police actually REFUSED to go and question local fundamentalists because they said they were 'upstanding members of the community' and beyond reproach.

Accordingly each and every success of the fundamentalist propaganda machine was a successful step up with no one else interested in balancing the issues.

Moreover autonomous fundamentalist groups found themselves plying the same fantasies as other fundamentalist groups and bumping into representatives of other groups like themselves when attending TV shows etc. Before long the cross pollination of information, ideas and strategy revealed their common purpose and whilst they might be competing against each other in the 'soul market' against a common foe they could unite gainst the common imagined enemy of the New Age.

They did so, forming the Evangelical Alliance and pooling funds and resources.

Now journalists and researchers were batted back and forth between respective members of the Evangelical Alliance, posing as the 'moderates' and bringing in the fundie religious extremists when necessary for the outrageous claims.

The EA produced more effective. concerted and pointed propganda and the drift was away from child-abuse and into the original aim of their involvement - to reverse the 1960s social revolution de-empower women and impose Puritan values on Britain.

Now the talk was not simply of crimes and Satanism and devil worship but of Wiccan and Paganism and of Halloween celebrations being sinister and evil and of the psychological damage of Heavy Metal Rock Music, and the pernicious nature and danger posed by Fantasy Gaming, Role Playing and Sexual 'excess'.

IN SHORT THE FUNDAMENTALIST PROPGANDA MACHINE HAD BEEN INVENTED, DEVELOPED AND REFINED ON THE TOPICAL AND EMOTIONAL SUBJECT OF SATANIC RITUAL CHILD ABUSE BUT HAS NOW BECOME ESTABLISHED AS A PAN-CHRISTIAN ACTIVIST LOBBY FULLY RESOURCED, FULLY FUNDED, FUELLED UP AND CONTINUING TO REFINE ITS STRATEGY AND FULFILL ITS FUNCTION. IT WILL NOT GO AWAY AND IT WILL HAVE TO BE COUNTERED IF OCCULTISTS AND OTHER FREE-THINKERS ARE TO REMAIN FREE TO PERSUE THEIR RELIGIOUS AND PHILOSOPHICAL BELIEFS.
(c) world coypright holder: The Sub-culture Alternatives Freedom Foundation (S.A.F.F.) Leeds, Yorkshire, U.K. November 2000

---