The Telegraph Sucks It Up

Witch to Stand as
Independent Candidate at
General Election

By Daily Telegraph Reporter Published: 7:30AM GMT 14 Jan 2010

Magus Lynius Shadee, who calls himself the King of All Witches, hopes to become Cambridge's next MP.

Mr Shadee initially planned to open an occult centre in the historic city - to the surprise of religious leaders - but now wants to focus his attentions on his candidacy and may open the centre as a campaign hub.

''I have withheld the opening of my occult centres and am focusing on the general election,'' said Mr Shadee.

''I shall hope to stand as an independent. My manifesto will be very straight forward, and if accepted, will change many directions for the better - for the human race.''

He added: "This is an opportunity to change people's lives for the better. I also hope to have candidates in six or seven other high-profile seats.

"I want to tackle the problems in education, health and crime and turn Britain into a truly secular society by banning faith schools and the teaching of religious education.

"I also want MPs' salaries to be like everyone else's. If they don't come to work, they don't get paid."

However, rival candidates say his "eccentric" views are unlikely to attract much support.

Daniel Zeichner, the Labour candidate, said: "General elections always throw up a mixture of the serious and more light-hearted, such as the Monster Raving Loony Party. "I don't think there will be many people sharing his views."

David Howarth, the city's Liberal Democrat MP, is standing down and the party has yet to select its candidate.

Nick Hillman, the Conservative candidate, said: "I have no truck with Mr Shadee's eccentric views but if he can persuade enough people to nominate him - and it's a big if - I look forward to campaigning against him." Source:

HUSSEY THE HOAXER
FOOLS
THE BRITISH MEDIA
YET AGAIN

Is this the World's Greatest
Occult Shamster?

Scottish local and national newspapers are picking up on a recent controversial story concerning one Daniel Hussey who has said he is to open occult shops in Glasgow and Edinburgh. There has been a typical response from the local fundies and a great deal of suppressive anti-occult propaganda has been produced. The anti-occult biased reporting has provoked many local occultists to defend Mr Hussey's right to open his shops and the controversy has escalated because of its Halloween topicality into an occultist-vs-Christian battle.

London based Mr Hussey, who may have also used the name Collins, worked out of a property in Lewisham High Street London under the title Church of Occult Science . He has pulled the 'I'm opening a chain of occult shops in your town' gimmick many times before in different locations throughout the U.K. usually at times which synchronise with 'sensitive' religious festivals (Christmas, Easter, Halloween). No shops have ever opened to our knowledge . Yet the ensuing controversy caused intolerance and conflict within the local community. Psychics and occultists are to be found afterwards dealing with the knock on effects of Mr Hussey's often provocative statements and sensationalism.

It is fair to say therefore that Mr Hussey's publicity stunts actually work in favour of the fundamentalists and against the interests of genuine occultism. When local churchmen are panicked into demanding that Hussey should be stopped, unwitting local occultists tend to rush to Mr Hussey's defence on these occasions assuming that his free-speech is being censored.

The antagonism this man has caused in some instances has to be seen to be believed. Headlines like:

" Occult leader in bid to sell black magic to children"

"Man who wants to introduce us to Satan"

"Man willing to peddle evil to children"

"City Battle Begins Over Satanism"

"Keep this Evil out"

"Satanists Power Bid"

"Church War on Satanic Plan" etc.

Hussey's activities inevitably rally local fundies who bring in the big national guns. In the case of the city of Lincoln and Gwent the Reachout Trust (the main Christian activist group which spearheaded the Satanic Ritual Child Abuse Myth in 1989-1994) was given a nice platform for their anti-occult propaganda.

Look at the trail of Hussey's stunts so far:
1981: Hussey opens THE OCCULT CENTRE
(not to be confused with The Occult Centre in Cracovia) at 110 Lewisham Way, London along with The Church of Occult Science. Applies for licence to hold 'occult weddings'. This, not so surprisingly, produces front page publicity for them. They also announced plans to open 14 other occult shops throughout the South East including Epsom. A Mr Collins of the Occult Centre, Lewisham Way, does all the talking.
10 March 1983:
Hussey is Agent for one Alan Baker, fringe candidate for The United Democratic Party in the Bermondsey by-election. United Democratic Party uses Lewisham Way address. Hussey also says he will stand for Greenwich Council by election and attempts to stand for local election in Hastings. The Media hype Hussey's Occult links. Hussey is quoted as saying that they have no such connections. Lewisham Way property turns out to be a rented third floor office over an undertakers now boarded up. The Occult Science sign is blotted out with paint. Daniel Hussey '& his twin brother Alan' also run The Church of Occult Science say the media. Hussey denied this accusing the reporter of being a communist agitator. Sometime later Hussey says he will stand as prospective member of the European Parliament too, but we have no evidence that he did. The Media cover all of this at face value.
APRIL 1989:
Hussey claims to be opening an Occult Society shop in Bath. Pages of local anti-occult sensationalism follow but no shop materialises.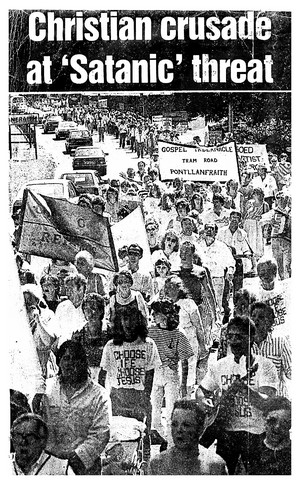 JULY 1989:
Hussey claims to be opening 13 occult centres around the country including one in Blackwood, Gwent. A massive protest march is organised by the fundie network in Wales involving over 1000 (one thousand) banner waving Christians objecting to the shop . Maureen Davies, leading director or the Christian Reachout Trust (and self-proclaimed specialist for them in Satanic Ritual Child Abuse) has input into the Gwent controversy and the publicity coincides with the broadcast of the infamous Cook Report special The Devil's Work. Yet no such occult centres are ever opened.
SEPTEMBER 1990:
Slight change of title. The Church of Occult Science has apparently become the Occult Centre Society and the spokesman is one David Collins who says he is opening a new shop in Lincoln just in time for,...wait for it...... Halloween! He will open 11 other branches elsewhere in the country he claims. Collins is quoted as saying that:
'children could be brought into dark rituals in covens... It has been known" he says.
But again no shop manifests. Remember that at this time the hysteria surrounding the Satanic Ritual Child Abuse Myth was at its height. That statement seems provocative now but at that time it was DYNAMITE. 'Collins' can hardly have been unaware of the scare.

The controversial Christian activist group The Reachout Trust is involved again, along with quotes and comments from the NSPCC who, though they often deny it today, were heavily involved in the promotion of the Satanic Ritual Child Abuse Myth during this period (see here). The local newspaper editor concludes
"We live in a free society but there must on occasions be limits to freedom. A member of the Occult Society admitted that the things they teach could be used for black magic and that children could be brought into dark rituals. Surely that risk alone is sufficient reason to keep practitioners of the occult at arm's length."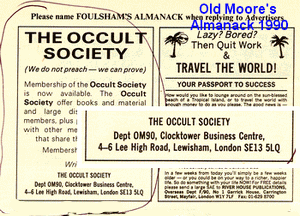 SEPTEMBER 1991:
A year later and claims that The Occult Centre is to open an occult shop occur again - this time in Bracknell during October in the lead up to ....wait for it... Halloween! This time we are told that this is one of TWELVE new shops planned for the area in the next year, including Reading. No shops ever materialise.
BACKGROUND:
Daniel Hussey's other interests apparently include the Clocktower Business Services. When traced to Lavidge Road Mottingham, Hussey is reported as saying that Lewisham Way was only an accommodation address and one of the clients was The Occult Society. He claims to be opening another branch in Toronto, Canada! Hussey also said he was to open a shop in Peterborough which never materialised. However we do have an address there which is connected with them. It was a terraced house at Ode Croft, Ravensthorpe, Peterborough PE3 7LX.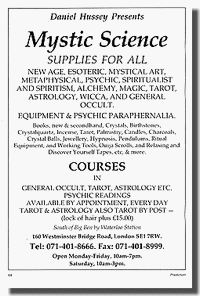 After a decade of failed shop openings Hussey actually succeeded in opening one in London during September 1991. It was at 160 Westminster Bridge Road, but this time called the Mystic Science and New Age Centre. Several full page advertisements appeared in the Astrology magazine Prediction' advertising occult courses and Tarot or Astrology readings. The shop had erratic opening hours, and went out of business within a few months.
Whatever Mr Hussey has in mind by his repetitive exaggerations and incitements it would appear to have little to do with the best benefit of the occult community because it has produced exactly the reverse effect. At one time we did consider the fact that the whole thing might be a fundie double-think but apparently not. It all seems to be a publicity stunt to bring his name and the name of his Occult Centre to the attention of dim-witted people who might be interested, despite the negative effect it has on the rest of us.
UDPATE: 04.12.91: THE MASTER HOAXER STRIKES AGAIN
SAFF forewarnings become prophecy as in 1991 Hussey, gets what is possibly his biggest run of publicity. We will not analyse all this coverage in detail - the headlines listed below will make their anti-occult content abundantly clear.

October 03 1991: DANGERS OF SATANIC PRACTICES (Woking Times)
October 03 1991: WEARSIDE'S BLACK MAGIC SHOP (Sunderland Echo)
October 10 1991: OCCULT CENTRE FOR BOLTON (Metro News)
October 10 1991: OCCULT SHOP PLAN BLASTED (Edinburgh Herald)
October 10 1991: BLACK MAGIC FOR SALE (East Grinstead Courier)
October 11 1991: BLACK MAGIC FOR SALE (Richmond & Twickenham Informer)
October 18 1991: SATANIST SHOP STORM HITS ABERYSTWITH (Cambrian News)
October 20 1991: FEARS OVER PLAN FOR DEVIL SHOP (West Country Sund. Indep.)
October 25 1991: PRAYERS FOR DARTMOUTH OVER OCCULT (Dartmouth Chronicle)
October 26 1991: OCCULT SHOPS? NOT IN OUR TOWN (Christian Herald)


November 13 1991: STORM OVER DEVIL SHOP PLAN (Luton News)
November 10 1991: DEVIL'S WORK IS A DANGER (Glaswegian)
November 22 1991: OUTRAGE AT OCCULT SHOP (Hertfordshire Mercury)
November 25 1991: PLANS TO OPEN OCCULT SHOP (Grimsby Evening Telegraph)
November 29 1991: BLACK MAGIC TEMPLE SHOCK (Grantham Journal)


Bear in mind that we will not have ALL the examples of his latest publicity stunts. There are bound to be localities which we have missed. If readers know of any we have missed and can fill in the gaps we would be happy to add them, simply email Tony Rhodes at the address given below. It may seem astonishing that Hussey can pull the wool over the eyes of the British Media time after time but he obviously knows how to present his claims in a way which the media just cannot resist.

The average person might wonder how so many supposedly intelligent reporters in so many supposedly responsible newspapers could fall for a transparent publicity gimmick of this kind. The answer illustrates a lot about the growing use of anti-occult xenophobia; how the method first gained momentum under the SRAM hysteria and how the untrue allegations have now (because they have been allowed to get away with it with impunity) been given a life of their own.

The Media realise that this type of controversy can last for weeks. The most cynical amongst them might smile to themselves knowing that three days after Hussey's claims are printed they will need to make space for a full page spread of Readers Letters where panicky residents give vent to their anxieties.

If they are really lucky some off-the-wall fundamentalist crusader will use Hussey's words as a cause celebre and make even more outrageous claims. Or perhaps some naive occultist will write a letter calling for 'fairness', 'Truth' or 'human rights'. Enabling the newspaper to push them into giving their point of view which will of course start the cycle off again.

In short the stunts appear to be a cynical Waltz between Hussey and the Media who, in order to get the story are willing to turn a blind eye to the fact that it is a dupe to gain free publicity by a person who appears adept in self-promotion.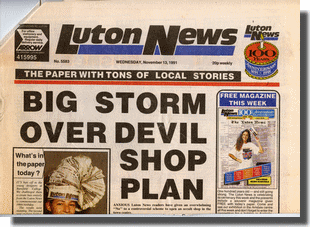 To give you an indication of the 'worth' of a controversy like this to the local press we reprint a boast by the Luton News which had carried details of claims Hussey made to open a shop there.
"It is the Greatest Number of Letters we have ever received on one subject..."
Yet it was just a publicity stunt!
This is why, even though the S.A.F.F. has alerted many, only two newspapers have bothered to print the real background to his sham and inform their readers properly. Hundreds of thousands of people in this country still think the controversy is real, just as they thought/think that Satanists murder, skin, microwave and eat babies... when these allegations were evil lies invented by fundamentalists to frighten the public into compliance with their sectarian wishes.
In one newspaper report Hussey claimed to be selling Satanic Bibles alongside the Christian's Bible putting them side by side with Ouija Boards. Hussey seems specifically intent on insulting and inciting Christians.
According to information quoted in these articles Mr Hussey claims he can teach and advise people on how to set up covens. He sells everything that witches and spiritualists need and he can prove his powers by "summoning up ectoplasms" (a Victorian spiritualist fad which no modern esotericist would consider valid or possible).
Depending upon which article you read Hussey has opened one or more shops already and brags that he will be opening 12, 50 or even 100 of his supposed shops on Halloween, or latterly, Christmas Day "to upset a few people".
Yet as far as we know Hussey opened only one shop during the past 22 years, Mystic Science in London, and it closed down after a few months. As you can see from the advertisements for it above, the stuff it offered was mainstream occult tat; hardly controversial and not overtly dangerous. Mr Hussey told one reporter that his shop would 'sell' Black Magic. Hussey has also said he will give 'ritual instruction' to customers and will sell 'Satanic Spells'. As I've never come across a 'satanic spell' in 20 years study of the occult I would be interested in seeing one of these!
Latterly Hussey has begun to use the regal 'we' indiscriminately. Let's hope that the public do not see him as a spokesperson for occultism when he throws out challenges designed to hack-off local Christians with inflamatory statements like
"We cannot be intimated by the ignorant dogmatic Christian".
His latest provocation is to promote himself to being The King of The Witches, a nonsensical and bogus title which is never used in genuine paganism but which is occasionally used by publicity mongers.

In Aberystwyth Hussey challenged local churches to
'prove that their religion has more power than witchcraft'
and reportedly said
'anyone, including children will be allowed to come into the shop and buy our goods'.

Elsewhere, this Barnum and Bailey of the esoteric has said he will 'call- up a ghost'.
"It is a bit like what a clairvoyant would do but what we produce everyone will be able to see".
Yes, folks, to those in the know it's a load of crock but the media has its tongue hanging out all the same.

Hussey's self-esteem seems to be inflating by leaps and bounds. In the last report he claimed to be a medium, a clairvyoant and a spiritual healer with a 60 percent success rate".

About the ghostly invocation Hussey commented
"the process is very dangerous and can even be fatal to the person conducting the manifestation".
(We wait with baited breath).

Hussey (with similarities to his earlier 'occult-wedding' gimmick) then said he will be
'buying up a site so he can hold alternative funeral services including Witchcraft funerals'.
You've got to admit that Hussey is inventive. For most people simply boasting that he will establish a Black Magic centre in their area would be enough, Hussey is now also promising to bury dead Witches there too!

Mr Hussey now says that his shop will stock 'items connected with freemasonry' and astonishes us by telling us that 'there are many freemasons in Hertford'. REALLY?

Then he shocks the Grantham Reporter by telling them that in their town, (with a population of 34,000 people) there are '20 covens involved in black and white magic' . This statistic is somewhat of a surprise considering that the well-respected Occult Census (see here) estimated that the city of Leeds with half a million people (14 times larger than Grantham) could itself only support 20 covens.

When challenged Hussey's sense of propriety now draws the line at the type of Black Magic which might be illegal. Mr Hussey's brand of Black Magic is completely legal! The dangerous flippancy of this publicity monger is everywhere evident yet hundreds of thousands of non-occultists are likely to take him seriously.

How about this provocation: 'we can prove that Christianity has nothing but a bible' . Later Hussey adds, with a clear inference that he is out to proselytise, 'religions in this town are anti-anything which will PULL PARISHONERS AWAY'.

Waxing to his inciting theme Hussey reportedly says that news of his shop will "Stick a dagger through the hearts" of religious leaders in the town.' Mr Hussey's violent anouncements may be metaphorical to him but OTHERS will have to shoulder the hate and victimisation after he has moved on, for in another location he actually announces
"The official opening will be on Christmas Day to put the daggers in the Christians" (which sounds a lot less metaphorical) and then he adds "... Christianity must change or it will die".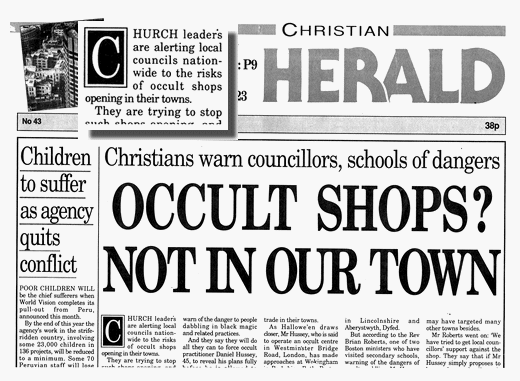 This matter is deadly serious because new laws on religious incitement would mean that if Hussey made the same kind of statements today he could be prosecuted for it.
Suitably provoked, The National Christian Herald lead with a campaign on its front page against Hussey reporting that
"Church leaders are alerting local councils nationwide to the risks of occult shops opening in their towns".
Yes, it IS astounding that one man with a thread-bare publicity stunt can apparently mobilise, accidentally or on purpose, hundreds of thousands of spiritual storm-troopers over an imaginary event; yet isn't that exactly what happened with the now defunct Satanic Ritual Child Abuse Myth in 1989? . Irresponsible reporting by the media of allegations invented by Christian activists designed to provoke and incite nominal Christians to hatred of paganism and the occult?
Lincoln Shop Firebombed
In very great measure, knowingly or unknowingly Mr Hussey is ensuring that any genuine occult supplier who wanted to open in these areas will now find it very difficult to do so and are likely to have to overcome a tremendous wall of resistance. In 1990 Hussey caused a furore in Lincoln when he claimed he was opening up an occult shop there. The local press was full of negative anti-occult accusations. Needless to say Hussey's Lincoln shop never opened, but when two genuine pagans started up The Bridge of Dreams witchcraft supply shop in Lincoln a few years later the local Christians mounted a virulent campaign to shut it down. After weeks of hysterical and unfounded publicity it was firebombed and put out of business. It cannot be said that Hussey's actions directly caused the firebombing but what he did do was unnecessarily create animosity in the area whilst playing into the hands of local fundamentalists at a time when the Satanic Ritual Child Abuse Myth was at its height. Collectively Mr Hussey has slung enough mud to ostracise hundreds of local occultists and this may damage any hope of a proper understanding of occult beliefs in the area for some time to come. Is this what Mr Hussey wants?
WHAT CAN GENUINE OCCULTISTS DO TO STALL HUSSEY'S STUNTS?
Now if you are a neo-pagan or genuine occultist I can almost hear you shouting that we don't want this idiot speaking for us and provoking discord amongst other faiths and beliefs. It is important that the media and Christian activists are also informed that he does not speak for us and to do that it would make sense to send a copy of this web-page (or a web link to it )to your local newspaper editor the very second you hear of another Hussey Hoax. Free-thinkers in other areas have undoubtedly stopped a great many controversies by sending this information to their local newspapers and to religious groups who take offence and get the wrong end of the stick. It would be nice if you emailed us to tell us you've done this so we can keep track of who knows and who is pretending not to know - if you get my gist.
Lastly what Hussey says and promotes has little to do with genuine occultism so we should try not respond to the arena of argument he generates with local Christians even if, in their ignorance, they begin making untrue allegations about our beliefs. Please ensure that any letters you write concern the problem of Hussey's Hoaxes and not the over-reactions of fundamentalist Christians. Instead, make them aware that genuine occultists do not agree with Mr Hussey's controversial ideas, and that many of his statements clearly misrepresent and confuse occult ideologies in the public's mind. It would be a good idea to reinforce the fact that multifarious occult paths can happily co-exist with all other mainstream religions including Christianity.

UPDATE: Halloween 2010: Shadee relocates to France
'Magus Lynius Shadee' appears to have relocated himself to the Mayenne region of Normandy, France, half-way between Caen and Le Mans, where he registered The Occult Centre website (www.occultcentre.com) circa 2008 and is requesting donations in the form of legacies 'to fund his work into the afterlife'. He and some of his students are apparently working on a 'ritual format to manifest Hitler' Evocations of Hitler apparently don't come cheap.
I am working on a ritual format to manifest Hitler, I understand that Magus Lynius Shadee` (King of All Witches) The Occult Centre Leader in Normandie, has had a great deal of success in this ritual format, I am asking if anyone has worked with Magus Lynius Shadee` with this format, I am researching fact. Regards, Daniel
More background and insight is invited !
Ends:
---
Shadee suckers Christians on the Web?
The following extract is from the SAFF forum indicating more provocation of Christians and Christian groups by Hussey. It exposes a new hoax designed to surreptitiously redirect ardent Christians to his occult website and, presumably, get them at it as it succeeded in so doing with Reverend Church.

The Occult Centre
posted by Reverend Ian Church,

I am concerned by the occult centre, the leader Magus Lynius Shadee` has registered many Christian web pages, such as: www.infantjesus.co.uk www.churchinwales.net www.churchofscotland.com www.evangelistchurch.come, pluss many more even that associated to becomming a Priest, Nun or Monk, these are all with www.iwanttobeapriest.com or Nun or Monk. They all point to his www.occultcentre.com

Just several weeks ago, he announced that he was going to open an Occult Centre / Surgery in Lampeter, Wales, with many more to come, the Occult Centre has also stated that they are applying for government grants to apply for Faith school, plus Deaths, Births and Marriage registration. I am concerned,are there any others that have any contact or know this person or organisation. It seems to me, I feel a storm blowing.

Rev. Ian Church.

World Copyright: S.A.F.F. INTELLIGENCE BULLETIN: 16.10.91, 04.12.91, and 01.10.2010

Click here to return to the SAFF front page