FIRST PUBLIC STATEMENT
AFTER THE FIREBOMBING
BY CHRISTIAN FUNDAMENTALISTS
OF THE SORCERER'S APPRENTICE RETAIL ARM
'ASTONISHING BOOKS'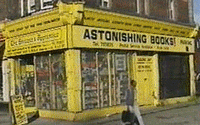 Click the photo above to view the Sky News Report Of
The Firebombing of Astonishing Books
The historic declaration below was posted up on a 'monument' in the centre of the the Sorcerer's Apprentice Bookshop when it had been put back into operation a week after the firebombing.
AT 2.25 am. ON SUNDAY AUGUST 13TH 1989 CHRISTIAN FUNDAMENTALISTS RAN SHORT OF STRATEGY IN THEIR CAMPAIGN OF VICTIMISATION AGAINST THE SORCERER'S APPRENTICE AND FIREBOMBED THE RETAILSHOP WHERE YOU ARE NOW STANDING. YOU ARE NOW PARTICIPATING IN A PIECE OF OCCULT HISTORY.
THIS LAST DITCH ATTEMPT TO BRING DOWN THE S.A. WAS BASED ON THE RABID ASSUMPTION THAT IF THEY TOOK OUT THE BIGGEST AND MOST GENUINE OCCULT SUPPLIER THEY WOULD DRAMATICALLY RESTRICT AND SUPPRESS THE AVAILABILITY OF OCCULT MATERIALS AND INFORMATION. HAD THEY SUCCEEDED THEY WOULD HAVE BEEN RIGHT. IT IS TESTIMONY TO THE FORTITUDE, INTEGRITY AND COMMITTEDNESS OF EVERYONE AT THE SORCERER'S APPRENTICE THAT WE DID NOT ALLOW THIS TO HAPPEN AND THEREBY WE STALLED THEIR PLANS SO THAT YOU AND PEOPLE LIKE YOU CAN CONTINUE TO EXERCISE THEIR FREEDOM OF BELIEF.
THE DEBT THAT OCCULTISTS EVERYWHERE OWE TO THE S.A. IN KEEPING OPEN THE GATES OF FREEDOM OF THOUGHT AND EXPRESSION WILL ONLY BE FULLY APPRECIATED BY THOSE WHO ARE WISE ENOUGH TO REALISE WHAT COULD HAVE HAPPENED. OUR RESPONSE TO THIS FIREBOMBING UNDERLINED YET AGAIN THAT THOSE WHO CONFUSE THE SORCERER'S APPRENTICE WITH SIMPLY BEING AN OCCULT SUPPLIER DO THEMSELVES AND US A GREAT INJUSTICE
THE FUNDAMENTALIST FANATICS BROKE INTO THE SHOP THROUGH THE FRONT DOOR BEHIND YOU; THEY IDENTIFIED THE SHELF ON THE RIGHT OF THE SHOP WHICH CONTAINED BOOKS ON PAGANISM / WITCHCRAFT AND FRENZEDLY HACKED AT IT TO VENT THEIR RAGE. THEY DID THE SAME WITH THE CROWLEY BOOKS ON YOUR LEFT. THEN THEY PILED ALL THE PAGAN BOOKS AND CROWLEY BOOKS IN THE MIDDLE OF THE FLOOR WHERE YOU ARE NOW STANDING AND SET THEM ALIGHT. NOTHING ELSE WAS TOUCHED AND NOTHING WAS TAKEN.
THERE IS NO DOUBT IN MY MIND WHATSOEVER THAT THIS INCIDENT WAS INCITED BY THE SCREENING OF ROGER COOK'S APPALLING PROGRAMME 'THE DEVIL'S WORK'. THIS CONTAINED THE WORST KIND OF TABLOID LIES AND MISREPRESENTATIONS AND WAS PUT TOGETHER BY THE DISHONOURABLE CHEATS IN THE COOK REPORT TEAM IN COLLABORATION WITH CHRISTIAN FUNDAMENTALISTS WHO HAD SPEARHEADED THE ANTI-OCCULT CAMPAIGN FOR THE PAST TWO YEARS AND PREVIOUSLY PROFESSED THEIR WISH TO CLOSE THE SORCERER'S APPRENTICE DOWN.
COOK WILL ETERNALLY HANG HIS HEAD IN SHAME FOR PERPETRATING THIS PROGRAMME WHICH WAS BASICALLY A COMPLETE FRAUD WHICH WAS SEEN BY OVER 12 MILLION VIEWERS AND SYNDICATED ABROAD TOO. HIS INVOLVEMENT WAS NOT NAEVE, NEITHER WAS IT MISGUIDED. THE COOK TEAM KNEW EXACTLY WHAT THEY WERE DOING AND THE ONLY MISJUDGEMENT THEY MADE WAS TO BELIEVE, IN THAT PREJUDICED WAY THAT ALWAYS MARKS THE IGNORANCE OF THE ARROGANT, THAT OCCULTISTS WERE ALL WORTHLESS ILLITERATE OUTCASTS AND DESERVED ALL THEY GOT. IF THAT WAS NOT THE CASE IT DID NOT MATTER BECAUSE EVERYONE ELSE THOUGHT THE SAME ANY WAY AND SUCH IDIOTS AS THOSE WHO INVOLVE THEMSELVES IN OCCULTISM WERE TOO THICK TO MOUNT A DEFENCE.
THE FIERCENESS AND HEAT OF THE FIRE CAN BE JUDGED FROM THE FACT THAT PERSPEX SECURITY SHEETING ROUND THE TILL AND THE ALARM UNIT ABOVE THE DOOR MELTED FROM REFLECTED HEAT ALONE. FIREMEN WERE AMAZED THAT SUCH A FIREBALL HAD BEEN CONTAINED IN SUCH A SMALL SPACE FOR SO LONG WITHOUT COMPLETELY GUTTING THE BUILDING. IT WAS AS IF A PROTECTIVE SHIELD HAD BEEN PUT AROUND THE FIRE
THOUGH THE SHOP WAS BADLY DAMAGED WE DID CONTINUE TO ASSIST CUSTOMERS OUT OF THE BACK DOOR OVER A MAKESHIFT TABLE AND REGULAR CLIENTS FELL IN WELL WITH THE WARTIME ATMOSPHERE. WE PRIDE OURSELVES THAT OUR MAIL ORDER SERVICE CONTINUED WITHOUT ONE JOT OF DELAY. WITHIN 7 WORKING DAYS THE SHOP WAS REGLAZED, REDECORATED, REFURBISHED AND RESTOCKED AND OPEN AGAIN TO OCCULTISTS FOR BROWSING.
YOU READING THIS SHOULD REALISE FROM ALL THIS ONE IMPORTANT THING: THE XTIAN FANATICS WHO FIREBOMBED US CHOSE THE S.A. AS TARGET FOR THEIR HATE BECAUSE WE ARE UP FRONT AND GET-ATTABLE. IN REALITY THEY WANTED TO BURN YOU AND PEOPLE LIKE YOU - AND STILL DO. THE PREMISES ABOVE HERE WERE ONCE FLATS. THESE FANATICS COULD HAVE QUITE EASILY MURDERED THE OCCUPANTS HAD THE FIRE NOT BEEN CAUGHT IN TIME. IT BEHOVES ALL OF US, INCLUDING YOU READING THIS, TO REALISE THE RESPONSIBILITY WE EACH HAVE TO ONE ANOTHER AND KEEP AWARE AND IN TOUCH TO PRESERVE THE SACRED TEACHINGS WHICH THEOCRACIES LIKE CHRISTIANITY HAVE ALWAYS TRIED TO SUPPRESS.
Can You Identify These People?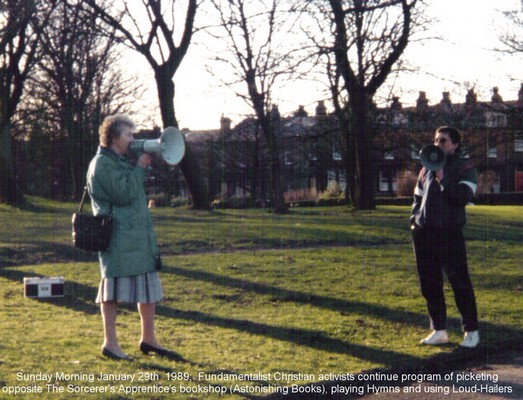 The police investigation into the firebombing was cursory and incomplete. The feeling was that they didn't give a damn and were just going through the motions. Suspects we pointed them towards were never questioned. When we complained about this the investigating officer lost his temper and tried to browbeat us. When we persisted he agreed to contact them but only by telephone (we gave him their numbers!)
Our main concern was that we had been the focus of beligerance for some months and that local cells of Christian fundamentalists had begun to campaign against us. Most of these were from fringe or house-churches. It was a matter of fact that one of the major fundamentalist activists who had promoted the Satanic Ritual Abuse Myth and who had appeared on the Cook Report had also visited to lecture to an assembly of Christian fundamentalists in Wakefield a short-time before our bookshop was firebombed.
The above picture shows two fundamentalists picketing our shop during January and February 1989. We have never been able to identify them. Neither have the police. These people may be totally innocent but they may also have leads and connections with others who are not innocent so we need to track them down and question them.
The media witch hunt against the S.A. began on April 15th 1988 when the late Geoffrey Dickens MP for Saddleworth and committed Christian forced an adjournement debate in the House of Commons and went on to make slanderous untrue remarks about the Sorcerer's Apprentice whilst hiding behind 'parliamentary privelege' (you cannot sue an MP for defamatory slurs spoken within the House of Commons even if what he says is utter lies!)
This lead to a spate of unjust negative publicity about the S.A. locally and nationally based on lies and rumours, guilt by association, and the usual hysterical justifications the British Media employ to print what they like regardless of the facts. The Cook report were already involved with Satan Hunters who were in direct and close touch with Dickens at that time but their now thoroughly discredited programme was not broadcast until August 1989, thus the fundie machine had over a year to work itself up to fever pitch and accusations and revelations about the Satanic Ritual Abuse Myth occurred almost weekly on national and local media to wind up their justifications for taking the law into their own hands.
When the despicable Cook Report was broadcast its lies aroused further intense anger and the police put a watch on our premises for two weeks with a police car stationed outside. The weekend after that the shop was firebombed.
If you can identify the people in this photograph - maybe to eliminate them - then please contact us using the email address below.
Oh, and may I remind those of you reading this, for the record, that we were and are completely and utterly innocent of any of these ficitious crimes. We had absolutely nothing to do with any of it. Now some cynics muse that 'there can be no smoke without fire'and to them I will posit this final question. The Jews were historically accused of Kidnapping Christian Babies at Easter to sacrifice them and then cook and eat them. No smoke without fire?
Ends:
---
Many ardent occultists keep records, cuttings, tapes etc., of all things occult. If you have any historic photographs, video-tapes, audio-tapes relating to the S.A. shop-burning which you would like to contribute to our files we would be very grateful if you would contact Tony Rhodes at the email address below. We will of course return all originals at our cost after making duplicates. Thank you.
---
Books and literature offered or mentioned in this website are available solely from:

Our main sponsers are:
Astonishing Books!
at The Sorcerer's Apprentice Bookshop®.
They tried to firebomb them out of business but they wouldn't be cowed by fundamentalists. 20 years later Britain's first Esoteric Store is still providing trustworthy information and literature for freethinkers. Because they stood fast your ability to pursue your alternative beliefs was kept open. They are one of the few genuine esoteric suppliers whose intent has been tested - and they came through in aces. Please support them in their task
Click here to see The S.A. & Astonishing Books' Catalogue of books and esoteric equipment.
---

(c) world copyright holders: The Sub-culture Alternatives Freedom Foundation (S.A.F.F.) Leeds, Yorkshire, U.K.
---