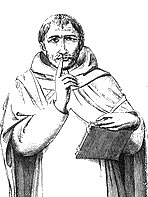 Cops Drill Holes In Priests' Tombs
to Sniff Out
Cover-ups
Anti-pedophile priest rips 'silence and omissions' of bishops
by John L Allen Jr.
Back in April, retired Belgian priest and anti-pedophilia crusader Fr. Rik Devillè (sic) told reporters that he had informed church authorities more than fifteen years ago about sexual abuse allegations against Bishop Roger Vangheluwe of Bruges, but no action was taken.
Blind Eye Syndrome
Once again, as in the U.S., Ireland and elsewhere the Bishops response is to ignore the suffering of the children and turn a blind eye to protect paedophile priests and the reputation of Mother Church.
Vangheluwe resigned on April 23, admitting that he had repeatedly abused his teenage nephew in the late 1970s and early 1980s.
Devillè, 65, served for thirty years as the pastor of the Church of St. John Bosco in Buizingen, in the southern zone of Brussels. In 1992, Devillè began collecting information on charges of sexual abuse by priests. Today he claims that an association he founded, "Rights and Liberty in the Church," has more than 300 files on such cases.
In the wake of the recent police raid on church offices and residences in Belgium, the Italian newspaper La Stampa interviewed Devillè, 65, on June 27. Devillè described the raids as a " good thing," saying "it's about time that the justice system seeks out the guilty."
The following is an NCR translation of that interview.
The Belgian church instituted its own commission to investigate charges of abuse, the Adriaenssens Commission. Is that not enough?
The problem was its connection with the Archdiocese, and the absence of either a lay component internally or a connection with the civil authorities. I always hoped that a truly independent commission would be formed, an organism whose objective was to help justice take its course. That must be the way. It's not up to the church to decide who violated the law and who should be punished.
Do you believe that Belgium is a special case? Or is the plague of sexual abuse by clergy a common evil?
It happens everywhere, believe me. Belgium believed itself to be an exception because no case ever came to light. Yet as early as 1994, I had collected 82 accusations. The victims wanted to be heard by the church, they wanted to break the curse. It's been useless, at least up to now.
Priests Keep Shtum As Police Chase Illusory Satanic Abusers
Paedo Hunter Deville was cataloguing 82 cases of Priestly Child Abuse in 1994 but nobody would listen. They were too busy chasing imagined Satanic Abusers.
Source and full story:
---
Belgium raids Catholic Church
By R. C. Camphausen.

Brussels - Belgian authorities have raided offices of the Catholic Church and the home of a recently retired cardinal as part of an investigation into child sexual abuse claims. Thirty police officers swooped down on the palace of the archbishop of Brussels-Mechelen, sealing off the building and removing a variety of documents, while another raid took place at the home of Cardinal Godfried Danneels, 77, where police officers seized the personal computer of the former head of Belgium's Catholic Church.

In addition, another raid took place in the city of Leuven, where police officers searched the office of the Adriaenssens committee, a so-called independent body set up by the Church to investigate abuse allegations. At these offices, more than 450 files containing abuse allegations were confiscated and will now be studied by investigators for clues of abuse.

The move comes after new charges have emerged of child sex abuse at the hands of priests, which is just another blow to the scandal-plagued church. Other sources say that the present investigation is centred on the resignation, in April, of Roger Vangheluwe, the bishop of Bruges. The bishop stood down after admitting to having sexually abused a young boy during the time when Cardinal Danneels was the head of the Belgian Church. Source and full story
---
Scandal in Belgium
June 26th, 2010 ·

Belgian authorities on Thursday heightened pressure on the Roman Catholic Church in a sexual abuse scandal, raiding the Belgian church headquarters, the home of a cardinal and the offices of a commission established by the church to handle abuse complaints.

Police officers arrived at the church headquarters, the palace of the archbishop of Mechelen-Brussels, on Thursday morning while the monthly bishops meeting was in progress, a church spokesman said. The police questioned all of those present, from bishops to staff members like cooks and drivers.

A raid was also conducted on the home of retired Cardinal Danneels, police confiscated his computer. Not to be criticized for lacking thoroughness, the police drilled holes into the tombs of deceased Cardinal Suenens and his predecessor Jozef-Ernest van Roey to look for any secreted and potentially incriminating documents in their graves using fiber optic cameras.

Spokesmen from the Vatican and the Belgian Archdiocese protested these search methods. Archbishop Andre-Joseph Leonard, Belgium's current archbishop, condemned the raids, calling it the purview of "crime novels" and "The Da Vinci Code."

Again the "pedophilia" scandal among Catholic priests rears its ugly head: this search follows in the wake of the resignation in April of Roger Vangeheluwe, Bishop of Bruges, following an admission of child sex abuse. His replacement, Bishop Jozef De Kesel was announced by Vatican sources yesterday.

We have seen it now in Brussels, in Milwaukee with Archbishop Weakland, in Chicago with Cardinal Bernardin, in Los Angeles with Cardinal Mahony, in Boston with Cardinal Law, the rogues gallery of Episcopal malfeasance and abuse of power grows with each revelation of priestly sex abuse and one begins to see a pattern. Source and full story
---
It's Not Just Belgium and Ireland:
Europe Is Riddled With Paedophile Priests.
Check-out This Non-Exhaustive List
by David Cutler, Reuters London Editorial Reference Unit;
GERMANY: A Jesuit investigation, last month cited 205 allegations of sexual abuse against priests at Jesuit schools in Germany, revealing decades of systematic abuse and attempts at a cover-up by the Roman Catholic order. Since January, media reports have documented more than 250 cases of abuse in Catholic schools, prompting the government to set up a round table to address abuse in Germany.
Freiburg, Germany- A string of sex abuse scandals in the German Catholic church has led to a dramatic fall in the number of young men wanting to become priests, Germany's top Catholic bishop said Sunday. Sexual abuse scandals have rocked the church in Germany since January, when dozens of cases emerged involving sexual molestation of minors by priests and other clergy over a period of 50 years at church-run schools.
Source:
BERLIN - Catholic priest charged with rape of 14-year-old. German prosecutors say a Roman Catholic priest has been charged with twice raping a 14-year-old girl. Osnabrueck prosecution spokesman Alexander Retemeyer said on Tuesday the chaplain used force to coerce the girl into having sex with him and also threatened her with punishment by God. Prosecutors say the priest has admitted sexual contacts with the girl. Source:
SWITZERLAND: The Swiss bishops' conference said on June 2 that between January and May 2010 it had received reports of 72 perpetrators abusing 104 victims, up from 14 perpetrators and 15 victims in 2009.
AUSTRIA: A rash of reports of child sexual abuse in Austrian Catholic institutions was triggered by the resignation of the arch-abbot of Salzburg's St Peter's monastery in March after admitting to sexually abusing a boy.
A record 100,000 (one hundred thousand) Austrians are expected to leave the Roman Catholic Church this year after abuse scandals which have badly damaged its image, a newspaper reported on Tuesday.
Some 57,000 quit the church in the first six months of the year, Austrian daily Der Standard reported, citing figures from local state authorities. This is already more than the full-year total for 2009 when 53,216 walked out.
Hundreds of reports of child sexual abuse in Austrian Catholic institutions were triggered by the resignation of an arch-abbot in Salzburg in April after he admitted to sexually abusing a boy 40 years ago.
Source:
Austrians' trust in priests is dwindling as the Roman Catholic Church is going through its biggest post-war crisis. Viennese research firm Karmasin found that only 19 per cent of Austrians trust parish priests, down by 20 per cent year on year. This research result comes amid news that the number of people leaving the Roman Catholic Church is soaring. Official figures show that 30,004 people quit their membership in the first three months of this year, up by 42 per cent compared to the same period in 2009 when more people than ever quit. Source:
AUSTRALIA: July 2008 - On a visit to Australia, Pope Benedict apologised for sex abuse by clergy. At that time there had been 107 convictions for abuse in the Australian Catholic church.
Melbourne Archbishop Issues Apology, Says 60 Priests Abused Children "In the past 14 years, about 300 people have been compensated as victims of sexual abuse within the archdiocese," he wrote in his July 1 letter. "Most of the complaints relate to incidents from 30 and up to 80 years ago. We receive few complaints of abuse that has taken place since the 1970s."
"86 offenders have been identified over an 80 year period, of whom 60 were priests of the archdiocese. 35 of those priests are now deceased."
ICELAND: Johanna Sigurdardottir, Iceland's Prime Minister, says she has considered leaving the state church. This comment comes in the wake of a sexual abuse scandal hitting Iceland's state church. The PM made her comments to journalists after a cabinet meeting yesterday – but she refused to say whether or not her thoughts on leaving the church are influenced by the current scandal rocking the institution. Sexual abuse within the Icelandic church has been a hot topic lately – especially after the daughter of a former bishop went public about abuse she suffered at the hands of her own father.
NETHERLANDS 900 Catholic sex abuse victims come forward More than 900 victims of sexual abuse in the Roman Catholic Church in the Netherlands have so far reported their cases to the enquiry headed by former cabinet minister Wim Deetman. Some perpetrators have also confessed, Mr Deetman said he was shocked that the extent of the abuse in the church should have remained hidden for so long.
DENMARK - Danish bishop allowed priest who downloaded child porn to continue in ministry. Bishop Czeslaw Kozon of Copenhagen allowed a priest to continue in ministry despite a 2005 conviction on child pornography charges. The priest, who was convicted of downloading and paying for 38 movies. After Bishop Kozon recently suspended the priest, he did not tell the parish council about the conviction. (Copenhagen is the nation's sole diocese; only 0.6% of the nation's 5.4 million people are Catholic.)
MEXICO CITY- A legislator has filed a criminal complaint against a conservative Roman Catholic religious order that acknowledged its recently deceased founder fathered at least one child and sexually abused seminarians. Leticia Quezada Contreras wants Mexican prosecutors to investigate allegations of a cover-up of sexual abuse by the Rev. Marcial Maciel, a Mexican priest who established the Legion of Christ and built the order into a wealthy power in the church. The Vatican recently completed an international investigation of the Legion. The Vatican excoriated Maciel for creating a "system of power" built on silence, deceit and obedience that enabled him to lead a double life "devoid of any scruples and authentic sense of religion" and allowed him to abuse young boys unchecked.
---
These are the marked-down totals. Allegations and Claims are flooding in from victims who previously were not believed. The true extent of child abuse by the Christian Clergy is a world-wide scandal but STILL the authorities refuse to acknowledge it.
.
First Church Official Sentenced to Prison for Sex Abuse Cover-up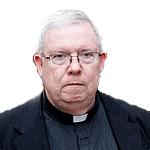 Posted Jul 24, 2012 11:12 AM CDT By Debra Cassens Weiss
The first senior Roman Catholic official in the United States convicted for covering up sexual abuse by a priest has been sentenced to three to six years in prison.
Msgr. William Lynn of the Philadelphia Archdiocese was convicted last month on one count of child endangerment and acquitted on two other charges. The sentence imposed today was just below the maximum, the New York Times reports. Lynn's lawyers had sought probation, according to the Associated Press.
Judge M. Teresa Sarmina told Lynn he enabled "monsters in clerical garb … to destroy the souls of children, to whom you turned a hard heart."
Lynn's lawyers say the child endangerment law in effect at the time didn't apply to supervisors and they plan to appeal. The conviction related to Lynn's handling of allegations against former priest Edward Avery, who pleaded guilty to sexually assaulting an altar boy.

Now Australian Government Launches Priestly Child Sex Abuse Inquiry
Australia's prime minister has announced a royal commission that will look at institutional responses to alleged child sex abuse after a series of scandals involving paedophile priests in the country.

Julia Gillard's comments follow claims by a senior policeman that the Catholic Church in an area of New South Wales destroyed evidence and silenced investigations. The country's leader had faced increasing pressure to establish a national inquiry after the recent allegations as well as an ongoing inquiry in Victoria state, but said the probe would be broader than just the Catholic Church.

Ms Gillard said: "There have been too many revelations of adults who have averted their eyes from this evil. I believe in these circumstances that it is appropriate for there to be a national response through a royal commission."

A senior police investigator last week alleged that the Catholic Church had covered up sexual abuse of children in the Hunter Valley north of Sydney, to protect paedophiles and its own reputation.

New South Wales authorities last week announced an investigation into the allegations after Detective Chief Inspector Peter Fox claimed the church hindered police, alerted offenders and destroyed evidence.

But DCI Fox had urged a full-scale national inquiry, saying limiting a probe to one region was ineffective, particularly as priests alleged to have committed offences were often moved to different states.

Calls for a national inquiry intensified in September when the Catholic Church in Victoria revealed at least 620 children had been abused by clergy in that state since the 1930s.

The church in Australia, as in other parts of the world, has endured a long-running controversy over its response to past abuses.
MP says Paedophile priests groom children with picture-books like this...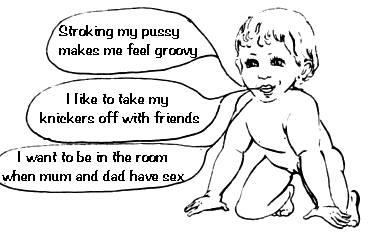 Claims that a ring of paedophile priests used liberal teachings on sexuality to 'groom' children for abuse are being made at the heart of Europe.

Believe it or not, the illustration right is taken from a church picture-book used in 'catechism training' for children.

Following the thousands of shocking cases of priestly abuse in the United States, Canada, Ireland and now breaking in Belgium the SAFF's prediction of a world-wide threat to children from paedophile priests has been proven correct yet again. The report below from The Brussels Journal clearly shows that our claim of a world-wide network of tens of thousand of priests has substance with claims that there are over 300 cases in Belgium and that they may be continuing to prey upon small children whilst governments, police and local authorities defer to Mother Church as the Irish Police were guilty of doing.

It is vitally important not to lapse into a knee-jerk reaction to these vile acts. We are not clamouring for hard-line puritanism and do not want children to be made to think that sexual parts of their bodies are dirty or evil. Biological Sex Education is not the province of the churches and priests should not be involving themselves in it, particularly if it is being misused as a gateway for paedophile priests.

The article below is written by a committed evangelical Christian, not by us. Alexandra Colenon does not like the liberalisation of the Christian churches and objects to same sex marriages, homosexuality, abortion and many other fundamental aspects which are against 'Holy Writ'. She would probably disagree with everything the SAFF stands for. yet at least she is one of the few dissenters who is ready to attack the unquestioning acceptance that it is undignified or somehow unfair to accuse the church of allowing if not condoning the abuse of children by its priests.
The Fall of the Belgian Church
USA IS EVEN WORSE!
Abusing Priests Secret Document Files Just Released.
Thanks to
Anderson Advocates
for this treasure-trove of cases of how the Milwaukee churches knowingly mishandled cases and moved abusing priests instead of outing them. This is a partial list of abusing priests in Just One State!
Adamsky, Raymond

• Arimond, James L.
• Bandle, Ronald J.
• Beck, James W.
• Becker, Franklyn W.
• Benham, Michael C.
• Bistricky, Frederick J.
• Budzynski, Daniel A.
• Burns, Peter A.
• Collova, S. Joseph
• Doyle, Andrew P., III
• Effinger, William J.
• Engel, Ronald
• Etzel, George A.
• Farrell, William J.
• Flynt, James M.
• Haen, Edmund H.
• Hanser, David J.
• Herbst, Harold
• Hopf, George S.
• Jablonowski, J
• Knighton, Marvin

• Knotek, John T.
• Krejci, Michael J.

• Kreuzer, Eugene T
• Krusing, Oswald G
• Lanser, Jerome E.
• Lesniewski, Eldred

• Massie, Daniel J.
• Murphy, Lawrence

• Nuedling, George

From the desk of Alexandra Colenon Thu, 2010-06-24 23:26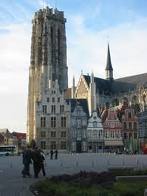 In Belgium, today, police searched the residence of the Archbishop of Mechelen-Brussels and the crypt of the Archbishop's cathedral in Mechelen. They were looking for evidence of cover-ups in the ongoing investigation into widespread pedophilia practices within the Belgian church in the decades during which Cardinal Godfried Danneels was Archbishop. Danneels retired in January of this year. Police also confiscated 450 files containing reports of pedophile offences by members of the clergy, that had been submitted to an investigation committee which was established within the church to deal with pedophilia cases.
Since the revelation in April that Cardinal Danneels's close friend and collaborator, Mgr Roger Vangheluwe, the Bishop of Bruges, had been a practicing pedophile throughout, and even before, his career as a bishop, victims have gained confidence that they will be taken seriously, and complaints have been pouring in, both to the courts and to the extra-judicial investigation committee of the archdiocese. The new archbishop Mgr. André-Joseph Léonard, has urged victims to take their case to the courts.
His predecessor, the liberal Cardinal Danneels, who was very popular with the press in Belgium and abroad, was Archbishop of Mechelen-Brussels and Primate of Belgium from 1979 until 2010. The sympathy for pedophile attitudes and arguments among the Belgian bishops during this period was no secret, especially since 1997 when the fierce controversy about the catechism textbook Roeach made the headlines.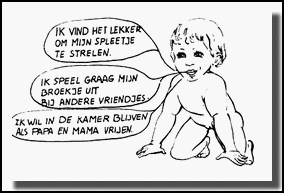 The editors of Roeach were Prof. Jef Bulckens of the Catholic University of Leuven and Prof. Frans Lefevre of the Seminary of Bruges. The textbook contained a drawing which showed a naked baby girl saying:
"Stroking my pussy makes me feel groovy"
"I like to take my knickers off with friends"
"I want to be in the room when mum and dad have sex."

The drawing also shows a naked little boy and girl that are 'playing doctors' and the little boy says:
"Look, my willy is big."
The drawing also showed three pairs of parents. Those with the "correct" attitude reply:
"Yes, feeling and stroking those little places is good fun."
This "catechism textbook" was used in the catechism lessons in the catholic schools, until one day I discovered it among the schoolbooks of my eldest daughter, then 13 years old. On 3 September 1997, I wrote a letter to Cardinal Danneels, saying:?
"When I see this drawing and its message, I get the distinct impression that this catechism textbook is designed intentionally to make 13 and 14 year olds believe that toddlers enjoy genital stimulation. In this way one breeds pedophiles that sincerely believe that children actually think that what they are doing to them is 'groovy', while the opposite is the case.
I told Cardinal Danneels that, although I was a member of Parliament for the Flemish-secessionist party Vlaams Blok, I was addressing him as a Catholic parent
"who wishes to remain faithful to the papal authority and also wishes to educate her children this way."
I insisted that he forbid the use of this book in the catechism lessons:
"This is why I insist " yes, the days of meekly asking are over; " that you forbid the use of this ˜catechism book' in our children's classrooms."

Today this case, that dates from 12 years ago, assumes a new and ominous significance. Especially now that I know that Mgr Roger Vangheluwe, the pedophile child molesting Bishop of Bruges, was the supervising bishop of both institutions – the Catholic University of Leuven and the Seminary of Bruges – whence came the editors in chief of this perverted 'catechism' textbook.

Monsignor Vangheluwe not only entertained pedophile ideas, but also practiced them on his 11-year old nephew. Hundreds of children who were not raped physically were molested spiritually during the catechism lessons. After I started my campaign against the Roeach textbook, many parents contacted me to voice their concerns.
Stories of other practices in the Catholic education system poured in. There were schools where children were taught to put condoms over artificial penises and where they had to watch videos showing techniques of masturbation and copulation.
Because Cardinal Danneels refused to respond to requests to put an end to these practices, I and hundreds of concerned parents gathered in front of his palace on 15 October 1997. We carried placards with the text "Respect for parents and children," and we said the rosary.
Cardinal Danneels refused to receive a delegation of the demonstrators. I shall not be pressured, he said in the libertine magazine Humo on 21 October 1997. The Archbishop's door remained closed when we demonstrated again on 10 December 1997. When we demonstrated at the palace of the Bishop of Antwerp on 19 November 1997, Mgr Paul Van den Berghe received a delegation of mothers that included a local councillor from the Christian-Democrat party and myself. Mgr Van den Berghe, who was the Episcopal supervisor for education, listened to the mothers, wept and promised to investigate the practices in the sex education and catechism lessons. He also announced this intention in a declaration to the press.
He must have been reprimanded by his colleagues, because on 24 November, after a meeting of the Bishops' Conference, in a press release to the press agency Belga, the Bishop of Antwerp announced that, in spite of his promise, there would be no investigation. Today we know that one of the colleagues present at the Conference was the child molester Vangheluwe, which makes that incident, too, very unsavory indeed.

On 18 February 1998 we were at Cardinal Danneels's door again, myself and a group of parents. Again the door remained closed. So on 18 March 1998 a group of two hundred parents went to the Papal Nuncio, the ambassador of the Vatican, in Brussels. But the Nuncio, who was a friend of Danneels, also refused to meet us. He had, however, alerted the police, who had several water canons at the ready just around the corner. Meanwhile Danneels's friends in the press started a campaign against me. Colen continues to pester the bishops, was the headline in Gazet van Antwerpen. One evening Toon Osaer, Danneels's spokesman at the time, phoned me to tell me that as a Catholic I had to "be obedient" to the bishops. In Humo Danneels insinuated that I was "conducting my election campaign..

On 5 January 1998 the daily newspaper Het Volk interviewed Patrick Vanhaelemeesch, a catechism teacher in the diocese of Bruges and one of the co-authors of Roeach. He gave some details about the illustration concerning masturbating toddlers in the catechism book. He said that the illustration was intended to convey the message that 'toddlers experience sexual lust.' Vanhaelemeesch revealed that the committee of bishops had mentioned this illustration in an evaluation report of the catechism book.

More Low-Country Skeletons In The Cupboard

Priest Kills
37 Disabled Kids
In Nazi-like
Euthanasia Killings

*A Roman Catholic brother administered a deadly overdose of medication to 37 severely handicapped boys at a home for the disabled in the Netherlands 60 years ago, the Dutch public prosecution office has confirmed. On the heels of a castration scandal* in the church this spring, a deeply macabre cold case has been solved.

Murder, manslaughter or involuntary manslaughter. Thirty-seven counts. Those are the charges that would have been brought against Brother Andreas if he were still alive and if the statue of limitations had not expired.

The public prosecutor in the Dutch city of Roermond reports that Andreas, who belonged to a congregation called the Brothers of the Holy Joseph, put the permanently bedridden boys to death one by one, shortly after they arrived at the home between 1952 and 1954.

*Castration Scandal: Orphan children in church care who were discovered masturbating were routinely and forcibly castrated by Priests over many years.
The report stated: 'The presentation of the sexual-pedagogical attitudes is rendered ridiculous in the eyes of the pupils by the text balloons.' According to Vanhaelemeesch this criticism 'indicates that the bishops had no objections at all to the message conveyed [i.e. toddlers experience sexual lust], but feared that the pupils would not take it seriously.'

When I had exhausted all possibilities and it was clear that the Belgian church did not want to hear the parents, I decided to sever all ties with the Catholic education system. I took my five children out of school and set up a homeschool together with other parents, so our children would be educated in a Catholic environment.

I sent a letter to all the cardinals in the world to inform them about the contents of the Roeach textbook.
"Please be assured that this Dicastery will give your report all due consideration,
answered Mgr. Clemens, Cardinal Ratzinger's personal secretary, for the Congregation of the Faith in Rome;
Cardinal Gagnon from Rome appreciated 'the just battle which you are conducting'
The matter which you raised is very important', wrote Cardinal Arinze from Rome.
I received letters of support from cardinals from all parts of the globe.
"I share your concern. It is important that you do not leave the matter uncontested,"
wrote Cardinal Meisner of Cologne;
"You have good reasons to be concerned,"
wrote Cardinal Wamala of Uganda;
"I feel strongly enough to write to Cardinal Danneels in the hope that he may enlighten me,
wrote Cardinal Vidal of the Philippines; 'If I have the opportunity to discuss with Cardinal Danneels the matter you have drawn to my attention, I will do so,"
wrote Cardinal Williams of New Zealand;
'I shall try to do something in order to help you,'
wrote Cardinal Lopez Rodriguez of Santo Domingo;
'I am aware that your concerns have been brought to the attention of Cardinal Laghi, Prefect for the Congregation for Catholic Education,'
wrote Cardinal O'Connor of New York.
On 27 February 2010 the daily newspaper De Standaard wrote that these letters "enhanced Rome's perception of the weak church leadership in Belgium." Hence, the liberal Danneels was replaced by Mgr Léonard. Rome hopes that he will be able to restore the church in Belgium. I share this hope. However, it is a pity that it has taken so long. The damage that has been done is greater than anyone could have imagined.
Dr. Alexandra Colen MP is a member of the Belgian House of Representatives.
---
---
Church Paedophile Mystery Deepens
De Standaard, 06 July 2010

"Investigators are grilling Cardinal Danneels," reads the headline of De Standaard. Suspected of hushing-up paedophilia cases, the archbishop of Malines is being questioned today as a witness in paedophilia cases involving the Church.

The daily's website has also announced that during searches of the archbishop's residence on June 24, the police discovered secret documents that are part of official criminal investigations, including photos of the bodies of Julie and Melissa, two young girls murdered by paedophile Marc Dutroux in 1996. For investigators, it is a "mystery how these documents landed in the basement of the archbishop's residence." A mystery on which the cardinal may now be able to shed some light.

Background: Marc Dutroux was a career criminal. He used proceeds from his crimes to purchase several houses which were boarded up and left empty. He kidnapped young girls and young women. He incarcerated them in hidden cells in the boarded up houses and regularly abused them as sex slaves taking pornoraphic movies of his work. Then he killed them by drugging them and burying them alive. The police arrested Dutroux for unconnected crimes but during a search failed to find the hidden cell in one of these houses containing his current sex slaves, Melissa Russo, and Julie Lejeune, both 8 years old. These were the children in the photos discovered in the archbishop's residence above. Melissa and Julie starved to death in the dungeon whilst the police detained Dutroux in prison. During the storm of protest at the mistakes made by the Belgian Police in hunting him down there were accusations of cover ups in high places and the involvement of powerful figures who were supposedly connected with Dutroux. Alludations to this effect appear all over the net but these figures, if they exist, have never been identified.

Marc Dutroux Case Timeline:


June 1995: Melissa Russo, 8, and Julie Lejeune, 8, are kidnapped
August 1995: An Marchal, 19, and Eefje Lambrecks, 17, disappear
November 1995: Marc Dutroux jailed for three months for car crime
June 1996: Sabine Dardenne, 12, kidnapped
August 1996: Laetitia Delheze, 14, kidnapped.
Sabine Dardenne and Laetitia Delheze are rescued from a dungeon in Dutroux's basement.
Bodies of Melissa and Julie and Bernard Weinstein found buried in garden
September 1996: Bodies of An Marchal and Eefje Lambrecks are uncovered
Paisley Jumps on SRA Bandwagon
Takes a Crack at The Pope
Whilst Turning a Blind Eye
to Child Abusing Protestants
The Catholic church is in such disarray over the network of paedophiles within its ranks that mounting media attention has over-shadowed the fact that SAFF research shows as many child abusers in the Protestant churches (see here) Nevertheless, complaints about paedophile priests are now so frequent that Ian Paisley, the arch-enemy of Catholicism in Northern Ireland has jumped on the bandwagon and tried to infer some satanic connection thus:
Mr Paisley, who has a history of denouncing the Catholic Church, said abusing priests were "anti-Christ".
"We have had a terrible happening in Ireland with the priests and monks and nuns all taking part in acts of disgraceful behaviour with young people, and we haven't seen the Catholic Church taking a strong stand on this," he told the BBC World Service.
He added: "A person, like some of the priests we've had, destroying the lives of young people and then going out and saying 'I can forgive sins', it's only right that be called what it is. You go and ask a question of any minister and he says he doesn't want to have anything to do with it. That is anti-Christ in teaching and in doctrine." Source:
Well here's some news for you Mr Paisley - The Anti-Christ had nothing to do with any of it and it was bigotry of that kind which caused the police and authorities to waste tens of millions of pounds of taxpayers' money on the wild-goose chase of Satanic Ritual Child Abuse. This allowed thousands of working priests (Catholics AND Protestants) to continue to abuse children in their spare time. So blaming it on the 'anti-christ' won't wash. It makes it look like some Christians are ready to blame anyone to avoid having to admit the fact that key people in their own churches have aided and abetted the abuse of children.
In psychology this is known as being 'In Denial'. Cases indicate that an equal number of children are abused by Protestant vicars and ministers. See here for hundreds of Stateside cases. And see here for our groundbreaking Black Museum of Clergy Abuse.
Research Group Claims
Millions of Victims of Christian Priests
Exist Worldwide
" ... a random survey of over 7,000 active Catholics in the U.S. and Canada found a closer ratio, that 1.7 percent of the females and 3.3 percent of the males had been sexually abused in childhood by a priest ..." (Katherine van Wormer, MSSW, Ph.D.) Psychology Today - Priest abuse male compared female victimization impact published May 20, 2010.

Using these numbers as a base whilst recognising that a substantial number of victims would have already left the church the following formula is used to calculate a low estimate of the number of sexual abuse victims in a given population of Catholics.

1.2 billion catholics
1.7% females abused = 10,404,000 [1.7% of 51.98% of the Catholic population]
3.3% males abused = 19,404,000 [3.3% of 48.02% of the Catholic population]


29,808,000 [combined males and females] Catholics identify themselves as having been sexually abused in childhood by a Catholic priest.

This formula can be applied to any population. Estimate number of Australian Catholics sexually abused in their childhood by Catholic priests. Australia 5,239,000 million catholics (2006 Census)

Estimated number of survivors who have been "finalized" (completed church or legal process) in Australia between 1000 and 4000.
1.7% females abused = 45,422
3.3% males abused = 84,715

Veni, vidi, vici: Papa Came to the UK amidst fanfare but did he Conquer?
VICTIMS OF PRIESTS ARRESTED FOR PROTESTING OUTSIDE VATICAN HQ.
Peeking through the iron gates of the Vatican's residence in London, four people rallied quietly on a rainy afternoon holding photographs of children they said were abused by Catholics priests around the world. With a week to go before Pope Benedict's visit to Britain, the low-key rally drew little press and the activists were about to leave when six police cars swooped on the scene flashing warning lights. Passers-by looked on in bewilderment as officers got out of the cars and poured into the leafy street in Wimbledon, south London. Local residents craned their necks from windows and balconies to see what was going on. One policeman used surgical gloves to collect soggy placards into a plastic bag. One police officer said they had received reports of "disturbances" outside the Nunciature, or papal diplomatic mission, where the Pope is expected to stay during his visit to London next week
Pity they didn't use the same enthusiasm
to root out Paedophile priests!
Holding placards reading "Protect kids not predators", the activists said the display of police force was aimed at intimidating protesters ahead of the visit as they prepare to draw public attention to issues such as child abuse and homosexuality. Some activists, representing a U.S. and a British campaign group, said they were sexually abused by priests when they were children themselves.
"This is deeply personal to all of us. I hope the Pope is able to listen and to actually do something," said Pete Saunders, of Britain's NAPAC anti-child abuse charity.
He added: "I was abused by Catholic priests two miles down the road from where we are standing. My brother was also abused by one of those Catholic priests six years before I went to the same school. My brother subsequently became an alcoholic and a drug addict and ended up dead."
---
OF WHAT WORTH IS THEIR WORD?
Bishops Renage On Promises To Bring Paedophile Priests To Justice
A British Channel 4 News special documentary has revealed that after promising to extirpate abusive priests from its ranks, the Church is now soft-pedalling.

Recomendations in the government's Nolan report said that any cleric sentenced to a year or more in jail for sexual abuse should face laicisation – meaning they were to be stripped of their priesthood and privileges.

But at least 14 of the 22 priests who have served a year or more behind bars are still members of the clergy and 10 of these appear in the most recent edition of the Catholic Directory, the official yearbook of the church. Only eight of the 22 men have been dismissed from their positions.
---
Official Belgian Report Concludes
124 victims and 13 Suicides.
Belgium has plumbed the depths of its own local apple barrel, and made a horrifying discovery.

"We can say that no congregation escapes sexual abuse of minors by one or several of its members," the commission concluded.

The 200-page report, published on Friday, contains testimonies from some 124 anonymous victims, revealing that abuse for most began at the age of 12.

It noted a "high number of suicides" with 13 deaths and six attempts attributed to "sexual abuse by a cleric".

Every congregation has a horror story about an abusive priest. That says something. This isn't about a rare event — it's about a common risk associated with growing up Catholic in Belgium.
---
---
---
THIRTY CASES OF
PAEDO-PRIESTS
THE CHURCH HID FROM JUSTICE
How self-righteous They Are When Pronouncing on the 'Crimes' of others, Yet How They Dodge, Duck and Weave when it is one of their own! Yes folks, you didn't believe us when we said that holier-than-though Bishops were giving paedophile priests escape routes from justice -
In an investigation spanning 21 countries across six continents, The Associated Press found 30 cases of Roman Catholic priests accused of abuse who were transferred or moved abroad.

REV. DENIS VADEBONCOEUR: Vadeboncoeur, a 69-year-old priest, served a 20-month sentence in Quebec in the 1980s after pleading guilty to sexual abuse and sodomy of four teenage boys. Afterward, he moved to a small parish in Normandy, France - and was convicted in 2005 of raping an adolescent boy. He was sentenced to 12 years in a French prison, where he is now...

CARDINAL HANS HERMANN GROER: The now-deceased former cardinal was accused in 1995 by former pupils and monks in his care of sexually molesting minors in the 1970s and 1980s at the Goettweig monastery in Austria. Groer stepped down as Vienna archbishop soon after the first allegations were publicized and relinquished all his religious duties for the Catholic Church in 1998, at the request of Pope John Paul II. Upon stepping down, Groer was sent to a monastery in eastern Germany, in the Dresden diocese.

REV. GREGOR MUELLER: The Swiss priest has admitted to abuse with "children and adolescents" in the 1970s in the Cistercian Abbey in Mehrerau, Austria, and a church in Birnau, Germany. Mueller was dismissed from his post in Mehrerau and Birnau for sexual abuse, and then was hired by the Basel diocese in Switzerland in 1971, although diocese officials knew about his past abuse. They hired him under condition that he was monitored by another priest and given medical treatment. Basel officials have told the Swiss daily Blick that four alleged cases have been reported against Mueller. In 1987, Mueller was called back to Birnau. He joined the Chur diocese in 1992 as a priest in the small Swiss town of Schuebelbach.

REV. BRENDAN SMYTH: Smyth was an Irish visiting priest at Our Lady of Mercy in East Greenwich, R.I., in 1965-68. Smyth's stay ended abruptly following allegations of abusing children.After more complaints in 1975, McKiernan barred Smyth from ministry in the diocese of Kilmore. The Rev. Sean Brady, now leader of the Roman Catholic Church in Ireland, interviewed two children who complained about Smyth. Brady said this year that he did not notify police. Smyth was charged with multiple offenses in Northern Ireland in 1991, but fled to the Republic of Ireland, mostly staying at Kilnacrott Abbey. In 1997, Smyth was extradited to the Republic of Ireland, where he pleaded guilty to sexually abusing 20 boys and girls between 1958 and 1993. He died of a heart attack one month into his 12-year sentence.

UNIDENTIFIED PRIEST: This priest's name has been withheld by the Catholic Church. He was first sent for anti-paedophilary treatment by the Servants of the Paraclete in Stroud, England. There was another complaint after he returned to Ireland. The priest was persuaded to go to New Mexico for further anti-paedophilary treatment in 1982. He briefly returned to Ireland, was accused of making a pass at a 16-year-old boy and went back for more treatment. In April 1983 the then-archbishop of Dublin, Dermot Ryan, got Bishop Mark Hurley of Santa Rosa, Calif., to allow the priest to work in Eureka, Calif. After complaints of inappropriate conduct in 1985, Hurley withdrew the priest. In June 1987 an official from Sacramento telephoned Monsignor Alex Stenson in Dublin about the priest, saying: "Urgent to get him out of the USA to anywhere."

REV. PATRICK MAGUIRE: Maguire initially worked in Japan. He was sent to Ireland in 1974 after a nun in Japan complained of his inappropriate conduct with young males. The report quotes a letter from a member of the Missionary Society of St. Columban in Japan to group's head in Ireland: "Bishop Hirata was most understanding but said that it would be best that Pat slip out of Japan quietly." In 1974-75 Maguire worked in the diocese of Raphoe in northwest Ireland, where he got altar boys to stay with him overnight. He was then sent for anti-paedophilary treatment in Stroud, England, where he was diagnosed as a pederast, a man who commits sodomy on boys. He resumed pastoral work in England in 1976. Following a complaint, he was assigned to office work in Dublin in 1979. That year, a woman complained that she found Maguire in bed with her two sons. Maguire went to England for further 'treatment' in 1982. In 1983, he was appointed to parish duties in the Dublin district of Ballymun, "highly" recommended by a superior of the society. But after complaints, he was sent to England in 1984 for more therapy. Maguire got a parish appointment in England, where he was accused of sexually abusing a 21-year-old man with a mental illness. The Columbans brought him back to Ireland. Maguire is now living in a Columban residence in Meath, northwest of Dublin, where he is "monitored very carefully,".

REV. SANTIAGO TAMAYO: After Tamayo was accused of abusing Rita Milla in the Los Angeles area, the church urged Tamayo to stay in the Philippines and mailed him checks, court documents show. Milla has maintained that she was molested by Tamayo at a church in Carson, Calif., when she was 16 she said, she had sexual intercourse with Tamayo and he introduced her to six other priests who also abused her. After she was impregnated in 1982 by another priest at a Los Angeles-area church, Milla said, Tamayo suggested she get an abortion, then devised a plan to send her to the Philippines to have the child. Milla returned to California after giving birth to her daughter, Jacqueline. Tamayo later went to the Philippines. In 2004, Milla's lawyer released documents showing the church mailed him checks. In three letters, church officials advised him not to reveal the source of the payments "unless requested under oath," noting that he was "liable for personal suits arising out of your past actions." Tamayo admitted he had sex with Milla and publicly apologized years before his death in 1999.

RODGER WILLIAM MOLONEY AND BERNARD MCGRATH: Brothers Moloney and McGrath of the Australian branch of the St. John of God Order were both jailed in New Zealand for the sexual abuse of scores of children at a special school in the southern city of Christchurch in the 1970s. The order had transferred them to Australia, but they were extradited back to New Zealand by police to face sexual abuse charges. Moloney was sentenced in 2008 to two years and nine months, and becomes eligible for parole later this month. At that time, the St. John of God Order said he will be deported to Australia. "He's a brother (in the order) but won't have any active ministry. He will be in a retirement home," the order's spokesman, Simon Feely, told the AP. St. John of God shifted McGrath to Australia "before the prison term and prior to the order knowing of any court case (over abuse charges)," Feely told the AP. "McGrath was sacked by the (St. John of God) brothers several years ago. He is not a member of the order. They removed him," Feely said. McGrath was found guilty of 22 charges against nine victims aged 7 to 15 and sentenced to five years in 2006. He was paroled in February 2008, and reportedly is living in New Zealand.

REV. MARIO PEZZOTTI: Allegations against him surfaced in early 1993, but Pezzotti had already been sent to a remote area of Brazil's Amazon to work as a missionary with the Kayapo Indians in 1970. Pezzotti was removed from Brazil for good and sent to Italy in 2008 after photos of him holding naked Kayapo children surfaced on the Internet, prompting one of his American victims - Joseph Callander - to contact the church and demand his removal. In a 1993 handwritten note of apology from Pezzotti to Callander, the priest admitted passing "through a rather difficult moment" in the 1960s, and said he "asked to leave Holliston and to go to Brazil to change my life." "Upon my arrival in Brazil, confiding in God's mercy, I owned up to the problem," Pezzotti said. Pezzotti now lives in the headquarters of his order in Parma, Italy. said.

REV. CLODOVEO PIAZZA: Brazilian police in Salvador in August 2009 said they were seeking Piazza's arrest on abuse allegations made by eight boys. Police also accuse him of allowing foreign visitors to abuse boys. Piazza ran an award-winning shelter for homeless children. After three decades in Brazil, Piazza left in 2007 for missionary work in Mozambique. Brazilian prosecutors say Piazza has refused to respond to the charges.

REV. ENRIQUE DIAZ JIMENEZ: A Colombian, Diaz pleaded guilty to sexually abusing three boys while a priest at St. Leo's Church and Our Lady of Sorrows Church in New York in the mid-1980s. Diaz was sentenced in April 1991 to five years' probation and four months of an "intermittent sentence." He was deported and resumed work as a priest in Venezuela. He was suspended from the priesthood in 1996 for 20 years after 18 boys in Venezuela accused him of molesting them. Diaz returned to Colombia in 1996 and found work again as a priest. Colombian prosecutors say Diaz was charged in 2001 with molesting one more boy and pleaded guilty later that year.

BISHOP FRANCISCO JOSE COX: Cox had been bishop in La Serena, in northern Chile, for seven years when he was removed in 1997 amid rumors that he was a pedophile. He was first moved to Santiago, then Rome, then Colombia, and finally Germany. Cox volunteered to be confined to a Schoenstatt convent in Colombia to continue "praying to God for his pardon for the errors he has made." Cox was given an administrative job in Santiago until 1999, then sent to Rome for psychiatric treatment, then in 2001 transferred to Colombia.

REV. NICOLAS AGUILAR RIVERA: In 1988 police began investigating reports that Rivera had molested children at two parishes in the archdiocese of Los Angeles - but Aguilar Rivera fled to his native Mexico before he could be arrested. U.S. authorities charged him in absentia with 19 felony counts for molesting 10 children and issued an arrest warrant. Over the next 10 years, U.S. authorities sent repeated queries on the case to Mexico, but no action was taken. Aguilar Rivera continued to act as a priest at least until 1994, when he was accused of abusing a teenage boy as a priest at the San Antonio de la Huertas church in Mexico City.

REV. ELEUTERIO "AL" RAMOS: The diocese of Orange in Southern California received reports that the Rev. Eleuterio "Al" Ramos had abused children as early as 1975 and sent him for psychotherapy while allowing him to remain in ministry. More allegations of abuse were reported in the late 1970s, and Ramos was eventually sent to St. Luke's Institute in Maryland for about six months of treatment. Parishioners were told he was being treated for alcoholism. Church officials transferred him to another parish upon his return, and he served in two more parishes between 1980 and 1985. In 1985 Ramos called diocese officials to report that he had "slipped" and had an "incident" with a 17-year-old boy. Ramos assured his superiors that the parents were "not going legal." Two months later, he was transferred to Divine Providence Church in the Diocese of Tijuana, Mexico. The diocese of Orange provided Ramos with a car, paid him $332 a month.

.
REV. JAMES TULLY: Tully, a member of the Xaverian Missionary Fathers order, served two stints in Sierra Leone, the second after being sentenced to probation in the U.S. in connection with charges of groping adolescent boys. In 1991, in Franklin, Wis., Tully was accused of escorting three teenage boys to a baseball game, giving them alcohol and groping one of the youths. He pleaded no contest and was convicted of disorderly conduct in 1992. He was sentenced to two years' probation and barred from unsupervised contact with juveniles. He was transferred to the Institute of the Living for therapy in Hartford, Conn. In 1998 William Nash told the Xaverians that Tully abused him while he was a 21-year-old student at the Xaverian Seminary in Milwaukee between 1986 and 1988. Soon after another alleged abuse victim in the Boston area came forward in 2002, Tully was moved from the U.S. to Rome and was assigned to a non-ministerial position. He was laicized in January 2009 and now lives in New Jersey.

Milwaukee Bishops Issued Standing Order to Destroy Evidence in Paedophile Priest Files

The destruction of records began in 2007 with state high court ruling against church officials in fraud claims. Stunning admission under oath in deposition of top ranking diocesan official SNAP, joined by the vice-chancellor of the Milwaukee archdiocese, calling on federal investigation into obstruction of justice Source:
Culture of Collusion: How the German Catholic Church Protected a Pedophile Priest
By Peter Wensierski

The German Catholic Church has been sheltering a priest convicted of child abuse for years. Now the pedophile, who refuses to undergo therapy, has hired private detectives to try to get his former victims to retract their testimony.

This is not just a surprisingly audacious course of action for a servant of God, whose sentence was most recently upheld by Germany's Federal Court of Justice in 2001, but it also highlights a culture of looking the other way that still prevents the Catholic Church from effectively addressing the problem of child abuse within its ranks -- and apparently even encourages a number of pedophiles to act out their proclivities under the protective cloak of the church.

Despite reports to the police, parents' complaints and more convictions, Weiss was merely quietly transferred from one place to another. This support on the part of the church, which went on for years..... full story

---

Pope Indicted at the Haigh for Human Rights Breaches
TWO GERMAN lawyers have initiated charges against Pope Benedict XVI at the International Criminal Court, alleging crimes against humanity.
Christian Sailer and Gert-Joachim Hetzel, based at Marktheidenfeld in the Pope's home state of Bavaria, last week submitted a 16,500-word document to the prosecutor of the International Criminal Court at the Hague, Dr Luis Moreno Ocampo.
Their charges concern "three worldwide crimes which until now have not been denounced . . . (as) the traditional reverence toward 'ecclesiastical authority' has clouded the sense of right and wrong".
They allege he is also responsible for "the adherence to a fatal forbiddance of the use of condoms, even when the danger of HIV-Aids infection exists" and for "the establishment and maintenance of a worldwide system of cover-up of the sexual crimes committed by Catholic priests and their preferential treatment, which aids and abets ever new crimes".

Source: Irish Times: Wed, Feb 23, 2011
Click Here for a Full Text Of The Indictiment in PDF form.
---