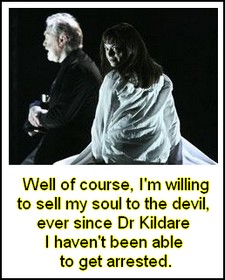 LOS ANGELES -- Mention the word "exorcism" to most people, and you get descriptions of levitating bodies, spinning heads, oozing green bile and hissing serpentine tongues. But don't expect to see these eye-popping visual effects in this summer's stage version of "The Exorcist" at the Geffen Playhouse in Los Angeles.
Instead, the production will have "minimal" special effects, according to playwright John Pielmeier, who adapted William Peter Blatty's best-selling 1971 novel for the stage.
Pielmeier says that his version needs no spinning heads or green bile. Instead, there will be a simple set with a minimal cast. And rather than revolve around a young girl's demonic possession, the story will focus upon a series of clever debates between the demon and the priests.
"The fact that the devil can lie and loves to lie is a great toy for a dramatist to deal with," he says. "I think the irony of how Satan functions in this piece is delicious."
The "Exorcist" story of a young girl's demonic possession and the Catholic priests who try to save her became a box-office hit when the movie was first released in 1973 and later spawned two sequels as well as two prequels. There was even an "Exorcist" parody in 1990.

Pielmeier, the 63-year-old playwright and author of both the stage and screen versions of "Agnes of God," describes himself as "a rather confused ex-Catholic" who wrote this play as a way of working out his own religious conflicts. Catholicism "is still with me," he explains. "I was raised in a very devout family and was a very devout child. And it doesn't go away."
He says "The Exorcist" is for doubters and nonbelievers who might initially scoff at the idea of demonic possession.
Fr. Gary Thomas, a Vatican-certified exorcist and the real-life counterpart to the Colin O'Donoghue character in last year's film "The Rite," agreed that exorcisms can be a reaffirmation of a person's faith in God. "For a nonbeliever, I would say there's great conversion. For a believer, it can be an affirmation of what they already believe," he said.
Pielmeier also points out how the story of "The Exorcist" is relevant today. "I think the piece is very much about terrorism," he explains. "I think the devil is a terrorist. That's a line in the play. The devil functions as a terrorist by disseminating fear and doubt. His power comes from making us afraid and from instilling doubt and despair in us."

"The fact that the devil can lie and loves to lie is a great toy for a dramatist to deal with,"
The Devil can lie and loves to lie, says the director Pielmeier - but he fails to mention that ordained priests are liars of an equal magnitude. They have lied and cheated for decades in order to hide an estimated 40,000 child-abusing priests within their ranks. Current cases show that many of their child victims were being abused whilst Blatty was writing his novel!

Pielmeier leaves everyone wondering whether he is speaking metaphorically or whether he really does believe in the existence of a praeter-human entity called The Devil? Is this another media Catholic in mid-life crisis trying to featherbed his credits-for-heaven just in case all that Hellfire and Damnation turns out to be true?

The SAFF sincerely hopes that Pielmeier is not using popular culture to disguise a sectarian attempt to re-popularse belief in the exorcism rite which has caused so many deaths of children and adults over the years since the Exorcist film was first broadcast in 1973

Although the Catholic Church was up in arms over The Exorcist when it was first shown (including massive protests outside cinemas screening it throughout the U.S. and the U.K.) they soon discovered that it actually put the frighteners on nominal Catholics and brought many of them who were having strange times back to the fold by blaming life's vicissitudes on...The Devil. Is this story of the aeonic battle with evil just another attempt to draw the faithfull's attention away from 40,000 child abusing priests? Well, as Hollywood insiders always say "There's no such thing as bad publicity".

Hollywood knows that 'Good Box Office' is something innocents often have to foot the bill for. Ask the maimed survivors of the Colorado Batman Cinema Shootimg whether the new Batman Film got publicity the movie's makers couldn't buy? Then ask how many semi-unhinged fundamentalists will see Pielmeier's play as confirmation of the existence of possession and later feel justified in beating the life out of a toddler whilst Pielmeier indulges himself in arty-crafty nonsense elsewhere?

The point is, Pielmeier, Blatty himself is on record as saying that he doesn't believe in the existence of the Devil - his book was not a documentary, it was a novel you feckless idiot.

Why are we so angry at this new production? Because the original Exorcist book and film is about the enforced exorcism of a pre-pubescent child and this production comes at a time when the torture and killing of children in exorcism ceremonies has reached epidemic proportions world-wide. Pielmeier has apparently done little or no research into his subject and is seemingly totally ignorant of these dangers. He made many changes to the original story to suit himself and production limitations Instances of society's campaign to stop child abuse is everywhere and in everyone's mind - why didn't Pielmeier change the possessed character to an adult as a precaution?

Pielmeier says that the crux of his version is the dialogue between the devil and the priest. If that is the case then changing the possessed character from a child to an adult might have improved the dialectic, but being irresponsible Pielmeier still retains the child's involvement, presumably for the shock-horror value. On one hand the media produces a cacophony of articles demanding society deal with child-abuse, and on the other it produces plays like this which promote it.