---
July 2015: Witch-kids' bodies still piling up as Eileen Stobart's error continues to make authorities look wrong way.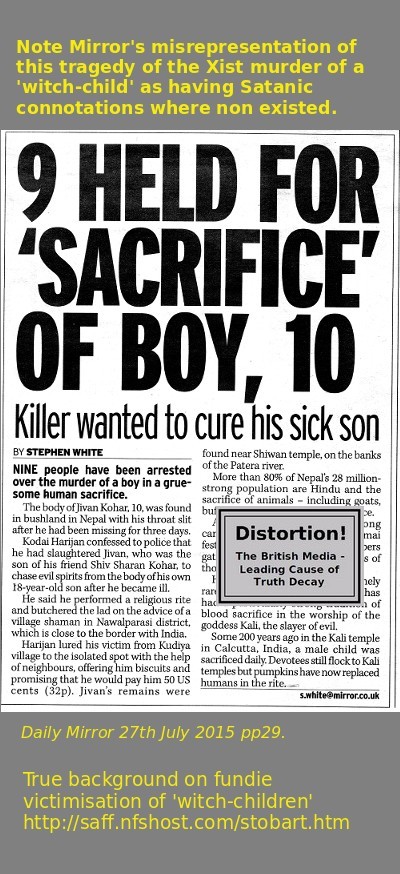 ---
October 2014: New Police Witch-Child Guidelines Confuse Media and Public into believing Witchcraft is cause: Click here:

---
August 2012: Government 'Action Plan' Is Latest Twist To The Child Killing Farce Click Here for Update
---
Latest Swedish 'Witch-Child' horror confirms SAFF stance on Black Church Exorcisms
The Social Services and Child Care Charities in the U.K. may be in a state of denial over Black Church Child Exorcisms but not so in Sweden. When instances of horrific child abuse and torture by Christians in Black Christian Churches begin to break-out all over Europe it is clear that the common-denominator is not 'witchcraft' but Christian Evil.
Fortunately, liberal Sweden is not having the same difficulty with these concepts as their British counterparts - the media in the U.K. are stuck in their 'nothing that is Christian can be bad' blind-spot and have played down the African Christian links in this country, but in stable Sweden they're actually prosecuting the Pastors who lead these exorcisms. Something the SAFF has demanded from the British government for years.
After this high-profile trial children, black or white, will be a lot safer in Sweden than they are in the U.K. where evil Pastors rely on the bias of the government and child-care charities to avoid conflict with Christianity at any cost.
So here we are again, with the SAFF highlighting the horrors of Christian child abuse whilst the child charities and social services suck their thumbs. But you know better, the SAFF brings you the truth, however unpalatable it may be to 'The Great and The Good'.
Christian Pastors
Put in The Dock
As 'Witch Children'
Test Case Makes Headlines


On Friday, the trial began in Malmo of the accused; the father, the step-mother and their Christian pastor for torture of a witch-child. Both the 33-year-old step-mother and the 37-year-old father, originally from West Africa, are accused of gross violation of integrity, aggravated assault and unlawful imprisonment in Borïs District Court. With them and also being prosecuted is a 39-year-old pastor of a small Congolese Christian congregation in Bor�s for complicity in gross violation of integrity, serious unlawful coercion, unlawful imprisonment and assault.

The prosecution has also indicted a female Christian pastor in Malmï who has since skiped the country. The family were lead to believe that her daughter was a witch under evil supernatural forces. The rest of the family was afraid of her, locked her away so she would not "infect" the other three small children.

The Step-mother once placed a knife to the girl's neck, saying: Were it not for God I would have killed you long ago. The girl was subjected to so-called andeutdrivningar (deliverance) where she was for several days made to sit in the living room floor in the pastor's apartment. She was struck and her head was rammed against the floor. She did not make any toabes�k or eat and drink enough. In an exhausted state she was forced to admit to supernatural witchcraft, according to the indictment. Prosecutor Daniel Larsson believes that there may be other similar cases in Sweden, where a lonely child fallen into disfavor in the family is accused of witchcraft. Unfortunately, this is not the sole instance, Larsson said.

The mother was convinced that her step-daughter was possessed by demons. She explained in court why and how she tried to drive them out.

She is a member of a Congolese Christian Church who saw misbehaving children as cursed or bearers of bad luck.

A video siezed from one of the Pastors portrayed the exorcism of a girl who was diagnosed as possessed and the Pastor prayed for her soul as the girl 'began to burn'. The prosecutor saw this film as instructional. The parents and those involved in the girl's exorcism denied having done anything criminal. They are alleged to have been starving the girl, keeping her imprisoned, assaulting her with a red-hot knife and porring a mixure of oil and garlic into her eyes.

The prosecutor presented the scientific study of how African Christians look at demons that take over the children. It can sometimes lead to children dying or being thrown out onto the street.

The girl is now 14 years old and living in foster care.

Another Swedish report of the same case:

The father and step-mother thought that 14-year-old was a witch, possessed by evil spirits. In order to drive them to the girl being subjected to torture similar rituals led by both the couple and spiritual leaders in Bor�s and Malmo. Today was charged with Pastor Rita Rich More from Malmo.

The hearing has now 14-year-old girl told of violent rituals and exorcism. She was locked up, had her feet bound together and was burned with a red hot knife. They began to threaten me "if you do not recognize your sins we will cut you into pieces and throw you out in a black trash bag, you will be food for the beasts and the birds," the girl told the hearing. The 37-year-old pastor and his 33-year-old boyfriend lives in Bor�s and are members of a sectarian evangelist church in Malmo.

In interviews, she told me that they had to pray from noon to three in the morning because it's the "devil's power walking". According to the indictment, she has been placed in a circle of participants and victims of aggressive prayer and pushed around the ring until she stumbled. The 48-year-old pastor is also suspected to have imprinted a toenail in 14-year old's stomach, causing pain and lacerations. The girl's family and church members thought that the girl was dangerous. Nobody dare look me in the eye, it was dangerous to look into my eyes. It was dangerous to see me at all or even come near me, she says in interviews.



In England The Only Time They Imprison Christian Pastors is When It's Their Own Kids They've Tortured
Compare the prosecution of Pastor Abiodun Oluayo in the Swedish Case with an almost exactly similar case which occurred in England in 2009.
An evangelist church leader who tortured his 10-year-old daughter and kept her prisoner for four days with no food because he was convinced she was a witch was jailed for eight-and-a-half years today. The twisted 39-year-old, who cannot be named for legal reasons, dripped boiling hot plastic over his terrified daughter's feet and beat her senseless after she became 'possessed by evil spirits'.
The girl was held prisoner and force-fed olive oil and milk for four days after the man became convinced she had powers to make people fall asleep, Coventry Crown Court heard. The Congolese-born man admitted child cruelty and was jailed for eight-and-a-half years. His second wife, the girl's step-mother, admitted wilful neglect of a child and was jailed for four years last week. Sentencing the man, Judge Peter Ross told him: 'Your daughter, in the last three to four weeks that she lived with you was subjected to the most horrific torture.
'She did not even have a bed to sleep on. You bound her, you gagged her, you beat her, you whipped her and then kept her prisoner with no food.
'It is hard to imagine any man, let alone a father quite deliberately inflicting such calculated cruelty on a child.
The court heard that the girl arrived in Britain from the Congo in May 2007 and moved to live with her father and step-mother in Coventry. Sally Hancox, prosecuting, told the court the girl was subjected to daily beatings which included being hit with a piece of wood and whipped with computer cables. She said: 'The girl was singled out by her father. On one occasion he knelt down in front of her so he could trap her foot before putting a plastic bag in a candle and dripping the hot plastic onto her feet.'
As you will see from SAFF research on this page and here although there have been many, many cases of the abuse of children by fundamentalist Christian parents who were aided and abetted into exorcism or provoked into beating their children because of the influence that Christian Pastors had over them the above is the only case on our records in England where a pastor was actually prosecuted, and that was because it was HIS daughter whom he was exorcising so the authorities had no choice in the matter.
Our research shows that in all other instances the pastors who are instrumental in promoting these terrible actions are NOT prosecuted even though the parents are. This MUST change and the ground-breaking prosecution of Pastor Abiodun-Ola Oluayo in Sweden will make it very difficult for the British government to avoid prosecuting Pastors who have identified children as being possessed when this leads to abuse in the future.
---
How to
Kill a Child
by Beating
The Devil
Out Of It
In 2006 we warned the government of a world-wide epidemic of Child Cruelty via Christian-Induced exorcism of adopted children and they did nothing (see below right).

Today, five years later, our analysis comes true with the appalling death of eleven year old Hanna Williams who died from hypothermia and malnutrition at the hands of Christian fundamentalists parents who had adopted the Ethiopian girl.

Nobody comes to us, nobody talks to us, nobody will say 'the emperor he has no clothes', and still the pathetic bodies of small children pile up whilst do-gooders wring their hands and the National Lottery fund another search for imaginary Satanic child abusers to enable pious people to turn a blind eye to the suffering of little children in their own ranks.
---
Pastors corporal punishment advice scrutinized after child deaths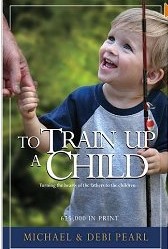 By Zachary Roth | The Lookout , Mon, Nov 7, 2011

In recent years, several children have died after enduring extreme forms of corporal punishment from parents who had absorbed the controversial child-rearing advice of Tennessee pastor Michael Pearl. Now, the New York Times reports, Pearl himself is under fire.
In their self-published book, To Train Up a Child, Pearl, 66, and his wife Debi, 60, recommend the systematic use of "the rod" to teach young children to submit to authority. They offer instructions on how to use a switch for hitting children as young as six months, and describe how to use other implements, including a quarter-inch flexible plumbing line. Older children, the Pearls say, should be hit with a belt, wooden spoon or willow switch, hard enough to sting. Michael Pearl has said the methods are based on "the same principles the Amish use to train their stubborn mules."
There are 670,000 copies of the book in circulation, and it's especially popular among Christian home-schoolers such as Larry and Carri Williams of Sedro-Woolley, Wash. In September, local prosecutors charged them with homicide by abuse after their adopted daughter Hanna, 11, was found naked and emaciated in the backyard, having died of hypothermia and malnutrition. She had been deprived of food for days at a time, and made to sleep in an unheated barn.
Hanna, originally from Ethiopia, also had been beaten with a plastic tube, as recommended by Michael Pearl. Carri Williams had praised the book--which advises that "a little fasting is good training"--and had given a copy to a friend, local authorities say.
That may also have happened in the case of Lydia Schatz, who was adopted from Liberia at the age of 4 by Kevin and Elizabeth Schatz of Paradise, Calif. She died last year, aged 7, after her parents had whipped her for hours, with pauses for prayer. [Ed: This was a form of Exorcism] The Schatzes are both serving long prison terms, after Kevin Schatz pleaded guilty to second-degree murder and torture, and Elizabeth Schatz pleaded to voluntary manslaughter and unlawful corporal punishment. Like the Williamses, the Schatzes owned a copy of To Train Up a Child, and the local district attorney criticized it as a dangerous influence.
There was also Sean Paddock, of Johnson County, N.C., who died from suffocation in 2006, age 4, after he'd been bound tightly in a blanket. His mother Lynn Paddock, who said she had come across the Pearls' website, was charged with first-degree murder. Sean's siblings testified that they were beaten each day with a plumbing tube that the Pearls recommend.
The Pearls, along with many conservative Christians, say the Bible calls for corporal punishment. "To give up the use of the rod is to give up our views of human nature, God, eternity," they write in the book. Source:

Biblical Justification For Beating Your Kids Black and Blue
Proverbs 13:24 "He who spares his rod hates his son, But he who loves him disciplines him promptly."
Proverbs 19:18 "Chasten your son while there is hope, And do not set your heart on his destruction."
Proverbs 22:15 "Foolishness is bound up in the heart of a child; The rod of correction will drive it far from him."
Proverbs 23:13 "Do not withhold correction from a child, For if you beat him with a rod, he will not die."
Proverbs 23:14 "You shall beat him with a rod, And deliver his soul from hell."
Proverbs 29:15 "The rod and rebuke give wisdom, But a child left to himself brings shame to his mother."
Matthew 17:18 And Jesus rebuked the devil; and he departed out of him: and the child was cured from that very hour.
Ecclesiasticus 30:8 An horse not broken becometh headstrong: and a child left to himself will be wilful.
Proverbs 19:18 Chasten thy son while there is hope, and let not thy soul spare for his crying.
---
Still In A State of Denial?
Then Here's Just a Small Sample of Cases Which Shame Christianity
British church leader tortured daughter, 10, with boiling plastic after becoming convinced she was a witch
By Daily Mail Reporter : 4th December 2009

A man was jailed for eight years at Coventry Crown Court today for torturing his 10-year-old daughter An evangelist church leader who tortured his 10-year-old daughter and kept her prisoner for four days with no food because he was convinced she was a witch was jailed for eight-and-a-half years today. The twisted 39-year-old, who cannot be named for legal reasons, dripped boiling hot plastic over his terrified daughter's feet and beat her senseless after she became 'possessed by evil spirits'. The girl was held prisoner and force-fed olive oil and milk for four days after the man became convinced she had powers to make people fall asleep, Coventry Crown Court heard. The Congolese-born man admitted child cruelty and was jailed for eight-and-a-half years. Source:
---
Father 'tortured children to drive out devil'
By Fiona Evans : 14 November 2007

A DEVOUT parent who preached against the devil slit his sons' mouths with a scalpel blade and put safety pins through their tongues and lips as part of a catalogue of abuse, a court heard. The Nigerian, who moved to Bradford with his family, would also put clothes pegs on their lips and tongues, the jury at Bradford Crown Court was told yesterday. The jury was told how the safety pins were left in one of the children for several days and the father is alleged to have pressed the tongue of one of his sons with sharp pliers until it bled and swelled. The court also heard a transcript of a camcorder recording in which the father is heard preaching and making references to the mouth. In the extract read out in court, he said: "Heal them. Heal them. Change them. The layers of their tongue. The layers of their mouth." Later in the recording, he said: "Remove the devil that has been pulling them together. Remove the devil that has made them not to listen." Miss Wigin said the boy had told a member of staff that his father beat him five or six times a week. She said that on that occasion a stick had been used..... The jury was told how the 47-year-old father would tie the brothers up with cable in a dark room before putting a lemon in the boys' mouths where the skin had been cut. One boy was tied to a chair in the living room and a safety pin was put through his tongue and his bottom lip, before he was left for the night with a napkin tied around his eyes. The jury heard the 38-year-old mother offered the younger child "something nice" when he wet the bed, but when he got to her she put a pepper on his eyes. A search of the family home revealed a video, diary and a booklet entitled, Raising a Godly Child, which contained the quote: "He that spareth his rod, hurteth his son." The mother's diary also referred to the Book of James, which claimed "the tongue is a small part of the body that makes great boasts" and that it is "a restless evil".
---
So-called Witch Girl, Esther, rescued for the second time
Jun 16th, 2011 : By Leo Igwe

Yesterday, I rescued for the second time an 8 year old girl, Esther Obot Moses who was branded a witch and exiled by her family in Nsit Ubium in Akwa Ibom state in Southern Nigeria. Some weeks ago, I was informed by my local contacts that Esther, who was handed over to the Ministry of Women Affairs of the Akwa Ibom state government for proper care and rehabilitation, had returned to the lunatic, Okokon, who kidnapped her some time ago. According to Esther, weeks after she was handed over to the Ministry for Women Affairs, officials from the Ministry came and dumped her with her father in her village in Nsit Ubium. But the father later drove her out again. He asked her to go back to where she came from. Esther said she had to return to the house of Okokon. Esther�s case is a clear indication of the enormity of the problem of witchcraft accusations and child rights abuses in Akwa Ibom state, particularly the poor handling by the government... Source:
---
Bishop charged with killing witch children after TV confession
Over a hundred kids may have been killed by crazed bishop

A self-styled bishop who confessed to allegedly killing 110 witch children in a Channel 4 documentary last year, is to again face court on murder charges next month. Sunday Okon Williams and four others will face a court on June 8, ThisDay newspaper reported. They are facing torture and murder charges over claims they made in the Channel 4 documentary, Saving Africa's Witch Children, which was broadcast on November 12, 2008. In the documentary, Williams claimed he had the power to exorcise witchcraft spirits from children. He also claimed he allegedly killed 110 children ... while trying to exorcise witchcraft from them. The other accused persons include Pastor Samuel Excellence, Udeme Okon William, Ezekiel Bassey Oforkudok and Akpe Alfred Akpe. Source:
---
Woman 'killed son in botched exorcism'
A mother faces up to 45 years in jail after being found guilty of killing her son in a botched exorcism. Latisha Lawson choked her son Jeziah to death 'to exorcise the devil in him'

By Paul Thompson : 29 May 2011

Latisha Lawson, 31, forced her two-year-old son Jezaih to drink a vile mixture of olive oil and vinegar as part of a ritual to drive the devil from his body. As he choked on the liquid she held her hand over his mouth to stop him vomiting and crushed his neck. Jurors heard Lawson had wanted to drive a demon named as "Marzon" from her son's body. She had become convinced that her son was possessed and blamed herself because she did not profess her love for God while she was pregnant. Source:
---
Boy, 15, 'tortured to death with hammer and chisels on Christmas Day because relative thought he was a witch'
Kristy Bamu was killed by his sister and her boyfriend, Old Bailey is told. Boy eventually drowned in bath, in such pain he couldn't keep his head above water, court hears. Police recovered bloodstained pliers, a hammer chisel and several knives from the flat.

By Daily Mail Reporter : 5th January 2012

A teenager accused of witchcraft was tortured to death by his sister and her partner in 'a tale of horror' on Christmas Day, the Old Bailey heard. Eric Bikubi, 27, and Magalie Bamu, 28, attacked Kristy Bamu, 15, and his two sisters with pliers, knives and a hammer after accusing them of being 'sorcerers', it is claimed. Kristy was in such pain after days of being attacked with sticks, a metal bar, hammer and chisel that he begged to die, jurors heard. The teenage boy had suffered 101 injuries - his face and head were covered in cuts and some of his teeth were missing when he was found in the blood-soaked flat. Source:
---
Wednesday, 4 January 2012
Notorious Nigerian witch-hunter to preach in the US
Helen Ukpabio, one of the leading figures in the persecution of alleged "witches" in West Africa, is to preach in the United States in March. Last year in New Humanist, Richard Wilson reported on the fight against African witch-hunts, which are often aimed at children, and he spoke to Igwe about the activities of Ukpabio's Liberty Gospel Church, which have included legal and physical intimidation of those campaigning against witch-hunts. Now, Igwe is urging humanists to take note of Ukpabio's attempt to extend her ministry to the US, where she is scheduled to hold a 12-day "Marathon Deliverance" in Houston, Texas from 14-25 March. Helen Ukpabio is a Christian fundamentalist and a Biblical literalist. She uses her sermons, teachings and prophetic declarations to incite hatred, intolerance and persecution of alleged witches and wizards. Ukpabio organises deliverance sessions where she identifies and exorcises people mainly children of witchcraft. Headquartered in Calabar in Southern Nigeria, the Liberty Gospel Church has grown to be a witch hunting church with branches in Nigeria and overseas. [Ed: Ukpabio is untouchable in Nigeria because many leading Nigerian politicians are members of her church and believe the wicked evil she promulgates]
The activities of Helen Ukpabio, including her publications, films (like the End of the Wicked) and sermons, are among the factors that have fuelled witchcraft accusations against children in the region. This was captured in a documentary, *Saving Africa's Witch Children* which was broadcast in 2008 on Channel 4 in the UK. Thanks to the activities of a UK based charity, Stepping Stones Nigeria, and its local partners, the problem of witchcraft accusations against children and the ignominous roles of Ukpabio and her Liberty Gospel church were brought to the attention of the world. Since the broadcast of the documentary, Ukpabio and her thugs at the Liberty Gospel church have been campaigning to undermine Stepping Stones Nigeria and its efforts to tackle and address the problem of child witch hunting in Nigeria. Source:
---
Abused, burned and buried alive: The horrific suffering of Nigeria's child 'witches'
By Daily Mail Reporter: 5th May 2011

Children as young as two are being burned, poisoned and buried alive in Nigeria for being witches, it has been claimed. Hundreds of youngsters are being subjected to horrific violence or chained up for weeks after being accused of witchcraft, according to a report by a children's rights charity. In one case, an 11-year-old boy was killed after acid was poured over him; in another, a girl who had a nail driven into her head was left permanently disabled. Last September a man tried to bury six-year-old twin boys he held responsible for the death of his wife. Lancaster-based charity Stepping Stones Nigeria has compiled reports of more than 250 cases of violence against children accused of witchcraft... Although belief in witchcraft is well established in Nigeria and other African countries, until the late Nineties it was largely women and the elderly who were accused. Source:
---
---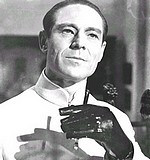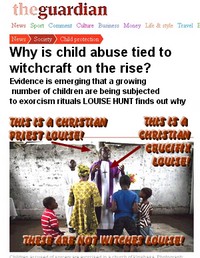 If you want to see a prime example of how the British Media, in particular 'quality' British newspapers, continually breathe life into the ridiculous idea of Satanic Ritual Abuse and systematically air vicious prejudices about paganism and witchcraft to protect their own Imperialist world-view you need look no further than the Guardian's January 18th article by Louise Hunt, headlined Why is Child Abuse Tied to Witchcraft on The Rise?
The answer dear ignorant Louise is that IT'S NOT! Witchcraft has nothing to do with it. It's Christians who are abusing the kids not witches!
The truth of this matter is clearly set out for everyone to see in SAFF official bulletins and webpages yet the editor of the Guardian ignores SAFF input over a twenty year period whilst allowing Louise Hunt to pursue her own agenda instead of reporting fairly on all sides. Rusbridger has allowed numerous articles defaming witchcraft and paganism over the last two decades yet has not once condescended to publish any article with opposing views. Thus the truth is hidden by a hypocrite press who clamour against restrictions on their activities whilst censoring valid points of view which would reveal their own cronyism - such as the myth of Satanic Ritual Child Abuse.
If you type the words 'stobart report witchcraft linked to child abuse' into Google you get the SAFF page on it ranked second on the first page out of 6,000 links. It would be almost impossible for Louise Hunt not to see this page and our other groundbreaking work on the scandal of 'witch-children' when doing her research unless she relied solely on information from the Satan Hunter clique who are so well enmeshed within the child scare industry that they can rely on the media to parrot their lies and misconclusions without bothering to air conflicting views.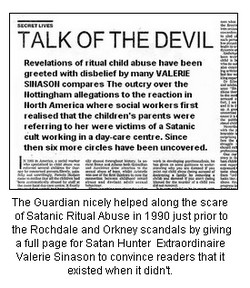 The Guardian's latest offering is again hallmarked by the self-righteously stupid. As long as one adopts the mantle of protecting children whimpering hacks can write any old rubbish. It is more a rallying cry for self-righteous do-gooders than an attempt to protect kids at risk. The message is not about the real dangers, it is to justify the increasing mammoth expenditure on inneffective child care services and console socialists that their principles remain intact.
When the social services who are there to protect kids from abuse allow dysfunctional parents to torture kids over protracted periods it's never their fault; there's always some 'witch' to take the blame.
When they fail to do their job and a kid dies, there's always some 'satanist' somewhere to accuse of outwitting their safeguarding system.
When child protection repeatedly fails children at risk the child scare industry can always come up with a bigger threat to persuade the public to keep on worrying and keep on wasting resources on wild-goose chases such as Satanic Ritual Child Abuse or it's latest sub-species, Witch-Children. It's all about unstated supernatural forces you see. Social science has the answer, but can't do its job because it is prevented from doing so by anachronisms - the devil! Yes, Yes! There are hidden dangers out there beyond your comprehension - pour good money after bad into our coffers and you can sleep soundly in your beds!
True To Form Within Days of The Guardian Article The Satan Hunters Began Creeping Out of The Woodwork Again
Letter to Guardian 23 Jan 2012

We were pleased to see your report (An abuse of faith, Social care, 18 January) outlining the evidence of the numbers of black children subjected to violence linked to witchcraft. This is extremely concerning and many of us have worked with such children and adults from the black communities who have experienced abusive aspects of juju, Santeria, witchcraft and possession in the UK. While our major religious institutions are now putting safeguarding procedures into place, children (and adults) from smaller religious groups do not have that safety. We are also concerned as individuals and as a committee that the ritual abuse of white children (and adults) is less easily acknowledged (the Kidwelly case in 2011). It can be far easier, sometimes for racist reasons, to accept the ritual abuse of black children (witness the Adam Case known as "Torso in The Thames" in 2001), and especially from working-class backgrounds. The white middle-class children (and adults) and those who work with them and support them are s ubject to implications that such experiences, if the victim is not black, must be bizarre delusions. This makes it harder for disclosures to be made and for the police to help, and delays the understanding of the impact of ritual on all children and adults when used abusively.

Dr V Sinason, Rachel Wingfield, Prof Joseph Schwartz, Dr Sandra Buck, Dr Joan Coleman, Carole Mallard, Wilfred Wong, Deborah Briggs, Dr Pat Frankish, David Leevers, Orit Badouk-Epstein, Lynn Greenwood Committee on Ritual Abuse, London
Can you believe that these people would try to get away with these fabrications again, after so many people suffered during the first Satanic Ritual Child Abuse scare? Yes folks, it's the same gang as before.
Note well how Satan Hunters work-up the misuse of the word 'Witchcraft' in the Guardian's article, into 'evidence of the numbers of black children subjected to violence linked to witchcraft' when there has been no such thing! Note also how, when the only 'rituals' which have occurred are actually Christian exorcism ceremonies the Satan Hunters immediately exaggerate this to 'abusive aspects of Ju-Ju, Santeria, Witchcraft...' when there is no evidence of any such thing happening.
Note also that these self-styled 'specialists', (headed by Guardian SRA 'regular' Valerie Sinason) without any professional embarassment, grossly misrepresent the Kidwelly case (which was a case of under age sex concerning one individual ) into 'evidence' of multiple satanic abuse on white kids which they infer is a parallel with what is happening to Black kids and then, once they have breached the bounds of academic scholarship completely, they include the Thames Torso case as a case of 'ritual abuse' when there is insufficient evidence to incontrovertibly say what happened to 'Adam' or why.
In fact the nearest these people get to reality is their quote about 'bizarre delusions' - and theirs is it!
The Guardian's monolithic approach perpetuates lies which have already killed hundreds of thousands of children world-wide. Their disinformation will continue to cause unnecessary suffering, torture and even death to children who are abused by CHRISTIAN exorcists. Guardian staff may think that they are in for a media award or two but they should reflect that the price of their indulgence may have to be paid by some helpless child in the hands of a Christian Pastor to whom people like them turn a blind eye.
---
Soaraway Sun's
Racist Headline
Takes Bamu Case Into Fictional Realms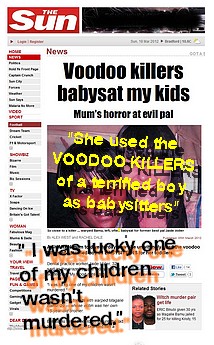 Right in the middle of the Leveson Inquiry into the excesses of the British Media The Sun newspaper has the gall to lie about the Kristy Bamu murder purely for sensationalist purposes. Not content with the incorrect use of the term 'witchcraft' which was siezed upon by hundreds of British media in relation to this case, the Sun feels free to up the sensationalism and tell it's readers that it was a Voodoo murder, with all the racist implications that incurs. No greater example of the complete lack of professionalism and conscious misportrayal of the truth by the British Media could be evinced.
This case is beginning to feel like a re-run of the Dead Parrot Sketch from Monty Python.
In case the facts revealed on this webpage haven't yet made it abundantly clear the Kristy Bamu case was NOT a case of witchcraft or voodoo.
None of the murderers or participants were witches.
No witches were involved.
There were no witchcraft rituals involved in the murder.
There were no witchcraft implements or paraphernalia involved.
There were no witchcraft chants, dances, mixtures or concoctions.
There were no witches involved in the case AT ALL.
None of the murderers or participants were involved in voodoo, santeria, kindoki, Muti, Celtic Witchcraft, Paganism, Neo-Paganism, Black Magic, Satanism OR ANY OTHER FORM OF WITCHCRAFT known to humankind.
THIS IS A DEAD PARROT!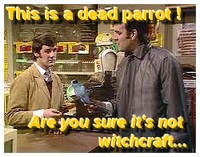 And just like in the Python sketch where the pet shop owner refuses to face up to the fact that the parrot he has sold his customer is absolutely stone dead, the media keep on insisting that the Kristy Bamu murder had something to do with Witchcraft when it didn't.
Why then, has this become known as the 'Witchcraft Murder'? Because Eileen Stobart fudged the terminology about the Christian Exorcism abuse which is behind hundreds of deaths of black children and invented the term
'cases linked to ACCUSATIONS of witchcraft and possession'
instead, which the Great and the Good preferred to avoid the controversies attached to the REAL issue, which is that little children are being tortured and murdered in Christian exorcism ceremonies by CHRISTIANS and it has nothing whatsoever to do with witches, satanists, voodooists or pagans.
Does that ring a bell? Yes, it's a re-run of the Satanic Ritual Child Abuse myth of the 1990s. The lies the British press injected into your subconscious then about witches horrifically abusing kids have just popped out again. It is because of the authorities' constant misuse of the term 'witchcraft' in these exorcism cases that the truth is being buried under prejudice and as in 1990 it won't stop until the mistakes and victims mount to obvious proportions which even the thickest amongst you will begin to question. Events in the real world are horrible enough, why would you choose to live in a falsified world of the media's making?


Sun Does Voltface on Witch-child Bandwagon 10 Years After SAFF Exposed it...
See foot of next column here
---
READ IT AND WEEP!
So, What has The Stobart Report Actually Achieved? How Many Witch-Children Has it Saved? Click Here To See More Unbelievably Horrid Cases and The Rising Death Toll Whilst the Church not only Avoids the Issue but actually demands that Exorcism be free on the NHS [see here]
---
---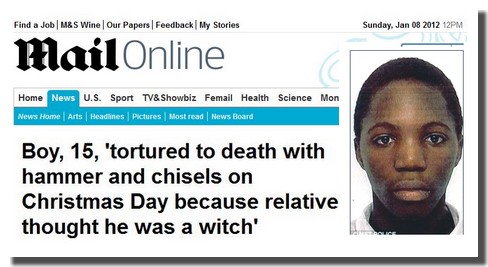 Another Child Tortured To Death
In the week when society began patting itself on the back for finally bringing the thugs who killed Stephen Lawrence to justice the news of yet another victim in a chain of Child killings got second billing.

Lawrence was murdered in 1993 and the campaign for justice was organised by The Great and the Good in British society who rightly gathered around to fight a prime example of racism. The Scandal of Child Exorcism Killings was first highlighted by the SAFF in the late 1990s and following the awful death of Victoria Climbe; but according to official figures in 2011 'hundreds' of children were being tortured in West African christian communities in the U.K. and 38 cases of horrific torture, some leading to death, had been officially recorded. (source:)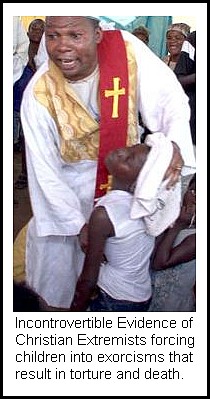 Just as the SAFF was the first to highlight and publicise the hidden abuse of Children by priests and vicars in the Christian Church which was originally disbelieved but eventually proved terrifyingly correct (see here), we also maintain that Christian Child Exorcism abuse is chronically under-reported and that THOUSANDS of black children are being physically abused, maimed and sometimes killed in the U.K. directly because of the Christian Beliefs of their parents.
Blind Eye
But when it comes to pointing the finger of guilt at Christians who torture and kill their own offspring The Great and the Good not only have little to say, but seem to purposefully turn a blind eye to the true cause because it is politically unpalatable. The authorities looked at any and every excuse, including trying to blame it on Satanists or 'Voodooists'. (see here for details of the Thames Torso case) but the scandal still continues and is almost without exception caused by Christian Child Exorcisms.

Despite powerful documentaries exposing the plight of hundreds of thousands of children (Click on the photograph alongside to see Dan Harris's sickening documentary In The Name of Jesus for ABC's Nightline which makes the subject horrifically clear; and I challenge you not to weep buckets whilst watching this video) U.K. child protection acted as though Child Exorcism Abuse was an aberration and would somehow disappear but under the sheer weight of cases the government was at last forced into investigating further. The result, the Stobart Report, was terminally flawed because its author Eleanor Stobart listened to Black Christians and orthodox religious lobbies whose main priority was to exonerate their own churches and blame it on 'the witches'.
Failings of The Stobart Report
Her errored conclusions were published in June 2006 in her report 'Child Abuse Linked to Accusations of Possession and Witchcraft'.

When we read it we were astonished to find that Stobart had completely sidestepped the REAL problem at the root of this scandal and instead ran with the garbage that the Christian lobby had indoctrinated her with. It wasn't Christian teaching on exorcism which was causing the problem, oh no, it was the hi-jacking and corruption of Christian beliefs by West-African con-men who pretended to be Christians as part of a money making scam; - coupled with the superstitious ignorance of uneducated African rustics whose unsophisticated minds were controlled by the scammers. How convenient! How dreadfully wrong!

All that was necessary concluded Stobart, was that police forces and social services departments were alerted to the possibility and trained to identify it. The police canvassed independent Christian churches in London and other centres with a high West African population, reminding pastors and organisers that British law saw any such exorcisms as a form of child abuse.
The Evangelical Alliance - Devil Hunters Extraordinaire
The umbrella organisation for many independent churches, The Evangelical Alliance, assured the public that the threat was not from mainstream churches. It prepared its own paper and set up a training scheme for any church which wanted it. It was all cosmetic nonsense which, as time proved, did little to alter the frequency or the incidence of the scandal of Christian Child Exorcism Abuse in West African communities because despite any promises given, Christian pastors can only, by virtue of their beliefs, conclude that wayward children brought to them are possessed with the devil and the cycle will begin all over again.

To ensure that they escape punishment they need not actually exorcise the children themselves, they need only diagnose possession with a nod and a wink and leave the torture to the child's parents or guardians.
The prime cause of Christians torturing their offspring was not a belief in 'Witchcraft' but a belief in Christianity.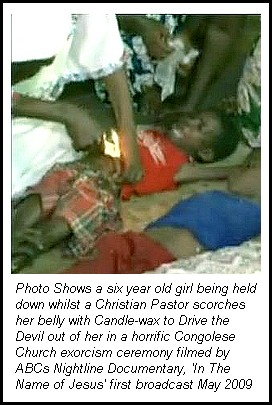 The SAFF heavily criticised the Stobart Report immediately it was published (see below for the original critique) We maintained that the prime cause of Christians Torturing their offspring was not a belief in 'Witchcraft' but a belief in Christianity. They had been taught, by missionaries and by independent churches in Africa, that the devil existed and could possess their children and work evil through them. That evil, they said, was called Kindoki in Congolese. This is what they told Stobart in order to deflect the blame onto 'witchcraft' but it is a monstrous lie. If it was Kindoki that was causing the problem why is there a similar child-witch problem in Nigeria where Kindoki doesn't exist? The common denominator is CHRISTIAN FUNDAMENTALIST PASTORS not witchcraft.

Kindoki (endoki, ndoki) is the indigenous tribal belief of the Congolese.
"As monotheists, the Congolese believe in one God, Nazambi who is the creator god of all things in the universe and the ultimate Protector of the living and the Judge of our conduct after death and the Decider of our fate thereafter. At the same time. they believe in supernatural forces beyond our human comprehension and capabilities and in a metaphysical explanation of life and the world around them, all of which they summarized in the word kindoki.."
Source: D.R. Congo: The Darkness of the Heart: Loso Kiteti Boya: Xlibris Corporation, 2010 - History - Chapter 3: Religion:
Thus the Christian pastors were targetting their main competitor for the souls of the Congolese. We pointed out that the idea of 'Witch-Children' was not seen in Africa in traditional tribal religions before missionaries from outside Africa injected the idea into the minds of locals. The black Christians who digustingly tortured these children in the most painful and terrible ways did so not because they believed in witchcraft, but because they believed in the fundamentalist form of Christianity which causes so much evil in the world.

And it was not only the SAFF which pointed this out. One of the major references for the Stobart Report was the Save The Children Fund's raporteur on the subject, Javier Aguilar Molina. His work was read and supposedly taken into account by Eleanor Stobart yet he is as clear as the SAFF about who is to blame, and it is not a belief in witchcraft which is the root cause, it is Christian fundamentalists. As early as 2003 (three years before Stobart published) Molina was clearly trying to tell everyone the truth...
FIERY PREACHERS

For desperate families, children are easy scapegoats, especially given the rise of fundamentalist Christian churches and their fiery preachers who blame witches and Satan for misfortune, observers say.

"The main reasons for this is the proliferation of (revivalist) pastors and the vulnerability of children not living with their nuclear family," said Javier Aguilar Molina, a social protection coordinator for Save the Children in Kinshasa. Source
But the Stobart report, and subsequent commentators from the child-scare industry confused the original animistic Kindoki tradition in the Congo with the European image of Witchcraft as projected by the Church. Stobart's report used the words interchangeably in ways which allowed Christians off the hook and enabled them to infer that 'witchcraft' was the cause.
Christianity Wages 500 Year War Against Kindoki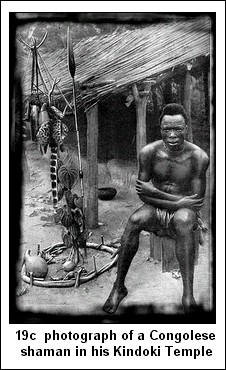 The truth is that African missionaries have been fighting a battle for supremacy with the Kindoki tradition for centuries and the present upsurge in Christian exorcism is a new attack to besmirch and suppress Kindoki and gain control of the minds of the populace for Christianity, just as their forbears whipped up a witch-hunt in 15c Europe and burned millions of innocent women and children for being 'possessed by the devil'. The 15c Malleus Maleficarum was authorised by the papacy and caused the deaths of millions of innocent people, usually women. You can see further information about this book and how it is even today influencing and promoting misogynist attitudes by going here.

As Loso K Boya writes in his seminal book about the history of The Congo, The Darkness of the Heart;
Kindoki has sustained more than five hundred years of relentless assaults by Christianity and other imported faiths and is still going strong, Its survival is a testimony to its strength and deep roots in the Congolese psyche and society. This is because Kindoki is a metaphysical explanation and philosophy of life for the Congolese.. two religions could not have survived within the same believers. Either, Christianity and the other imported religions would have wiped out kindoki completely or kindoki would have prevented Christianity and the other imported faiths from taking hold in the Congo. The fact that both the Kindoki and the imported religions are coexisting and more or less doing well in the Congo means that they are addressing different psychological arid spiritual needs in the same people ..... Source: D.R. Congo: The Darkness of the Heart: Loso Kiteti Boya: Xlibris Corporation, 2010 - History - Chapter 3: Religion:
Boya has it wrong of course. Christianity never co-exists with any other religion unless it is politically expedient. The reason why Kindoki is coming under fire now is precisely because it HAS 'prevented Christianity and the other imported faiths from taking hold in the Congo'
Video Evidence Of Exorcism Abuse In London Churches
Actual scenes recorded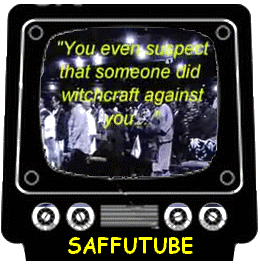 Now you don't have to take the SAFF's word for all this or even listen to the theoretical arguments because the video link alongside reveals beyond any shadow of a doubt that the problem of Exorcism Abuse infects churches in Britain's inner cities - and it has nothing to do with witchcraft or satanism. This powerful 5 minute film shows how:
(1) Fundamentalist Pastors, often from overseas, instil ideas of witchcraft and spirit possession into the minds of vulnerable cultural minorities in British inner-cities so they can take control of their minds and capture their souls.
(2) Baptist and Pentecostal missionaries actively prey on confused people and practice exorcism rituals on them every few days.
(3) These missionary pastors actually invent and promote hysterical fears about witchcraft, repetitively projecting belief in possession on everyone who attends their churches in order to create a dependency in them.
(4) They exorcise not only with complete disregard to any prior mental health problems of their victims but actually diagnose, as you will see in this video, schizophrenia and epilepsy as indicators of possession.
(5) Parents attending these churches bring their children along to expose them to hysterical mass exorcisms of adults despite the fearful and disturbing scenes which occur and which must qualify as psychological abuse under official child care guidelines.
(6) This is going on in hundreds of churches throughout the U.K. right under the noses of Social Workers who prefer to prattle on about dangers of 'witchcraft' because they have been lead astray by Eileen Stobart's perfunctory report.
Following the evidence in this film it is clear to any objective observer that the accusation of children being witches and being forced into exorcism is INEVITABLE if the family's troubles have not improved following the exorcism of the parents. Click the TV set alongside to view this revealing 5 minute video.
It's the Job of Regular Christians to Stop All This
Now let us make absolutely clear before we go any further that we are not blaming regular Christian church-goers for the abuse of children. All decent Christians will be as horrified and outraged as we are to hear how their beliefs are being used to torture and kill innocent babies and children. We realise that all empathic human beings will utterly condemn these violent acts against kids. Our objective in this article is to overcome the complacency within British churches at this terrible threat to innocent lives and overturn the verbal restraint over race issues where nobody dare mention the elephant in the room. If you don't name it, you can't fix it. SAFF researches over twenty years show that children of ALL races are abused during exorcisms ( see here )but that at the moment there is a virtual epidemic of abuse of BLACK children in BLACK communities and BLACK churches which the government appear to be avoiding.

We say to decent Christians: Your church leaders have known about this problem for a decade and have done little or nothing to solve it. They have ignored Christian Child Exorcism Abuse in inverse ratio to the amount of time they have spent lambasting, criticising and accusing pagans and satanists about a similar problem they claimed existed there but which didn't. If your leaders cannot sort this problem out on your behalf then it is YOU who need to take action and if you do not then you ARE as responsible for allowing the African Pastors and Christians to abuse children in this way. We are challenging YOU. YOU must challenge your vicars, priests and lay-preachers.
Why Did Christians Fail When They Had The Chance?
Lord Alton, Catholic evangelist and politician, resigned from the Lib-Dems to follow his calling within the Movement for Christian Democracy and is at the heart of Christian politics. In 2002 Alton hosted a meeting of 'like-minds' in the Jubilee Room at the Houses of Parliament about Satanic Ritual Child Abuse. Also in attendance were many of the key players in the allegations about children being harmed by pagans and satanists. You can read about it here. As we now know, there is no such thing as Satanic Ritual Abuse but the torture and murder of innocent children in black African Churches was prevalent at the time although prominent by its complete absence from this meeting.

In October 2004 a delegation sponsored by the British christian charity, Jubilee Action, visited the Democratic Republic of the Congo. One of the key members of this delegation included David Alton. Jubilee Action, a Christian outreach charity describes itself thus:
Jubilee is involved in advocacy on human rights and the promotion of dialogue and conflict resolution in many parts of the world. Jubilee Action also supports projects aimed specifically at alleviating the plight of street children, many of whom are often left orphaned, destitute or homeless as a consequence of conflict.
If any Christian group was going to know about 'witch-children' in Africa Jubilee would be the one, yet in the lengthy official report of their fact-finding mission about possible harm to children in the Congo there were many, many recommendations but there was, astonishingly, only ONE reference to 'witch-children' and this is it:
5.15 In addition, we took evidence on the phenomenon of 'witch children' cited in the All Party Parliamentary group�s report. Although witchcraft has always been practiced in the Congo, and deep superstitions remain ingrained in their lore, over the past decade a new and disturbing trend has emerged. In a climate of deep poverty families who cannot cope with the up-bringing of their children, or who have a child with behavioural problems or disabilities, declare the children to be witches or involved in sorcery. This is used as a pretext for abandoning their children to the streets.
By glaring omission it completely exonerated Christianity from any blame and misled readers by focussing on poverty and the inability of parents to cope with disabled children as the prime cause of the 'witch-children' of the Congo. In case Jubilee doesn't know, 98% of Africans have historically lived in poverty but they didn't begin outcasting and torturing their offspring until after the Christian Missionaries arrived!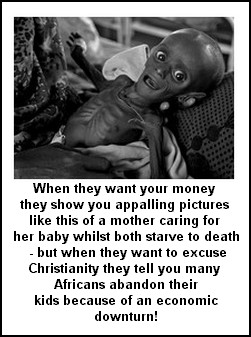 The accusation that black West African people are immoral and inferior parents who are ready to discard their children during an economic downturn like so much excess baggage is a classic racist slur from white colonialists. This completely false perspective has now become 'accepted wisdom' within the religious and social work cliques who occupy The Great and The Good. Witness the Guardian's latest revolting reporting on the Witch-child issue where Jubilee's weasel words are enshrined as 'common knowledge' when reporter Louise Hunt fails her professional standards and reports that:
...experts believe that its growth is a reaction to personal or family misfortune brought about by the economic downturn.
(See column left below)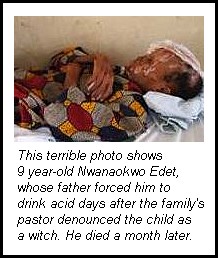 No clearer example could be posited of the way in which West African Christian Child Abuse has been swept under the carpet by Christians themselves. This state of denial is why poor children like 9 year old Nwanaokwo Edet (see photo right) have had to die in agony.
If You're Not A Christian You Won't Understand
In ABC's In The Name of Jesus documentary (see video link here) Dan Harris interviewed a suited Congolese government official, the director of a special commission to protect children, who gives sympathetic platitudes when presented with Harris's footage. The man is involved in child-protection and charged with implementing new laws, forced on the Congo by outrage in the West over 'witch-children'. Harris demands the abusive pastors that he has filmed be prosecuted. Eventually the official gives a sigh and tells Harris that this would be difficult to do because some of the kids ARE possessed by the devil and DO need exorcising. The new laws are apparently there only to trap fraudsters - con-men pastors who accuse the kids in order to squeeze money out of their parents. Harris looks on askance. Whilst there may be some fraud it is patently obvious to anyone that 95% of the abuse which takes place is done in GENUINE churches by GENUINE Christian Pastors who GENUINELY believe in possession.

In that one reply, we have the clearest illustration yet of the reason why thousands of innocent children will continue to be tortured and killed in West Africa. The people in power are Christians who believe in possession. Many of the politicians in power are evangelical Christians. Most of the policeforce are ardent Christians. Most of the country's bureaucracy are evangelicals. The kids are caught between a rock and a hard-place.

Even today, in Britain, many influential religious leaders are of the same opinion as church leaders in West Africa. The Archbishop of York, John Sentamu, has become something of a leader of the activist Christian right. He apparently believes in the need for the exorcism of children (see here) and if media reporting is anything to go by also seems more occupied with conflicts between Christianity and the gay community than from child abusers in Baptist and Pentecostal churches. We challenge John Sentamu to make his position clear on this issue and what the official Anglican response to the brutal exorcism of children is. We challenge him to take the matter seriously and act as an example to the rest.

The people who rule in West Africa have no incentive to adjust their world-view from that given to them by Christian missionaries for hundreds of years past. The Churches set up the hospitals and the schools. To get on and succeed you MUST be a Christian. Those doing well in the cities are all Christians. Indeed it is clear that the ONLY escape from a life of starvation and living on the streets is for kids who have been outcast by Christianity and ostracised by their families to join up with Islamic factions and become Child Soldiers ready for another generation of war and killing. So does the evil continually manifest whilst pious Christian politicians and leaders in the West, wring their hands and cry crocodile tears over small children being taught hate by some members of a religion which is supposed to love them.
United Nations Say Millions Already Victimised
In September 2009 during a session of the UN's Human Rights Council a meeting was told that the murder and persecution of women and children accused of being witches is spreading around the world and destroying the lives of millions of people,
Gary Foxcroft of British-based charity Stepping Stones- Nigeria said children living homeless on the streets in many countries had been driven out by families or communities because they were suspected of being witches. But increasingly children suspected of witchcraft -- usually on the basis of vague accusations -- were being killed because their parents feared they would have to take them back if the authorities identified them. U.N. officials tracking the problem said deaths ran into at least tens of thousands, and beatings, deprivation of property and banishment and isolation from community life meant victims of "witch frenzy" ran into millions.
Source:
As usual our expertise and warnings on this issue were ignored and, subsequently more children died in terrible circumstances. SAFF files are full of instances, worldwide, of Christian fanatics torturing and killing their offspring because they believe in the mediaeval Christian concept that their kids have become possessed by the Devil. Since January 2002 the SAFF has vehemently campaigned against the repopularisation of Exorcism which historically and inevitably accompanies an increase in Christian fundamentalist missionary activity. (see here).
We pointed out that the crescendo of end-time fears whipped up by fundamentalist agitators world-wide at the approach of year 2000 was responsible for the invention of the Satanic Ritual Child Abuse Myth of the 1990s and its associated sub-texts. A modification of the SRA myth was imported into West Africa by fundamentalist activists in the various Christian churches. Exorcism is not confined to Christian groups (it has its counterpart in moslem society) but that by far the worst effects occur in Christian churches worldwide where it is used as a universal panacea.
The only way to cure this problem is to make it illegal for any Pastor or Church Member to accuse a child or involve it in ceremonies of exorcism.
Of Course this has massive implications for Christianity and other sects which rely on exorcism to keep their converts in line. It is a challenge to the fundamentals of their faith. So much so that they will not even broach a discussion about this 'Elephant in the Room'. Indeed when the Stobart report was published in 2006 The Evangelical Alliance which is probably more responsible than any other faction for perpetuating the idea of possession in modern times gave this duplicitous response.
The Evangelical Alliance, Churches Together in England and the Churches� Child Protection Advisory Services...promptly issued a joint response, which condemned the abuse or encouraging the abuse of children, in particular, any church that brands children as witches or demon-possessed. source:
Note well that the Evangelical Alliance only condemns the branding of CHILDREN as being demon-possessed. Their member churches believe wholeheartedly in the phenomenon of possession and regularly exorcise adults in their churches. Experience shows that it is not possible to teach adults that the devil can infest other adults and not have that leach over into the idea that wayward and misbehaving children are also possessed by the devil.

As we have pointed out above, it is the fundamental claim by ALL evangelical Christians that the devil exists and can possess the body and mind of children and adults. This was an absolute lynch-pin of the ecclesiastical courts which often accepted mitigation from children giving evidence in witch-trials about them having been possessed by the devil and undergoing supernatural experiences. In many instances the children were tortured and also burned to death. What we have here is history repeating itself.
When The Boot Is On The Other Foot
The Evangelical Alliance is not so reticent when talking about outlawing the dangers of satanism or witchcraft. Ironically one of the main intentions of the Conservative MP Geoffrey Dickens was just such a law. Dickens, a lay-preacher, spear-headed a campaign against Satanism and the Occult by promulgating the first claims of Satanic Ritual Child Abuse at a high level in 1988. He did this in concert with false information about it supplied by The Reachout Trust, the main Christian organisation pushing the idea of SRA and a leading member of the Evangelical Alliance. Dickens wanted to create a new law banning any child from attendance at ANY pagan ceremony thereby making it impossible for pagans to pass their beliefs onto their sons and daughters. He forced an adjournement debate on the issue and his new law might have done a lot of damage were it not for the campaign the SAFF set up to combat it.
DICKENS: " Well what I'm seeking to do is to put a new clause in the Criminal Justice Act, or Bill as it is at the moment, to stop children participating, being present, or joining any ceremonies concerning Satanism, Devil Worship, or Witchcraft." Source: FREE FOR ALL Documentary 'WITCH HUNT' CHANNEL 4 20th February 1991: 9.45 PM
Of course there was absolutely NO evidence of any child having been abused or harmed during Pagan ceremonies, just lies from the Christians who were campaigning against it. In contrast there is absolutely incontrovertible evidence that West African Christians are torturing and killing children. In turn we now demand that laws are brought in to protect children in the same way, vice-versa, save that unlike Dickens we are not vindictive sectarians. We do not want to ban children from ALL Christian ceremonies because their parents have a right to teach them about their own beliefs. We just want children kept out of the harmful ones; those involving exorcism.
Where Was The National Society For The Preventon of Cruelty of Children (NSPCC)?
Deafening Silence from that most vocal of child care charities. They weren't so reticent when in 1988 they started a country-wide campaign against what they said was a growing incidence of Satanic Ritual Child Abuse. They stormed the newspapers and got pages upon pages of sympathetic coverage to hunt down supposed child-abusing witches and satanists. They cooperated with fundie troublemakers, and they actively fought against any input from Witches and Satanists who wanted to work with them. The Satanic Ritual Child Abuse hysteria was promoted by them at seminars and in small cliques of social work activists which the NSPCC funded. The scare they started spanned five years and produced dozens of false accusations but no actual cases. It was a figment. Most of the people they accused weren't even witches. (Does that ring a bell?)

What was the powerful evidence that the NSPCC held which made them think that children were being tortured and killed in Satanic ceremonies? Not much. It was all based on a flimsy questionnaire sent to their local NSPCC branches! They started this world-wide panic based on suspicions of 20 (twenty) cases. That's all they had - and every one of those suspected casese turned out to be false in the course of time. In contradistinction there has been literally HUNDREDS of officially recognised cases of Christian Child Exorcism Abuse in the U.K where children have been tortured and killed in the name of Jesus. There have been dozens of inescapable prosecutions for Child Exorcism Abuse in the past decade, yet this hypocritical organisation which spends millions of pounds worth of donors money on wasteful advertising portraying themselves as the first port of call for saving EVERY child from harm (Not One More Child! - remember that slogan), has refused to even properly recognise the endemic abuse of children in Christian Exorcism Ceremonies. Double Standards or what? See more here
Cameron Confirms Christianity's Stranglehold Over British Society

Now that there is incontrovertible evidence of harm to hundreds if not thousands of children coming from Christian Teachings it is little enough to ask that they are banned from involvement in exorcism ceremonies. Note that we do not demand that exorcism of adults should be banned (even though we see it as highly dangerous) but complicit adults are not victims in the same way that children always must be.

However the Christian church has a stranglehold over the government, institutions and charitable groups in the U.K. just as it has in the Congo and so this will of course never happen and sadly other children will probably end up tortured to death because of it.

To see how much of a hold Christianity has over our society one only need look at the recent ignorant remarks made by the Prime Minister David Cameron when he visited Oxford in December 2011. Cameron said:

Britain is .. a 'Christian country. And we should not be afraid to say so'
... what I am saying is that the Bible has helped to give Britain a set of values and morals which make Britain what it is today.
....a return to Christian values could counter the country's "moral collapse" Source

Are we to assume that Cameron actually believes this drivel? Even C stream sixth formers know these things are lies so why did Cameron think he could get away with saying it? The Christian vote perhaps?

Historians cannot and do not deny that Britain was run successfully by people of the Celtic pagan religion for thousands of years before Christian Missionaries came to our shores and usurped the old religion with their own. This is a matter of historical fact.

Celtic civilisations gave Britain (and the known world) a fabulous and valuable heritage which underpins almost everything we do today. Our major festivals now considered Christian were all originally pagan, our laws, our manufacturies, boatbuilding, crafts, jewellery and art, our language, why even the names of the days of the week are remnants from our vivid and beautiful pagan ancestry.

To infer, as the ignoramus Cameron has, that the people of the British Isles were uncivilised and immoral before Christianity educated us in their ways and gave us the Ten Commandments, is PRECISELY the same colonial imperialist arrogance which hallmarks the missionising of Africa and the attack on traditional beliefs there, including Kindoki.

Two Year Old Child Forced To Undergo Exorcism At The Hands of Christian Nutters

Is that what Cameron thinks the Bible can teach us?

Warning On Child 'Demons'

Exorcisms, (religious rites some think can expel devils from people), are on the rise in Australia.

Michelle Pecoult, from Perth-based non-denominational Christian ministry Set Right, said it did four or five exorcisms a day and had treated a two-year-old.

The child had "started growling and snarling".

"(The demon) was told to leave and in 20 minutes left. The child didn't know (it had happened)," she said.

The ministry's website claims depression is a "common low-ranking demon" while schizophrenia is "another demon we have met often and evicted".

Dr Choong-Siew Yong, who represents psychiatry on the Australian Medical Association's federal council, said he was concerned about untrained practitioners making claims that contradict science. He warned that saying someone was possessed could reinforce their delusions and stop them getting proper care.

"There is an enormous amount of research that has discredited the idea that people with psychiatric conditions such as depression and schizophrenia are because of demonic possession," he said.

"Some people with psychotic illnesses do believe that they're possessed, or have strange religious ideas. When they're assessed by a doctor there will be a diagnosis of mental illness."

Ms Pecoult insisted: "God is greater than any medical doctor. Depression can be a symptom of a demonic power being in there.

"Jesus dealt with lunatic spirits. They're real. You can't get rid of them by medication. You have to renew your mind."

Source:
That may be the lacklustre standard of scholarship at Eton but elsewhere we can think for ourselves. We remind Cameron that Christianity was also responsible for the Dark Ages where life stagnated for hundreds of years and it was only when someone bothered to learn Arabic that the good Christians realised that the knowledge and combined wisdom of the classical pagan civilisations, which were previously believed to have been totally lost because early illiterate Christian fanatics had destroyed their writings through sectarian jealousy, were rediscovered gathering dust in Islamic libraries throughout the middle-east.
All that we know of the golden eras of Greece and Rome came to us not through Christianity but through Islam. It was Islamic students and philosophers who had for thousands of years previously seen the value of those early pagan civilisations and copied their treatises into Arabic for posterity.
It Was Pagan Wisdom Which Drew Europe out of The Christian Dark Ages,
It was the monopolisation of pagan discoveries in geography, mathematics, astronomy, navigation, cartography, philosophy and more which eventually drew Europe out of the Dark Ages, created the age of exploration and eventually the Enlightenment. Why it was Plato, a pagan, who 'invented' Democracy for goodness sake. Does Cameron not know about the origins of Democracy? Christianity had as much to do with all this as a flea has to do with its host. The majority of people in the U.K. may consider themselves nominally Christian but only 7% of the population actually go to church regularly. More people go to football matches than go to church! And our prime minister has the gall to call Britain a 'Christian country'.

I make much of this because the reason why Cameron was playing to the Christian Vote was the celebration by the Church of England of the 400th anniversary of the King James Bible which contains the vicious justifications to beat children.

The psychopathic text of the KJB was so blatently discriminatory and morally repugnant that the churches got together internationally in 1973 to rewrite the bible from scratch using modern idiom. This enabled them to present their beliefs in the New International Version (NIV) in a much less radical light which was acceptable to modern liberal Christians.

Fundamentalists (the type who usually become Pastors ) absolutely HATE the NIV because of its compromises and they ALWAYS work from the King James Bible. We remind readers that James VI ordered the publication of a new bible after an illogical sequence of events. During a storm a suitor of the King was drowned off Berwick, following witch-hunt mania the hue and cry produced the Berwick Witches, innocent women who were tortured into confessing that they were attempting to kill the king using witch-curses. The King became obsessed with devils and demons and set up witchfinder generals to tour Britain to discover them as well as having his scholars produce the King James Bible which was 'flavoured' by the same psychoses. The Bible was first published in 1611 and it's teachings have probably caused millions of deaths in witch-hunts since, including the ones in West Africa.

There are many instances of the KJB insisting on punishing children to purify them. Perhaps the best known are:
Proverbs 23:13 "Do not withhold correction from a child, For if you beat him with a rod, he will not die."
Proverbs 23:14 "You shall beat him with a rod, And deliver his soul from hell."
There are some more biblical instructions to ponder on in the leftmost column. I wonder if David Cameron supports this type of biblical moral instruction and thinks Britain is better off with it? Apparently so for he also said:
"First, the King James Bible has bequeathed a body of language that permeates every aspect of our culture and heritage. Second, just as our language and culture is steeped in the Bible, so too is our politics.
The point we are making is that despite the fact that biblical teaching on this subject is morally wrong and despite the fact that it is causing children to be tortured and killed the Good and The Great in Britain will not condemn those teachings and instead, like Cameron, act as though the Bible is an exclusive vehicle for good. Therefore it hardly matters what the local policeman says, a Christian pastor will always defer to the higher divine authority and exorcise wayward children in order to beat the devil out of them.

Watch This Space.

John Freedom, Mortlake, Lammas 2012.
---
.
STOBART REPORT
LEAVES CHILDREN IN DANGER
OF BEING BEATEN TO DEATH
The fanfare over Eleanor Stobart's government report on 'Child abuse linked to accusations of "Possession" and "Witchcraft" might lead an uninformed observer to think that the government has actually done something to protect children at risk but in fact they have simply muddied the waters.
The problem is not 'child abuse linked to accusations of possession and witchcraft'. It has nothing to do with witchcraft and it is wrong of The Minister and Eleanor Stobart to use that misleading phrase.
The problem is that some self-appointed Christian Pastors in doomsday sects which are prospering in Britain are regularly abusing and torturing children AS PART OF THEIR CHRISTIAN BELIEFS.
Cataloguing the entry into the U.K. of lone children, which this report espouses, is a good idea but it will do nothing to save the children of parents who adhere to these beliefs, black or white, most of whom have themselves been born in the U.K. and given birth to their children here.
The suggestion that it is some cult like belief in Possession and Witchcraft which is causing the problem is disingenuine. The people who are abusing children in this way are following tenets from the Christian Bible and have nothing to do with Witchcraft. Their belief in possession is REAL. These Christians may have irrational beliefs that their children are infected with Witchcraft but it is they who are torturing and killing these kids under the auspices of Christianity. Unless the government have the courage to name it, they will never solve it. The only thing which will stop such abuse is for the government to enact a law which makes the exorcism of children illegal and anyone who is involved in it an accessory in law. Plain and simple. There are many laws which prohibit the involvement of children but the government appear not to have the gumption to either accuse those who are responsible for this risk against children or take these obvious measures to combat it for fear of losing the Christian vote.
Eleanor Stobart's report (published by the Department of Education and Skills 29th June 2006) focuses on unaccompanied children entering the country as either asylum seekers in their own right or who are travelling alone to be looked after by relatives who are already living in the U.K. There has only ever been two instances of children like that being sadistically abused or killed in a religious framework and both of them were Christian. But unaccompanied child immigrants are a minuscule figure compared with the number of children who are made to attend these Christian House Churches by their obsessive parents or guardians.
THE REAL CAUSE IS PLAIN TO SEE
The government is fully aware that the real cause of the death of Victoria Climbie and the severe torture which occurred in a case recently (which the British media with their typical disregard for the facts termed the 'Witch Girl' case), was not witchcraft, but a belief within these extreme Christian Churches that a badly behaved or wilful child whose behaviour does not respond to prayer is a clear symptom of possession by Satan and must have the devil beaten or tortured out of them.
For goodness sake, for once let's have the facts. Average folk may prefer to think that it is Satanists or Witches or African Witch-doctors who are torturing, beating and killing these children but in reality it is people who call themselves Christians and who attend non-mainstream churches where they observe the tenets of the Christian Bible LITERALLY.
It is clear to anyone with a modicum of intelligence that this type of abuse can be stopped overnight at little cost simply by having the police and social workers visit all the fundamentalist churches in their locality and make it clear to the pastors that the exorcism of children (with or without their parents or guardians knowledge and agreement) will be considered an assault and they will be prosecuted for it. There is PLENTY of precedence for this action under definitions of child abuse in law, which include mental abuse which would clearly bring exorcism under the definition of abuse now recognised by the courts. To paraphrase the NSPCC's TV jingle. No Exorcism. Full Stop!
Until the government stops massaging the stereotypes and attacks this problem head on more children will undoubtedly suffer. But despite their platitudes the authorities continue to apparently ignore the real causes all the same. Just as they put off addressing the world-wide scandal of thousands of cases of priests and clergy who have abused hundreds of thousands of children over the years.
SAFF RESEARCH CONTRADICTS GOVERNMENT ASSUMPTIONS
When the SAFF produced research to prove the extent of Priestly Abuse in 1989 the government turned a blind eye, as did the NSPCC and most other agencies within child protection, for we had uncovered a scandal that dare not speak it's name. Within ten years the Vatican had been forced to pay out billions of dollars in damages to victims of their child-abusing priests and most of the public are now aware that churches in many instances knew what was happening yet conspired to hide the abuse from the public and move the paedophile priests to other areas where some actually abused children again! So even the mainstream churches can lie and cheat about these things, yet in the pie chart of possible threats to children (which include Uncle Johns, Dangerous Strangers etc) put out by the NSPCC you won't find a single mention of priestly abuse. Even though cases are still running at an average of 3 a week! So it is no wonder that you, as just a regular person in the street, are ready to believe that Witches or Satanists did it because Christians couldn't do anything so awful, could they? Let's see if we can open your eyes...
Did you hear about the Catholic Priest who strangled a teenage parishioner whom he had made pregnant and then chopped up her body and dumped it in a cemetery? I wonder why you missed that? Did you hear about the congregation of a House Church who killed a 11 year old child in an exorcism and then kept her body in a roll of carpet, brought it out every Sunday and tried to resurrect her with prayer but had to admit defeat when she decomposed? No? I wonder why? Did you hear about the priest who knifed a nun he was having an affair with 32 times and then arranged candles around her body to make it look like satanists had done it? No? Missed that too? Did you hear about the high-level Welsh Vicar who for years used to secretly cut the penises off the corpses of parishioners consigned to him for burial and kept his collection in a drawer in his living room? Didn't splash that across the headlines did they? Did you hear about the fundamentalist minister who placed his son into a bessemer converter of molten metal as a sacrifice to god in a parody of Abraham's story in the bible? No? Strange that. Did you hear about the mental patient who was exorcised in Wakefield and who promptly went home and clawed his wife to death believing that she was the devil - she choked to death on her own blood? No you probably won't have heard about any of these cases because the British Media and the Government are so full of self-righteous humbug about the supposed danger to society of Witches and Satanists! However, the SAFF have for nearly two decades made a study of these and hundreds of other disgusting cases of Christian Abuse. We published them in 'The Black Museum of Priestly Abuse'. Once we had started collecting them there were so many that we had to add a second volume a few years later 'Black, Museum II'. And since then our files became so voluminous we just gave up publishing them because we have already categorically proved our point beyond conjecture. But wait! Can you just point me out the bit where 'witchcraft' comes into all this? No, thought not. You can check out some of these reports yourself in detail on www.saff.org.uk/sickvics.htm
MAINSTREAM CHURCHES JUST TO BLAME
Be under no illusion, although fundamentalist churches are the main crux of the exorcism problem the mainstream churches are as much to blame. The Church of England has its own exorcists and whilst they have a history of working with doctors and psychiatrists they still insist that possession is possible and exorcism necessary. Only last week The Church of Scotland announced an expansion of its exorcism squad stating that half their clergy believe they have encountered 'Satanic Forces'. They claim to be getting ready to exorcise parishioners 'who are possessed'. I wonder if that includes children and the mentally unstable?
Today we tell the hard truths again. We say that the exorcism of children should be made illegal. Anyone attempting it should be checked for their sanity and deprived of the ability to mislead other pious Christians down the road of persecuting their own children.
The established church and mainstream religions should come out instantly to support a voluntary ban on child exorcisms in their services. Why haven't they done that already? We demand that they do!
IS THIS REPORT TOO LITTLE, TOO LATE?
The S.A.F.F. publicly challenged the government and the churches about the dangers of exorcism as long ago as January 2002 in response to a BBC Everyman programme which promoted Exorcism as a valid alternative to psychiatry and carried the message that possession was a reality. This programme was quite simply an encouragement to untrained and irrational people to believe in the possession of people by spirits and undertake exorcisms to 'heal' them. Our 2002 report on the dangers of exorcism can be seen on www.saff.org.uk/everyman1.htm and catalogues dozens of horrible cases over the past few years where Christian inspired exorcism lead to the death, killing and harm of innocent people. What a pity Beverley Hughes and Eleanor Stobart didn't read it when compiling theirs. We warned Everyman at the time that they had a duty to rebalance the issue and show the dangers of exorcism to their viewers. They failed to do anything about it and the people who made that programme must carry some of the responsibility for the evils that exorcism has caused since.
As you can see from all this, the Christian Exorcism of Children is not a 'hidden problem in parts of our society' as this report states, it is indulged in completely openly and with a vengeance by thousands of adherents of the evangelical wing of Christianity who have things all their own way and feel divinely justified in inflicting atrocities on children they think are possessed with the devil, 'for their own good'. It is their Christian belief in the mediaeval clap-trap of 'possession' which forms the justification for beating the devil out of their children. How the government can pretend that this is not happening when there is such a long and consistent history of mainstream religious beatings and inappropriate abuse by nuns, Jesuit monks and other clergy it is a common joke. To project the blame for such atrocities onto unpopular beliefs such as African tribal religions instead is not only dishonourable but highly dangerous to children who are locked into an irrational situation.
GOVERNMENT MUST GET IT RIGHT
Beverley Hughes should get control of this problem straightaway because the growth of the House Church movement in Britain is exponential and more abuse is in the offing. This was a fabulous opportunity for the government to end once and for all the growing superstition which is not only flourishing within the Happy-Clappy House Church movements in most major cities throughout the U.K. but which is being promoted as a superior form of healing to orthodox psychiatry and will cause extensive harm to the fabric of our society in future if it is not stopped. Instead of wasting £140 million pounds of taxpayers money to set up a new Demonology for so-called 'ritual abuse' Inquisitors the government should be training social workers to spot religious fanatics in local churches.
In conclusion, after tracking these types of allegations for nearly two decades we see this latest twist as yet another method of re-introducing a watered down version of the Satanic Ritual Abuse Myth which, despite its constant failures, is still a sacred cow amongst a minority of influential social work activists today.
WHEN THE SATAN HUNTERS CAME TO TOWN
When the Satan Hunters came to town in 1989 and destroyed the lives of 86 innocent children and their families over spurious claims that Satanists were abusing children we said it was a smokescreen to cover the incidence of Priestly abuse. Over the next few years we proved statistically that a child is a at least a thousand times more likely to be abused by a priest than by a satanist and in the passage of time the cases heralded as proving the Satan Hunters beliefs failed and our conclusions were proven correct in every respect. There has not been one instance where a satanist has been successfully prosecuted for abusing children as part of their religious convictions. It was all a Myth and in 1994 Professor Jean La Fontaine completed her definitive official report which confirmed it. Yet ten years later the Satan Hunters were at it again making the same prejudiced mistakes, this time in Stornoway, Isle of Lewis. Another failed case and destroyed lives just to remind the public that the madness had not gone away.
Today the people who are abusing children in Exorcism ceremonies are the same Christian fundamentalists who accused satanists of doing it before. The Theraquacks and social work agitators who have been secretly pushing these ideas at the police and local authorities in the intervening years also believe Satan is everywhere. After encouraging religious mania by pandering to the expectancies of the fundamentalists for so many years is it any wonder that superstitous evangelists think that Satan has possessed their children. It's simply a sub-set of the Satanic Ritual Abuse Myth.
When these manic exorcisms result in harm the mainstream churches don't throw their hands up and say 'we were wrong - some amongst us are irrational obsessive religious zealots who lost sight of the fact that a child needs nurturing and instead they misused Christian tenets to beat to death an innocent child thinking it would do it good' They say instead that beating that child to death would not have been necessary if Witches had not hexed it! They ignore the cause and project it onto non-Christians. Of course the lunatics are unrepresentative of mainstream Christians, so why don't the pious majority come out and say so? Why not admit it instead of trying to blame it on the Witches? Is this the way that Tony Blair engenders his multi-faith, multi-cultural Britain? By accepting official reports allowing religious zealots to get away with dark-age crimes by blaming it onto another section of the community to avoid upsetting nominal Christians?
It's another smokescreen, folks, and the government has fallen for it hook, line and sinker. It isn't 'a belief in Possession and Witchcraft' which is the problem. It's a belief in the fundamentalist tenets of Christianity by a minority of gullible and superstitious adherents. A major cause of the problem is the expediency of the established Churches - they are increasingly willing to indulge in irrational clap-trap in order to put bums on pews . The radical Black African Hallelujah lobby is occluding the traditional Cof E approach and pushing Anglicans towards mediaevalism in the head-long rush for zealotry. Unless the problem of possession and exorcism is tackled head-on by the established churches the long-term dangers for our society are immense.
No Exorcisms. Full Stop!
John Freedom, Mortlake 29 June 2006
Ends.
---
.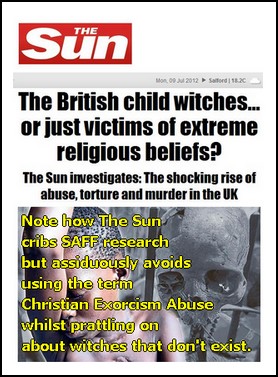 A DECADE AFTER
THE SAFF EXPOSED
CHRISTIAN CHILD EXORCISM ABUSE
THE SUN FINALLY JUMPS
ON THE BANDWAGON!
But They're Still Clinging To The Witchcraft Lie To Save Face
This is how the 'Soaraway Sun' Broke The News To The British People on 9th July 2012....
The British child witches... or just victims of extreme religious beliefs?
"A SUN investigation has found vile witchcraft abuse of children is on the rise in Britain and it is not just restricted to those from African backgrounds. [SAFF Ed: It has NOTHING to do with Witchcraft, it is CHRISTIANS who are abusing these children]

A criminologist and expert in African religion, Dr Richard Hoskins, who also acts as a consultant on murder cases, has just written a new book on the phenomenon and believes church cults are freely promoting brutal exorcisms of 'possessed' children because officials fear offending cultural beliefs. [SAFF Ed: They are not Church Cults, They are bona-fide CHRISTIANS in bona-fide CHRISTIAN churches, not cults. It is the abject failure of observers to realise that it is mainstream interdenominational CHRISTIANITY which is responsible, that has caused more torture and suffering for children in their grip]

Here, Hoskins insists authorities must not allow violence to be masked as multiculturalism. [SAFF Ed: It has nothing to do with Multiculturalism, the CHRISTIAN evangelists and fundamentalists who are perpetrating these crimes are specifically antagonistic to any form of multiculturalism. They are ABSOLUTISTS, just like their leader the Archbishop of Canterbury. Talk of multiculturalism is quite frankly a smokescreen]
CARYS should be like any other teenage girl - bubbly, confident and finding her feet in the world. Instead she is bruised and battered, her hair matted from drying blood.Her eyes are fire-red and swollen from the rub of chilli peppers. She shows me the scar marks on her arms where she has been cut with a knife. Other instruments have been used in the torture - sticks, hot spoons, an iron rod. There are lacerations to her face, back, stomach and hands. She has even had chilli peppers rubbed into her private parts.

After Carys was taken to hospital two days ago, she arrived at school with a fresh wound to her head. A teacher spotted the blood running down the side of her face and called social services. A doctor examined her and found more than 25 separate wounds to the body on first inspection. Why has she suffered like this? Because she is a witch. Or at least, so her mother thinks.

Exorcism

She attends a new revivalist church in north London, where messages of possession by witchcraft and the need for deliverance are regularly proclaimed. Carys is not alone. I have a dozen investigations on my desk from police and social services.

Not all of them are African children. There are scene-of-crime photos from ritual murders involving white British where I helped decode dark symbols in the name of extremist religious beliefs. [SAFF Ed: He means CHRISTIANS but dare not speak the word]. The new cases are drawn from around Britain - interview notes, photographs, more body maps spanning from London to Birmingham, Peterborough to Glasgow.

A significant proportion involve children being accused of witchcraft. The carers of these children , whether parents, aunts or uncles are involved in abusing them in the name of extremist religious beliefs. [SAFF Ed: Hoskins means that they are CHRISTIANS but using the term 'extremist religious beliefs' enables smug Christian readers to conclude falsely that it has something to do with all that Satanic Abuse from the 1990s - and so more children are lined up to suffer because people are looking the wrong way].

I first came across kindoki, the Lingala word for witchcraft, when I went to Africa as a young man in the 1980s. I learned about kindoki first-hand from the witchdoctors, traditional healers there. For hundreds, probably thousands, of years it was the catch-all for evil; something which troubled you from outside. It was usually quickly dealt with by the witch-doctor, who would offer a sympathetic ear then prescribe herbal medicines.

Then it all changed. Fundamentalist Christian cults mixed with this ancient belief to create a deadly new cocktail. [FALSEHOOD! It had nothing to do with the ancient beliefs; the witch-hunts and exorcisms against children were entirely and utterly promoted and created by missionary pastors and Christian preachers. The Christian preachers used the fear of witchcraft to convert local people from native healing systems to a belief in Christianity. It is utterly reprehensible of Richard Hoskins, whom the SAFF have conducted critical correspondence with over the years, to try to establish the false premise that the native healing systems and shamanistic tribal beliefs were somehow responsible for this epidemic of child abuse. It is CHRISTIANITY which is the root cause of these abuses, not witchcraft] Their pastors started preaching about children being possessed by kindoki. The children were witches. And their only hope, if they weren't to find themselves literally cast out on to the streets, would be deliverance or exorcism.

These deliverances are often very violent. They include fasting children from all food and water for days. Last year I met a girl at death's door because the pastor had not let her drink for days despite the tropical heat.

Children are often shaken and beaten. They are sometimes even cut with razor blades. I met children sent back to Africa from Britain to undergo these exorcisms. In another case, Islington Council incredibly even sought my advice on whether a child in their care should be sent back to Kinshasa in Congo for deliverance at the taxpayers' expense.

I have a current case where those responsible are asking for the same thing - to send the British child to Africa for deliverance. All for a fee into the pastors' pockets, naturally. As one village elder told me in the Congo:

It is a scandal - children are being abused so that these pastors can get rich.

But this isn't just some African problem. It's here. Now. In the UK. And the situation is getting worse. These cults are spreading their evil message. [SAFF Ed: Here we go again - THEY ARE NOT CULTS THEY ARE CHRISTIANS. They come from long-established Western Christian denominations such as The Baptists, The Pentecostals and other mainstream missionary groups under the umbrella of the British Evangelical Alliance. The word 'Cults' juxtaposed with the word 'evil' is thoroughly misleading and irresponsible. It fools readers again into thinking that Satanists or Witches have something to do with it when they haven't ]

I gave evidence this year in the murder trial of 15-year-old Kristy Bamu at the Old Bailey. For many of us it was the worst case we had ever encountered. I saw hardened police officers reduced to tears.

In December 2010, Kristy was savagely tortured by his sister Magalie Bamu and her boyfriend Eric Bikubi. He had 131 separate injuries. They used a knife, pliers, a table leg and ceramic floor tiles, which were smashed over his head. They rammed a metal dumbbell down his throat so that his teeth were broken. Eventually Kristy was dragged to the bathroom and drowned.

Magalie Bamu and Eric Bikubi were found guilty and sentenced to life, with minimum terms of 25 and 30 years respectively. And it was all because they thought he was a witch. Kristy wasn't the first child we know about to suffer for this here in Britain. Victoria Climbié, an eight-year-old from the Ivory Coast, died in London in February 2000 after a horrendous period of sustained torture. She had been beaten, burned with cigarettes and forced to sleep in a bin liner in an empty bath. When she was finally taken to hospital it was too late to save her life - 128 separate scars were found on her body.

In 2001 her great-aunt Marie Therese Kouao, and Marie's boyfriend Carl Manning, were convicted of murder and sentenced to life. They believed Victoria was a witch. [SAFF Ed: In overviewing these two cases Hoskins fails to mention that the family members who tortured and killed Bamu and Climbie were both confirmed Christians and church-goers]

The Laming report after Victoria's death pointed the finger at gross failure of public agencies. There was a lack of joined-up thinking and work between agencies such as police, social services, medics and schools. The catalogue of errors indicated systemic failures that had to be eradicated. For a while we all hoped they had.

The Every Child Matters agenda, which forced multi-agency joined-up thinking, was meant to prevent anything like Victoria Climbié happening again in this country. However, a decade later, there are grave causes for concern. When Carys's mother was arrested for abuse in the name of witchcraft, [Whoaa! Wait just a minute! What's This? 'Abuse in the Name of Witchcraft'? After omitting to mention that Bamu and Climbie's murderers were Christians Hoskins goes on to use a completely dishonourable phrase which might lead some readers to believe that witchcraft was involved in his latest case, yet the abuse of Carys, like the abuse of THOUSANDS of black children in West Africa and in Britain today is caused not by 'abuse in the name of witchcraft' but ABUSE IN THE NAME OF CHRISTIANITY. The abusers may accuse their children of being a witch but THEY ARE CHRISTIANS AND THEY USE CHRISTIAN EXORCISM CEREMONIES ON THESE UNFORTUNATE CHILDREN - it really is beyond the pale for Hoskins to attempt this dishonourable slur, particularly as we have already warned him about it in our correspondence and in our review of an earlier documentary of his on this subject here: ] .... some of those responsible decided that the best person to place Carys with that night was... the pastor. He arranged for all the extended family to come and put pressure on Carys to withdraw all evidence. Had she not been so strong, this case would have fallen by the wayside.

This problem is not just about multi-agency co-operation, however. It's about the underlying failure to tackle abuse when it is masked behind multiculturalism. [SAFF Ed: Hoskins must have defective spectacles. The abuse is not masked behind multiculturalism, it is masked behind fundamentalist Christianity!] Some women and children from diverse cultural backgrounds are suffering abuse, even death, because authorities are too afraid to intervene.

This week I received an email from a British woman with an African-Caribbean background. After reading my new book, she felt compelled to write. Her words are ringing in my ears: Evil must never be rationalised away as a 'cultural norm' in the pursuit of political correctness.

We celebrate diverse beliefs in this country. Yet there is growing evidence that all manner of evils are being committed in the name of cultural beliefs and practices that, quite simply, should play no part in contemporary Britain. [SAFF Ed: Hoskins' conclusion plays to the balcony and avoids the tough love necessary to save kids' lives. It isn't cultural beliefs and practices which are causing the problem, Richard, IT'S EVANGELICAL CHRISTIANITY and blaming it on tribal or cultural issues is a despicable use of the race card which can only cause further problems across our fractured society.]

The Boy In The River, by Richard Hoskins, is published by Pan, paperback, £7.99.
£4,000 visit 'outrageous'
DESPITE the seriousness of British witchcraft abuse, Dr Hoskins says a £4,000 taxpayer-funded research trip he took to the Congo was an outrageous waste of public cash. The trip was arranged by Islington Council social services after a mother claimed her 14-year-old son needed to be sent home because he was possessed. Dr Hoskins, a research fellow in criminology at Roehampton University, said: If I didn't come back with an assessment, he would have been sent out anyway. It's outrageous. As a taxpayer justifying that, it's not right. Islington Council said the trip was on the instructions of a judge.
How Religious Hatred is Institutionalised in the Machinery of State
"Police and child protection experts have now created a training film for all front-line professionals who work with children to teach them how to recognise the signs that a child may be suffering, or likely to suffer harm from witchcraft." The DVD will be launched at a conference on the subject in London today, organised by the Met police and the Churches' Child Protection Advisory Service (CCPAS), before being distributed to those in the force area who work with children who may be affected."

The outcome of Stobart's fudged report in 2006 and the 'Government Action Plan' follow-on in 2012 can clearly be seen in a massive cover-up with Christian Churches countrywide who, together with the child care charities and the police, have swept the phenomenon of Witch-Children under the carpet by drawing the public's attention away from those Christians in their midst who use Exorcism rituals to abuse children. .

The definitive term which hides the Christian origin of this abuse was first coined by Stobart as

'Child Abuse Linked to Accusations of Possession and Witchcraft'.

With the input of the inherently sectarian Churches Child Protection Advisory Service, this definition has now been corrupted to:

'Ritual child abuse linked to a belief in Witchcraft'

Which is altogether different, inferring as it does that Witches and Witchcraft are the cause of the abuse when the truth is that fundamentalist members of Christian churches were brutalising their children in exorcism ceremonies and occasionally killing them by accident because THEY (the abusers) believed that Satan (a component part of the religion of Christianity ) had entered the child and should be beaten out of it to save it's soul. It had nothing whatsoever to do with witchcraft and witches.

Yet look how the fine British Media portrayed this news.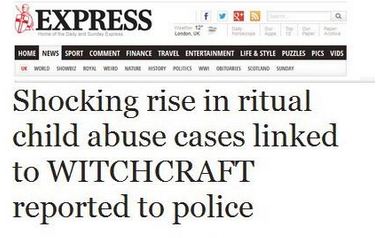 Many others, including the BBC followed suit with the deception that Witches were somehow involved. It fooled many ordinary folk who re-tweeted the shocking information as though true. It also gave yet another platform for those Satan Hunters who have for years campaigned to establish the idea of Satanic Ritual Abuse in the minds of the populace. You can see a sample of both by checking out our Twitter page (goto our homepage.htm and view the drop down box in the leftmost column, or @SAFFtweets ) but here's a taster:.




Their prejudiced misunderstanding of the allegations in these Witch-Children cases was precisely the conclusion the Churches' Child Protection Advisory Service wanted them to come to. That Witches were abusing children. Note that the CCPAS was set up by UK churches as a damage limitation policy to counter allegations that Churches covered-up the crimes of paedophile priests. Their job was to put in place safeguarding proceeders for children IN THEIR OWN CHURCHES. Yet here they are working with the Police clearly blaming Witchcraft and Witches for abuse. How convenient for them. Of course, as we have stated time and time again. NO witches or pagans whatsover were involved in these 'Witch-Child' cases and the perpetrators of this vile abuse were Christian fundamentalists following what they saw as Holy Writ.

It wasn't just the ordinary 'man in the street' who fell for the deception, the same evil lie was sucked-in by many Child workers. For example, this report by Nursery World, a respected magazine for child carers and workers;


'linked to witchcraft' not to Christianity! And, astonishingly, by police magazines themselves!


They immediately jumped to conclude that the Authorities were confirming that Witches were abusing children when in fact they had nothing whatsoever to do with it!
Thus, as the SAFF has continually warned, the 1990 lies concerning the Satanic Ritual Child Abuse Myth has so deeply infected and indoctrinated the minds of untutored people (and those who WANT it to be true for their own sectarian purposes - like the Churches' Child Protection Advisory Service,) that when presented with those headlines, they immediately jumped to conclude that the Authorities were confirming that Witches were abusing children when in fact they had nothing whatsoever to do with it!

This publicity was to promote a TEACHING VIDEO which was being hailed as leading-edge instruction to give child workers information so they could intervene in Witch-Child cases and save children from harm. It is being distributed with the backing of the police to all churches, all social services and child-welfare groups. What do you think the chances are that false Satanic Ritual Abuse Myth cases will occur in the next few months? Almost certain.

And what are the chances that madcap evangelical Christians will continue to physically abuse and sometimes kill their children in exorcism ceremonies whilst the police are chasing phantom witchcraft abusers? Certain.

Then what are the chances that, when other child victims die, the Churches, the child charities, the Authorities and the Police along with all the bankrupt politicians in this country will try to cover-up their combined failure to protect children; by blaming it on some phantom Witchcraft conspiracy? AN ABSOLUTE CERTAINTY - BECAUSE THE PUBLIC HAS SHOWN ITSELF DIM ENOUGH TO SUCK IT IN EVERY TIME.

THE DECEPTION:
"A training film for all front-line professionals who work with children to teach them how to recognise the signs that a child may be suffering, or likely to suffer harm from witchcraft."

THE TRUTH:
Recognise the signs that a child is being beaten and tortured in exorcism ceremonies at home and at church by Christian evangelical parents who believe a badly behaving child has been possessed by the devil and should be beaten out of him as specified in Christian Holy Writ. If the child still mis-behaves, they will increase the frequency and severity of the punishment until the Devil goes, or the child dies.
Proverbs 23:14 "You shall beat him with a rod, And deliver his soul from hell."
Watch this space........