Latest: Wilfred Wong Kidnapping Gang sentenced to 63 years in gaol. Click HERE for detail of sentences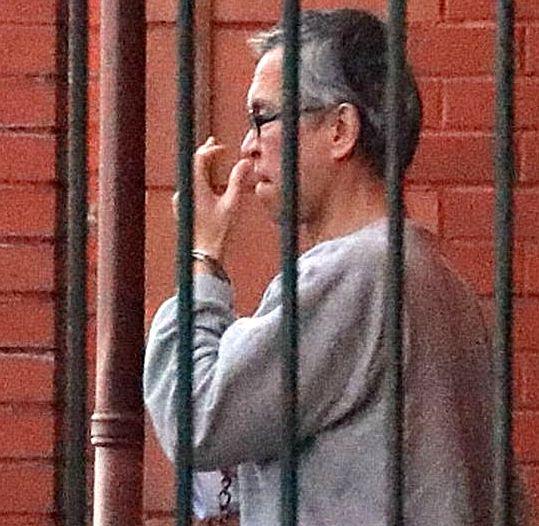 Satan Hunter Wilfred Wong found GUILTY of Child Kidnapping.
Refuses to swear on the bible in court so he can lie without damning his soul!

On 23 July 2021 the Sectarian Liar Wilfred Wong, long exposed by the SAFF as a danger to society, was found guilty of kidnapping an eight year old child at knifepoint.

Fired by religious mania Wong has spent the last 29 years on a tirade of sectarian malice using false-allegations of Satanic Ritual Child Abuse to fuel hatred amongst the evangelistic Christians he networks with in a successful attempt to graft the ancient Blood Libel Myth with the fundie Anti-Abortion movement.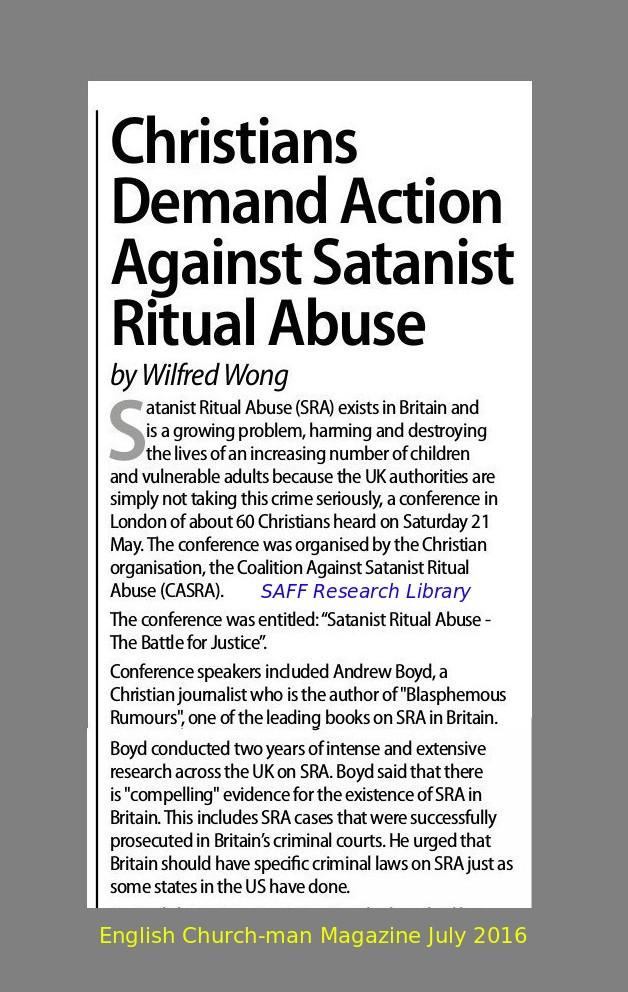 Wong has consciously and continuously encouraged a false belief in the existence of Satanic Ritual Child Abuse and encouraged others to take action against it.

In 2016 he began his latest campaign with a Satan Seminar in London alongside another Christian fundamentalist agitator by the name of Andrew Boyd who had, 24 years earlier manipulated channel 4 television into broadcasting a sensational 'film of actual Satanic Abuse happening'. Within days the film was exposed by the SAFF as a performance art video and a complete fraud. Millions of British viewers had been conned by this clique of Bible thumpers.

It was a nationwide scandal from which it took Boyd two decades to recover as the memory of his lies about SRA slipped from view, yet here he and Wong were again campaigning to manipulate the minds of other gullible Christians in 2016 with his campaign Christians Demand Action Against Satanist Ritual Abuse.

With the advent of social media networking this time Wong was able to reach literally millions of gullible Christians and with the help of other evangelical leaders who opened doors for him with streaming channels like Youtube with Wong giving long Sermons about the 'millions of kids killed in Satanism' it took him just five years to reach the inevitable point where he took the law into his own hands and talked his gang of fundie followers into kidnapping Child X.

The seven people involved in Wong's gang of crusaders were all fundamentalist Christians who believe in the existence of Satanic Ritual Abuse and suffused with that bigotry had falsely accused Child X's father of it.

Wilfred Wong and his gang clandestinely travelled from London to Wales in a complicated kidnap plot to abduct Child X from his home in Anglesey. That poor child was snatched from his foster mother 'at knifepoint' 'kicking and screaming' . When caught Wong was found to be in possession of a tactical assault knife and a bag of kidnap materials involving cable ties, and a mask..

Were it not for the quick actions of North Wales Police Child X would have been spirited away into Europe and probably never seen again. The police undertook a fast pursuit down the M1 and an armed police squad caught Wong and his gang 200 miles away near Northampton in a dramatic three car blocking manoeuvre a video of which we post below.
Robert Frith suffocated in his cell - the fundies said Satanists had done it
Wong was the indisputable ring-leader of the gang but to add further tragedy to this appallingly fanatical act of kidnap, one of the people Wong recruited was, Robert Frith, a former psychiatric nurse, who was later found dead in his cell after (according to the post-mortem) sticking his head in a plastic bag, whilst on remand.

So, one dead perpetrator and an 8 year old child traumatised for the rest of his life on Wong's sinful soul.

Typically the fundie SRA network, in trying to overcome their shock at having Wong, their evangelical hero become an evil child kidnapper, have insisted that Frith was killed by 'The Satanists'. Some have actually capitalised on the poor man's death by trying to posit it as proof of Satanic involvement in the case to justify Child-X's kidnapping! The mentality of these people is thoroughly paranoic.

The extent to which Wong and his Gang planned the kidnapping of Child-X is astonishing and we will outline it for you in detail below but first here's the blow by blow account of how this disgusting crime was carried out and how the police thwarted it.


WONG KIDNAP TIMELINE
The gang of thugs, lead by knife-man Wilfred Wong, hatched a harrowing plan to spirit the victim abroad but they were caught and stopped by police officers after a 200 mile chase. Wilfred Wong abducted Child-X from Gaerwen on Anglesey, North Wales on the afternoon of November 4th 2020. Wong's plan was to take the kidnapped child across the channel to France.

At about 4.pm on the afternoon of November 4, the foster mother who was caring for Child-X had picked him up from school and driven back to their home when a silver Citroen Picasso car, carrying two people, suddenly drew up and parked on the road, alongside.

The foster mum told the court that a woman got out and "lunged" towards her car.

She said: "She opened the car door and tried to remove Child-X from my car."

The foster mother said the woman - later identified as Anke Hill - managed to unclip a seatbelt "from around the waist and just pulled the child into the silver car after quite bit of a struggle". Anke Hill then got into the back seat of the silver car, with Child-X.

Prosecutor Anna Pope asked: "How was Child-X when Hill was doing this?"

The foster mum said the child was "terrified" and started sobbing. "Child-X kept calling my name and asking me to help. I tried to hold on to him as much as I could."

Then a man dressed in black wearing a mask (later identified as Wilfred Wong) emerged from the silver Citroen Picasso, as the foster mum was screaming and becoming hysterical.

The foster mum told the court: that Wong had come around the back of her .

"He held a knife to my face and told me to let Child-X go."

She did so and Wong then went round the back of her car and stuck the tactical military knife into her car's tyre so she could not follow his Citroen getaway car.

"I saw him crouch down and heard a hissing noise. The tyre went flat".

Wong then joined Anke Hill and Child-X in the silver Citroen and they drove off towards Bangor.

However, two landscape gardeners - working on a fence opposite - noted the silver Citroen's registration number. One of them, Lee Pritchard Roberts told prosecutor Anna Pope that his workmate Dave Roberts brought his attention to a silver Citroen Picasso which had parked across the street.

He said: "The car was revving as if it was impatient or waiting for something.

"We heard shouting and screaming (coming from the hysterical foster mum) and thought it was maybe a domestic. We put our heads down and thought 'We don't want to get involved. But the commotion got louder and we thought; 'This was probably something a bit more'."

Mr Roberts added:

"I could see a male (Wong) attempting to pull a child out of the rear passenger side of the black people carrier. He had short dark hair, glasses and a facemask. "The child was struggling - kicking its legs. There was screaming and shouting and the car seat fell onto the pavement." The child "was put in the back of the Citroen Picasso, through the rear driver's side". "The male (Wong) went round and punctured the rear, passenger side wheel of the foster mother's people carrier."

The prosecutor Ms Pope asked Roberts what kind of object was used to puncture the tyre and he said:

"It was effortless. Whatever he had was really sharp." Roberts said the foster mother was "shouting hysterically 'My child has been kidnapped!'

The court heard that the foster mum then dialled 999 to call the police.

Hill and Wong drove to Cyttir Lane, Bangor, stopped and transferred Child-X into a second getaway car a hired silver Ford Galaxy which was waiting for them. The Galaxy was driven by Edward "Ted" Stevenson, with his wife Janet Stevenson, 67, in the front passenger seat. It sped off along the A55 bound for southern England and was driven 200 miles all the way to Northants before police caught up with the car.

The joint operation involved several police forces. They eventually thwarted the kidnappers by stopping their car on the M1 motorway near Newport Pagnell (Junction 15), at about 8pm, four hours after the kidnap bid started.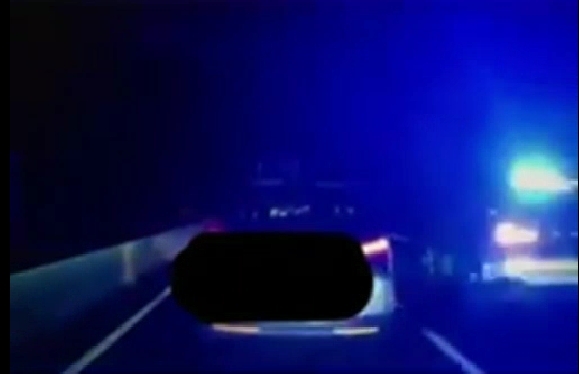 Three vehicles from Northamptonshire Armed Response Vehicle team cornered the car, which allegedly displayed false number plates (See movie clip of the fugitive's chase by clicking on the illustration on the right.

The Stevensons were sat in the front seats of the vehicle, while Child-X was sat in the rear between Hill and Wong Clutching a toy monkey.

Child-X was taken to safety while all four adults from the Galaxy ( Wong, the Stevensons, and Hill) - were arrested on suspicion of child abduction and hand cuffed at the side of the motorway.

In a search of the car officers found a 'kidnappers' kit' of items in a rucksack and bag belonging to Wilfred Wong which included cable ties, a balaclava and a serrated lock knife. Detective Constable Lee Harshey Jones, of North Wales Police, later told the court Wong's rucksack contained a knife; a black Jack Wolfskin, open face balaclava; cable ties (two ready-looped and one open) and a bag of unused ties. Forensic scientist Adam Wilson later said the serrated blade of a lock knife found in Wong's rucksack was used to slash the foster mother's tyre.

Child-X was thankfully returned "safe and unharmed" just hours after the kidnapping.

A further two accomplices have since been detained in Wales; a look-out called Jane Claire Going-Hill, 59, of Pump Street, Holyhead, who was arrested in a Honda Jazz car at The Antelope pub in Bangor as the investigation continued. Her companion in the car Robert Frith, 65, of Tyn Parc, Holyhead, was also arrested but died in prison last November while on remand for the same charge.

By February 16th 2021, a seventh member of the gang, one Kristine Geraldine Ellis-Petley, 58, of Ffordd Tudur, Holyhead, was arrested and admitted conspiring to kidnap a child.



The Trial and the SRA Circus surrounding it.
Although committed in early November 2020 this trial was very complex and did not begin until June 28 during which time Wong was remanded to HMP Berwen, North Wales. There were 7 people to prosecute with varying pleas of guilty and not-guilty and the delays in the justice system due to Covid-19 enabled Wong's fundie supporters to set up impromptu campaigns to 'prove his innocence' almost all of which involved blogs and videos on the internet which breached sub-judice laws. The judge in charge of the case; Judge Nicola Jones did an excellent job of coping with some very strange events.

One long-time Wong supporter and fundamentalist activist, Richard Carvath revealed forbidden information on Wong's crime in great detail in his blog simply by using the name Willy Wonka and not referring to Wong at all. Carvath, along with other fundies, held 'vigils' outside Wong's prison. During the trial Carvath pretending to be a journalist, gained access to court and interrupted proceedings by calling from the public gallery. He was physically thrown out.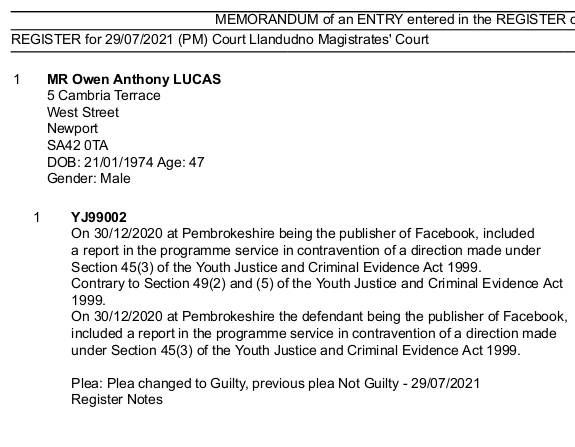 Another madcap fundie agitator and Wong supporter Owen Lucas, from the 'SRA Common Law Assembly' disregarded the court entirely on the basis of his novel idea of 'Common Law' which in his opinion meant that sub-judice didn't apply. He was subsequently arrested, pleaded not guilty, and so spent 7 weeks in prison on remand, then changed his plea to guilty and was tried and convicted on 29 July 2021.

Another wong colleague and supporter, the madcap Jeanette Archer, an SRA believer and fundie, organised an on-line campaign to 'free Wilfred', arranged protests in Anglesey and several in London during which letters from Wilfred Wong were (against sub-judice rules) read out to the hundred or so people present. She published many videos insisting that Wong had been right to kidnap Child-X and appealed for money from donors to continue her work to 'expose SRA'.

On one of these anti-SRA protests Archer stood outside the gates of Number 10 Downing Street and, using a megaphone, accused Boris Johnson of being a Satanist who drank the blood of children. Not only was the prime minister a Satanic child-killer, said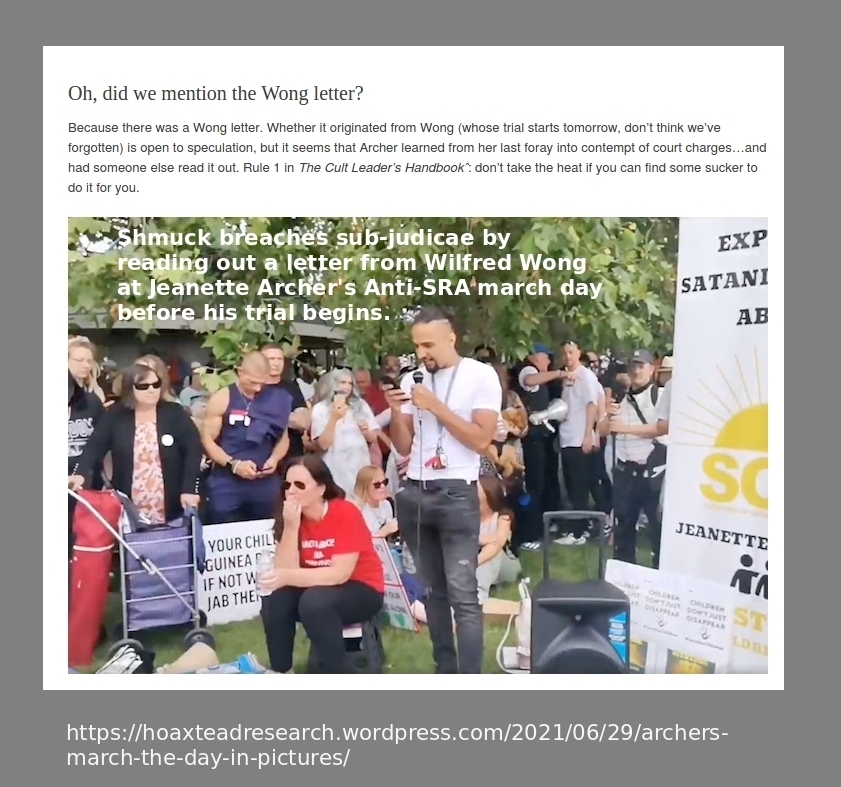 Archer, but so were all the members of his his Cabinet and all the permanent secretaries in Whitehall. This illustrated the fact that anyone who stands in the fundies' way is an enemy and their authority is repudiated.



Private Eye covered this event (see illustration alongside - please note that although shown in miniature if you click on these graphics they will open up to full size for easy reading).

We mention these three maniacs as examples of the continuous stream of fundie propaganda on the internet from madcap evangelical Christians. Other fundies were also arrested and prosecuted or cautioned. Of course the SAFF has warned the police and government of this country for decades about this growing threat from Fundamentalist Terrorism but they have, as usual, turned a blind eye to it until the monster is now causing the justice system real trouble.

The important thing to keep in mind is that there is, literally, an Army of hundreds of thousands of people who have been encouraged by Wong and who see him as a Christian Martyr. The fact is that after three decades of these hyper-sensitive people searching the world to find a Satanic Abuser they have come up with nothing. Satanic Ritual Abuse of children or adults simply does not exist. It is a figment of religious fanaticism. This is exactly what the original definitive government report on the 1990 Satanic Panic said when it was published in 1994. There have been NO instances of Satanic Abuse in the last 30 years. But if you listen to Wong and Archer they claim that literally thousands of children have been murdered. If an anti-Semitic group published propaganda that Jews killed and ate Christian children by slitting their throats and catching the blood in a chalice they would be imprisoned for hate crime, but because these fundies hide behind Christianity and blame unpopular Satanists, they are allowed to get away with these blood libels each and every day. Well this is the result - one man dead through shame, a child traumatised for life and four silly evangelical Christians who've ruined their lives by believing in a tent-crusader flogging a religious phantom.


The Trial
The Trial spanned three weeks and ended on 9th August 2021 with Wong and all but one of those on trial being found guilty.

The jury heard how Hill conspired with Wong and Janet Stevenson to kidnap the child from foster care, with the help of the other three. Hill believed the child had been the victim of satanic abuse in the past, before being fostered, though police had investigated those claims and found there was no evidence to support the allegation.

The court heard the kidnap gang was recruited after Hill contacted Wong through viewing his many interviews on Satanic Ritual Child Abuse which are circulating on Youtube, Facebook and Bitchute, amongst the fundamentalist Christian network. Evangelistic Christians consider him the doyenne of truth about SRA even though he has had no success in proving it in the three decades during which he has promoted the idea. Hill found Wong online, and phone records produced in court showed the pair spent many hours in conversation.

Wong then put Hill in contact with Janet Stevenson, a Christian Counsellor who 'specialises in working with victims of satanic abuse'. In fact Stevenson is a believer in SRA and has worked with Wilfred Wong before to therapise vulnerable women who come to Wong through his on line lectures and statements.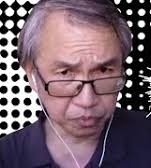 The court was told that Wong had spread the rumour that all social services are "infiltrated by Satanists". The jury were shown extracts from outlandish claims which Wilfred Wong made on a YouTube video. In the footage played to the court Wong said:

"The family court system (has) been infiltrated by Satanists, as well as social services. It enables them to turn upside down the system that is supposed to protect children from abuse into something that "protects the abuser and penalises the whistleblower, and gives the child back to the abuser's custody."

Wong also claimed on his video, without a shred of evidence, that

Satanists use social services to make money: "Fostering agencies, care agencies, local authorities and so called experts say that the whistle blowing (person) is not fit to care for the child. "They make tens of thousands of pounds...it's a gravy train."
Then in the video he says darkly;

"It has become so clear that the only way to protect a child from (abuse) is to take the child and flee the country, and hide until the child has grown to adulthood. It's the government's fault for allowing the family courts to be corrupted to this extent."



"It has become so clear that the only way to protect a child from (abuse) is to take the child and flee the country, and hide until the child has grown to adulthood. It's the government's fault for allowing the family courts to be corrupted to this extent."
That video ought now to be taken down by Youtube in case it encourages other fundies to kidnap other children. In another video, the jury watched Wong make more sensational claims:

"I do surveillance on Satanic covens. They like to meet on dates in the Satanic calendar and on the birth dates of their members "


Unfortunately the prosecution did not mention that Wong was part of a network of vigilante Satan-hunters who in military style, secretly DO stake-out people, groups and sites where Satanists are rumoured to practice their rites. One of Wong's close colleagues is the granddaughter of the late Geoffrey Dickens MP, the man who actually started the Satanic Panic in Britain in the 1990s. Wong was involved in chasing imagined Satanists at that time and worked closely with Geoffrey Dickens and other MPs who formed a Christian 5th column within Parliament. Indeed one of the few parliamentarians who, unwisely, wrote to support Wong was Geoffrey Dickens was also a Christian fundamentalist who used Holy Writ to back up his moral position. Wong today continues his witch-hunting work with Louise Dickens who since becoming a born-again Christian has taken up the Satan Hunter mantle of her Grandfather with gusto. In an interview on the Jimmy O Show just a few weeks before Wong carried out his kidnapping plot, she told the host;

Yes, I do surveillance, I do a lot of surveillance and I will be out all night and I will go everywhere and I drive around and will be climbing over walls in the dark by myself, hiding in bushes and (snigger) I'm like bloody Commando Jayne and I've been everywhere trying and so has Wilfred Wong for 30 years...

In other words these Christian vigilantes encourage each other to seek-out evidence of SRA. Though their literature and videos show plainly that they cannot actually find any (because it doesn't exist) these escapades become a kind of practice manouvers to firm-up their para-military activities and in this case resulted in Wong stepping over the line and committing the serious crime of kidnap. In short there are many other fundamentalist agitators like Wong ready to abduct other children and the government MUST now take this matter seriously to avoid it becoming a Crime Fad.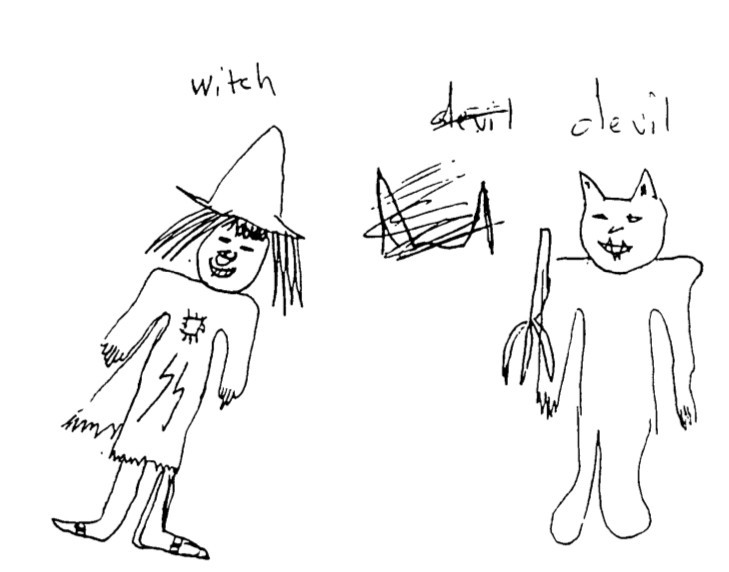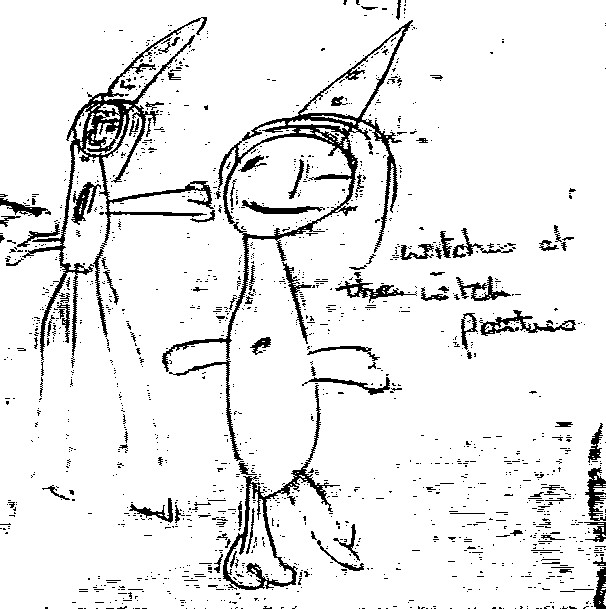 Soon after Wong had introduced Hill to Janet Stevenson, Hill is said to have produced 'drawings of Satanic Abuse'. Based on these drawings Stevenson pronounced her a victim of SRA and together they worked with Wong and the others to organise an elaborate plan to 'rescue' Child-X from the imagined Satanic cult.

We point out that 'drawings of Satanic Abuse' have featured heavily in almost every case of claimed SRA and are seized upon by believers as 'proof'. However even though used in dozens of claimed SRA cases those cases all failed in the courts. Getting a child or even an adult to draw what they think are satanists usually results in stereotypical sketches of Witches in pointy hats which have no evidential significance! We append two that featured in major cases in the 1990s which show exactly that happening. A kid or a young adult fantasises drawings of Halloween Witches and over-eager fundamentalist counsellors and therapists immediately see what they've been searching for.

In Prof. Jean La Fontaine's 1994 government report on the 1990 SRA phenomenon she covered the projection of prejudice like this onto small children and vulnerable adults by saying that none of the Satan Hunters believed that silence from the people they were questioning meant that there was nothing to say. They kept on questioning until they found some small particle which could be twisted to have some connection with the occult to confirm their own prejudices. That is obviously what Janet Stevenson did and therefore takes equal guilt to Wilfred Wong as without her rubber-stamping the existence of SRA the kidnap plot would not have gone ahead.

The SRA-hunters plan was not in any way amateurish, in fact it smacked of a great deal of research. It involved code names and a clandestine rendezvous at Bangor railway station, where one gang member arrived by train and followed another through the city at a distance. At one stage, the conspirators also considered modifying a horsebox with a secret compartment to smuggle the child away. DC Hughes said he suspected a horsebox could have been used in the final plan and asked Going-Hill to take him to it. But when she did it was empty. Earlier Janet Stevenson had that claimed Hill had paid £600 to a friend to build a compartment in a bulkhead of the cab of a horsebox, that was in September 2020, two months before the actual kidnap took place



During the trial Wong behaved irrationally. He refused to swear on the bible. This was a strange thing for a fundamentalist bible thumper to do considering that all his videos are laced with biblical quots and holy writ. You can see him quoting from the bible in the image on the left. Refusing to swear on the bible and instead taking a civil oath was a strategy probably designed to enable him to lie without incurring damage to his Soul.

Four of his gang admitted their guilt straight away but Wilfred Wong their mentor betrayed those whom he had inculcated into the kidnap, by trying to dodge his guilt. He claimed to have been on a 'walking holiday' in Wales instead. He said:

"I'd have been more of a liability than a help with any abduction plan. I would have been too old and too slow for that sort of thing."

But the weight of evidence and testimony was overwhelming, the jury didn't believe his wicked lies and convicted him and the Stevensons after eight hours of deliberation, just over an hour for each person in the gang.


Janet Stevenson Pleads not guilty and then implicates herself.
Giving evidence, Janet Stevenson implicated herself by telling the court how the plotters had concocted two plans to snatch the child from foster care - including one involving a secret compartment in a horsebox. She remained faithful to her religious beliefs throughout the trial, her standpoint seemed to be that she was so certain of the child being harmed by Satanists that she didn't see the kidnap as a crime and her first responsibility was to God and not man's laws. This is a common psychology amongst fundamentalists.

Stevenson admitted asking friends in northern France to look after documents which were to be given to Hill, if she made it over the Channel with Child-X. Stevenson believed she was on a "rescue mission" to save the child from their "Satanist" father. Stevenson said she believed Child-X was about to be returned to his father to suffer more Satanic Abuse. She claimed to have seen drawings which made her think Child X's father was a Satanist. The police looked carefully into these accusations and found them baseless.

Stevenson rationalised her evil act by saying;

"People during the Second World War, who were trying to smuggle children out of concentration camps in suitcases or bags, put themselves at risk that they would be shot by the Gestapo. "I could not turn my head the other way and say 'It's not my child. I don't care'. "I did care. I cared passionately that the child should be safe."

Obviously there is no comparison between Jewish children who were destined for extermination in gas chambers under the NAZI regime, and a child who was safely under the protection of Social Services in Britain, who living happily with a recognised foster mother, and whose life was not at risk, but this is the extreme way these evangelical believers in SRA pitch their arguments.

The prosecutor asked Stevenson if she considered that taking Child-X had been in her view a "rescue mission". It was a leading question which would incriminate her but Stevenson replied that it was. "It was an offence but it was morally right because they were saving children. She added;

"I would say safeguarding a child overrides that. I would not say it's a criminal offence."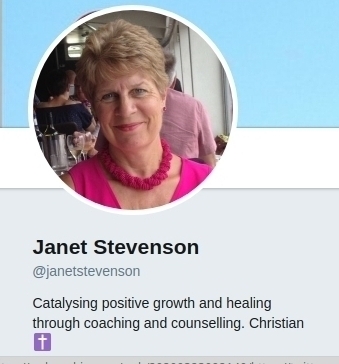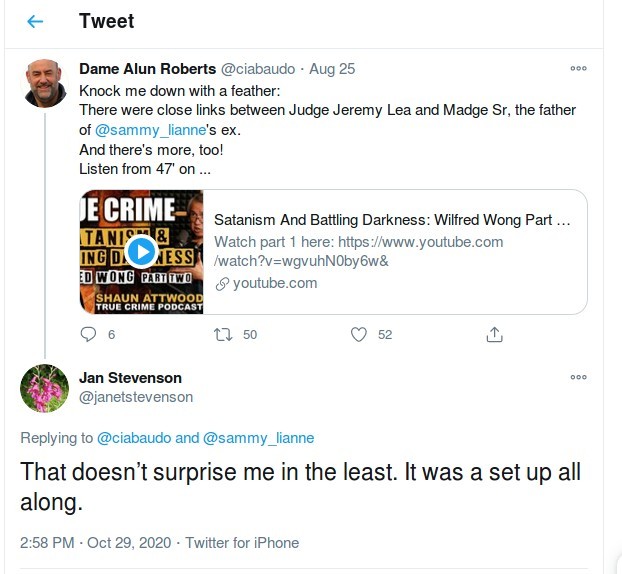 But is Janet Stevenson the caring Christian do-gooder she portrays herself to be? No she is not. Although outwardly a lover-of-light with a business called Train2grow consultancy, and a long track record of helping disturbed folk there is another not often seen aspect to Stevenson's character.

Her twitter account was suspended shortly after she was arrested and observers trying to find it will just get a message saying the account is suspended. However the SAFF were able to obtain a look inside that twitter account and it made interesting reading.

We firstly discovered this tweet shown alongside in a thread between Dame Alun Roberts (@ciabaudo) Janet Stevenson (@janetstevenson) and Samantha Baldwin (@sammy_lianne) in which false accusations of corruption are made against Judge Jeremy Lea who oversaw the court ruling against Samantha Baldwin who has been viciously attacking her ex-husband for years to get her kids back, but only relatively recently began making claims of Satanic Abuse against him. Baldwin runs a 'survivor group' called the 'Free Our Children Movement' which encourages estranged mothers to take action to get their kids back from the courts. Baldwin is in close touch with Janette Archer, Wilfred Wong and many others in the Christian Vigilante movement.

It should be noted that @ciabaudo is an old-hand at false allegations of sexual abuse, having been one of the main players in promoting on Twitter the false claims Carl 'Nick' Beech and his lies about supposed child-abusers in Westminster. These included allegations that Ted Heath, the former British prime minister, had murdered children in Satanic ceremonies. A two million pound police inquiry closed in 2019 finding no truth in any of those accusations and Carl 'Nick' Beech was subsequently found guilty of perverting the course of justice and given 18 years in prison for fabricating lies which severly damaged the lives of several people.

In his eagerness to establish the idea of VIP abuse, @ciabaudo began viciously attacking anyone who repudiated the claims and formed a main player in a gang of trolls who persecuted and victimised Barbara Hewson out of her legal career by ganging up with others to try to 'cancel' her with the Law Society. Hewson died of cancer in 2020 and many people believe it was the nerve-wracking persecution heaped upon her by @ciabaudo and his gang which caused it.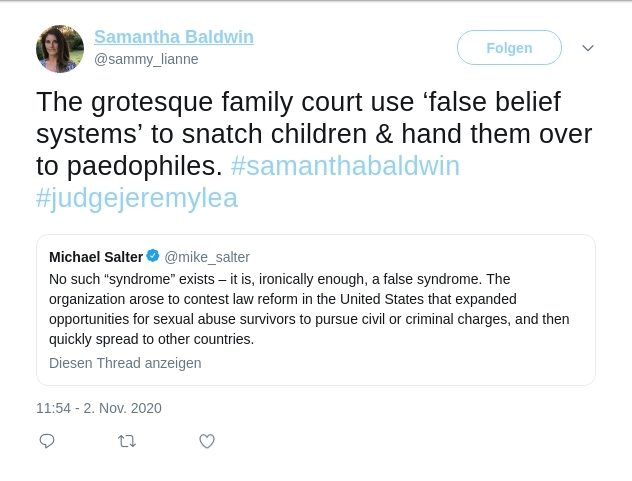 Yes dear reader, these people who are so morally correct rushing to protect children whom they say have been abused by imaginary Satanists become vicious extremists at the drop of a hat when the facade of 'caring' soon vanishes.

One of the major promoters of the idea of Satanic Ritual Abuse is criminologist Mike Salter, a Canadian academic who regularly lectures on SRA and who considers that all the 1990 claimed SRA cases, which failed when they got to court, would today be found true! It is people like this who manipulate the minds of rank-and-file fundies and encourage extremism.

In one of Janet Stevenson's retweets we see a tweet (see right) from Salter with the fake news that False Memory Syndrome is not a proper syndrome and that it was invented by pro-paedophile lobby to block law reform on sexual abuse. That is utterly untrue of course. Academics at the British False Memory Society have done sterling research work over three decades to show how debatable therapeutic methods used by fundie counsellors and feminist therapists actually create false memories in the minds of patients who come to them. Just like Janet Stevenson did with Anke Hill. Note that the this retweet was another retweet of a retweet by Samantha Baldwin.

What you may not know is that the SAFF have tried to engage both Michael Salter and Samantha Baldwin independently in a discussion on their claims but in response both Baldwin and Salter have blocked the SAFF to disable that discussion and keep their fundamentalist followers in the dark. That is what we mean by fundie manipulation. Again this tweet concerns the fundie 'received wisdom' that the courts are run by Satanic Abusers. One can imagine that after soaking-up thousands of bits of propaganda like this which are utterly false, Stevenson could glibly challenge the court and say that Kidnap is not a criminal offence.

The SAFF have tried to engage both Salter and Samantha Baldwin independently in a discussion of their claims and both Baldwin and Salter have refused to discuss them and blocked the SAFF to disable that discussion.

Others have similarly tried to question and challenge Mike Salter's prejudiced and criminally incorrect conclusions but he ducks and dives to avoid any debate - you can see about Salter's background and activities here: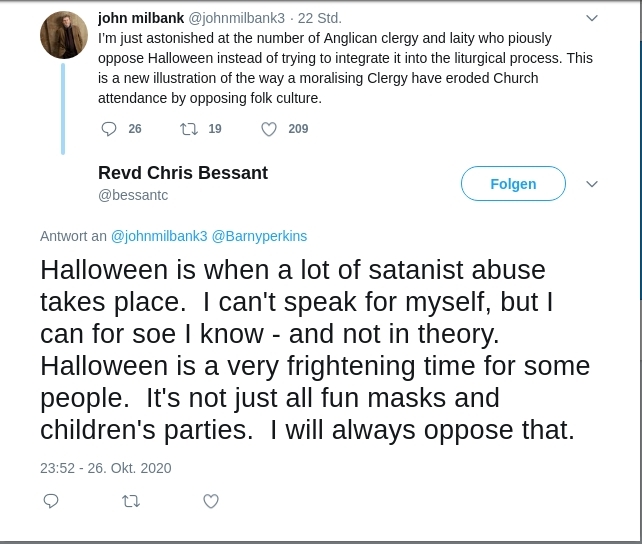 Janet Stevenson's Twitter timeline has many Baldwin retweets and likes. Stevenson is obviously firmly connected to the Christian Vigilante circuit. She regularly tweeted against abortion and other fundamentalist dictums. Note well that her Child-X kidnap took place on November 4 just after Halloween.

The SAFF have many times emphasised the lunacy that fundamentalist Christians attach to Halloween. ( Here is a massive analysis of the way that fundie extremists linked to Wong have over the years propagandised Halloween to make it appear that it is 'the prime festival of the Satanic Year' when it is nothing of the kind.)

Stevenson sucked-in these Halloween lies and obviously believes in them, having tweeted about Halloween as being a Satanic festival (which it isn't) In the lead up to the November 4 kidnap.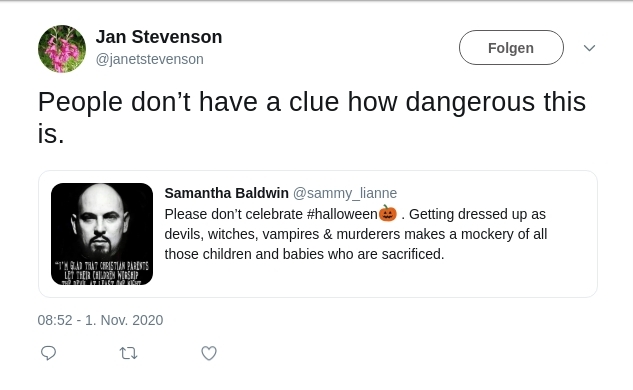 See pics alongside which show Stevenson expecting Satanic crimes against children to occur at Halloween. Of course none did. They never do. Good job the SAFF researches, records and analyses all this stuff over the years so we can show how false the fundie claims actually are! On the 1st of November 2020 three days before the kidnap, Stevenson tweeted blaming Amazon for selling Satanic Products!



Stevenson sucked in these lies and obviously believes in them, having tweeted about Halloween as being a Satanic festival seven days before the November 4 kidnapping attempt.



Look at this;
'Wilfred Wong is perhaps the person who knows more about Satanic abuse than anyone else in the world' - Jon Wedger being interviewed in a video streamed on-line.

The combination of Wong acting as a 'world expert' on Satanic Ritual Child Abuse, and being promoted as such by his friends in the fundamentalist cadre added to Janet Stevenson's authority as an established counsellor of distraught victims who pretended to be qualified to confirm Satanic Abuse in cases which Wong brought to her, was the crux of the kidnapping of Child-X. Stevenson is as responsible as Wong.
Mr and Mrs Brighton

However during the trial a new strand in the story opened up when it was revealed that Wilfred Wong and Stevenson had attempted to kidnap the child four weeks earlier than the date of their crime by inveigling two other people into a different kidnap plot which was eventually dropped.

A Brighton man, was called to give witness at the four-week trial (He could not be named because his wife suffered abuse as a child and was under court protection). The jury heard that, like Anke Hill, the Brighton couple had researched abuse on the internet and found YouTube videos made by Wilfred Wong. The Brighton man said:

"The topic he spoke about was Satanic ritual abuse."

The prosecutor Anna Pope asked him: "You and (your wife) watched them and they gave your wife some help?

"Yes, some understanding."

The court heard the couple met Wong several times and they met again at their home on 16 October 2020 to discuss a "secret" proposal by Wong. Wong said:

"He said he had been working with a woman in Wales for some time and very soon a child in foster care was going to be given back to their father, who is a Satanist, and he (Wong) wants to rescue the child."

The Brighton man said Wong wanted him to hire a van in Brighton, preferably a Luton van, which has a large area above the cab, and drive to Surrey. There, the van would be loaded up with furniture, and some void or space in the vehicle would be formed to accommodate a woman and a child.

"After that, they would leave Surrey and drive to a bridge in Wales - I assumed it would be the Severn Bridge. And then the (woman) and child would come in a car and be put in a van.

"I'd have to drive to a port on the south coast, probably Newhaven. Then we would get a ferry from Newhaven - which only goes to Dieppe - and drive to another location." "I said (to Wong) 'What if I got stopped by police'?"
Wong told him:

"You just tell them that you didn't know, that you are just delivering furniture and will be paid a few thousand pounds at the end - as part of my story."

The Brighton man said: "I was shocked. The whole scheme was racing through my mind."

But when Wong had left he said to his wife: "This is crazy. It's kidnapping. It's abduction. I'm not doing it. It's against the law."

Two days later, Wong rang the Brighton man to press him for his answer. Mr Brighton man said he knew for a fact officials check hulls, vehicles, bicycles and motorbikes and may use dogs and heat seeking equipment too.

"Wilfred tried to reassure me that everything would be alright. I said 'I'm not doing it'."

Several weeks later, the Brighton man said he saw on the news that several people, including Wong, had been arrested. He googled a North Wales website and found Wong had been "arrested, charged and detained". The Brighton man said he recognised Wong and another kidnap conspirator, Janet Stevenson because Wong had recommended Mrs Stevenson as a counsellor for the Brighton man's wife, he said.




Wong had recommended Mrs Stevenson as a counsellor for the Brighton man's wife, he said.



Clearly Wong here was the ring-leader in this serious crime. He attempted to recruit gullible and vulnerable people whom he had control over through them coming to him for his supposed expertise on Satanic Ritual Abuse. They were drawn to him through his dramatic and shocking video streams which other Christians had mirrored and supported. Obviously the implication would be that assistance from Janet Stevenson and Wong might be terminated if they didn't do what Wong asked. That is a kind of blackmail but the Brighton man stuck to his guns even though his wife had suffered such a 'transferrance' that she wrote to support Wilfred Wong and prayed for him afterwards!

After The Brighton couple had declined, Wong organised the second plot which included new conspirators who were all eventually caught by the police.


Wong's Wicked Attacks on Stella Creasy MP
Wong is a rabid anti-abortion activist who runs the infamous CBR.
What did not come out at the trial, is that Wong is a leading member of the fundie anti-abortion lobby. He helps run the CBR organisation (Centre for Bio-Ethical Reform) a well-funded and well connected evangelical group which in 2019 viciously attacked MP Stella Creasy for her support for women's abortion rights under the hashtag '#StopStella' .

Their terror tactics on line were bad enough but also involved putting up a disgustingly graphic abortion poster outside her constituency office and protesting there. The CBR has taken other strong-arm action typical of these fanatics in the past, which are outlined in this ByLine Times article here:

https://bylinetimes.com/2020/11/20/extreme-anti-abortion-groups-new-missional-network-of-pregnancy-support-revealed/




Note: Double click on all our images to get a larger version to read.



You will note that ByLine Times makes it clear that the myth of Satanic Ritual Abuse has been tagged onto the anti-abortion activists agenda because, though utterly false, it carries the emotional charge and shock-value which turns a direct debate about women's rights into a crusade against Evil, easily inflaming law-abiding people to take the law into their own hands. We remind readers of the murder of Dr Gunn, an obstetrician, in the U.S, who was shot dead from behind outside his clinic by an anti-abortion activist.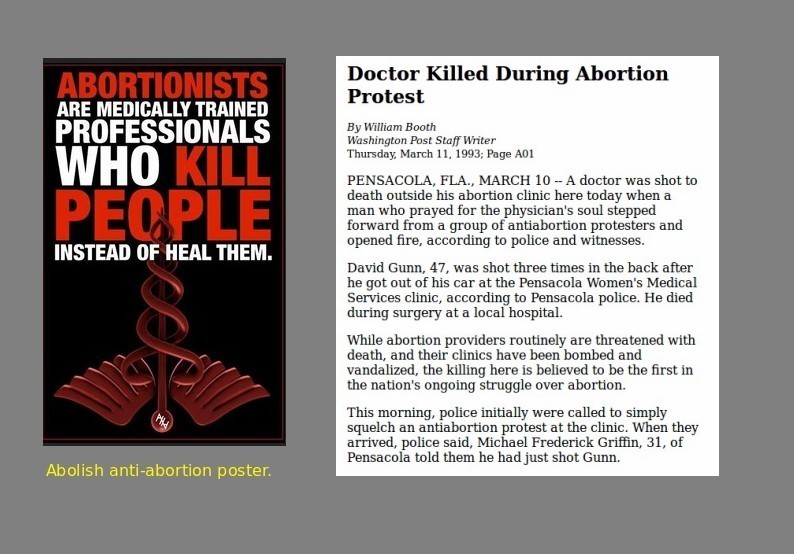 Note: Double click on all our images to get a larger version to read


Sentencing:

Ringleader Wilfred Wong sentenced to 19 years in prison.

Of the eight people involved in the Gang one, Robert Frith, was dead and three others had plead guilty. Half of the conspiracy had realised the gravity of what they had done.


The four who plead not-guilty and were tried are: Edward Stevenson, 68, and Janet Stevenson, 66, a charity counsellor, ( both of Parnell Close, Maidenbower, Crawley, West Sussex), Karren Natasha Sawford, 47,( of Walthew Lane, Holyhead) and Wilfred Wong, 55, ( of Pied Bull Court, Galen Place, Camden, London). After the trial the sentences were:



Wilfred Wong- 55, ( of Pied Bull Court, Galen Place, Camden, London) -
"Conspiracy to Kidnap " Found Guilty after Trial 23/07/21
Have a blade/article which was sharply pointed in public place - Found Guilty after Trial 23/07/21.
Sentence: Total 19 years and 6 months. 17 Years for conspiracy to kidnap plus a further 2 years and 6 months for the use of a knife, the latter to run concurrently. He will serve 17 years in gaol.

Janet Stevenson - 66,
A charity counsellor, (Parnell Close, Maidenbower, Crawley, West Sussex) "Conspiracy to Kidnap" Found Guilty after Trial 23/07/21.
Sentence: 15 years.


Anke Hill - 50,
( of Holyhead ), "Conspiracy to Kidnap" Guilty Plea 07/12/20.
Sentence: 14 years and 5 months


Edward Stevenson - 68,
(Parnell Close, Maidenbower, Crawley, West Sussex) " Conspiracy to Kidnap" Found Guilty after Trial 23/07/21.
Sentence: 8 years.

Jane Claire Going-Hill - 59,
( of Pump Street, Holyhead). "Conspiracy to Kidnap" Guilty Plea 07/12/20.
Sentence: 4 years and 5 months


Kristine Ellis-Petley, 58,
of Ffordd Tudur, Holyhead,"Conspiracy to Kidnap" Guilty Plea 16/02/21.
Sentence: 4 years.

Karren Natash Sawford 47,
( of Walthew Lane, Holyhead) "Conspiracy to Kidnap" Found NOT Guilty after Trial 23/07/21.
Sentence: Freed

Robert Frith - 65
Former psychiatric nurse of Tyn Parc, Holyhead, "untried, died in prison prior to trial".

Fundamentalist Abduction Gangs

Now most onlookers will think that the abduction of a child is a shocking and uncommon crime but SAFF research shows that fundamentalist Christians have a long track-record of 'escaping children' from custodial parents after the other parent makes false allegations about abuse. The following is perhaps the most recent case here:


https://www.thesun.co.uk/news/14721038/qanon-kidnapping-own-children-paedophiles/



where three U.S. fundie Satan-Hunters who believe in very much the same world-view as Wong and his gang, travelled to France to abduct children whom they wrongly believed were to be victims of blood-drinking Satanic Rituals.

Although Wong's child abduction gang is thought to be the first in the UK, the incidences of child-abduction on behalf of parents making false abuse allegations against custodial spouses in the U.S. have achieved almost epidemic proportions.

This report below shows over 5,000 children were abducted by 'gangs of more than four people' working collectively.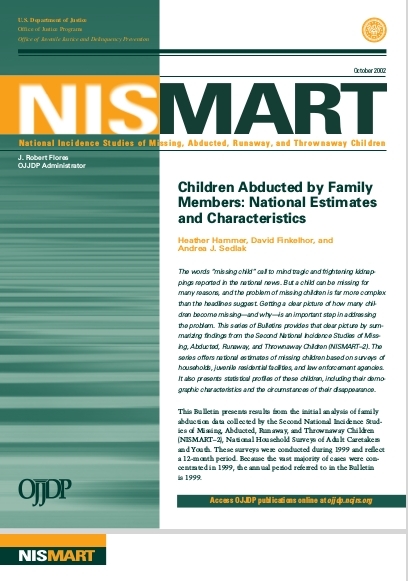 Flying Squads of Christian fundamentalist do-gooders feel they have a right to interfere to 'free' children from suspected Satanic Ritual Abuse groups but in every single case these suspicions have turned out to be invented by one parent to damage the custodial situation of the other.


Fundamentalist agitators who have formed a campaign to support Wilfred Wong's illegal actions were actually rallying their troops and networking on social media to encourage the establishment of abduction flying squads as a defiant response to the courts' treatment of their hero Wong whilst he was awaiting trial . One of them, Janette Archer actually called for a Revolution to take down the government itself. Their actions show clearly that they are willing to ignore laws and martyr themselves for this imagined problem and don't care what the courts say.

Every sensible and informed person knows that these fundamentalists have been trying to sell the public the lie of Satanic Ritual Child Abuse since the Satanic Panic of the 1990s which, ironically, Wong played a key part in, and have not been able to produce even one case to prove it exists in three decades of trying.

The Child-X case was similarly a false allegation. They are ALL false allegations because despite fundies scouring the world for cases for three decades there has not been one instance proven through the courts. It is a figment of the minds of religious fanatics like Wong.



In other words these people put Holy Writ before the law of the land and will not desist from interfering in the family courts and despite the Wong Kidnap are almost guaranteed to undertake more abductions in the near future.



We sadly, expect there now to be a rash of similar abductions backed by false SRA allegations as a new crime fad which will soon beset this country. This is in fact the new initiative in the fundie war against womens' abortion rights.

You have been warned.

Ends.

By Tony Rhodes and John Freedom:
Mortlake Lammas 2021





NEWS REVIEW: The Sunday Times 3rd October 2021 Page 26
The Child Abductors who believed they were saving a boy from Satan
A shocking case in Wales shows that. 40 years after the first scare stories, 'satanic panic' never went away , says Rosie Waterhouse

It must have been the most bizarre trial judge Nicola Jones has ever presided over. Last Thursday at Caernarfon Crown court in North Wales , she jailed six people for conspiracy to kidnap a child, at knife point in broad daylight, who apparently believed they were "rescuing him from a Satanic cult" on the Isle of Anglesey.

One of the kidnappers was a north London lawyer, another a Christian charity counsellor. The kidnappers were arrested last November after they abducted an eight-year-old boy from his foster mother who had just collected him after school. The court heard that Anke Hill 51, grabbed the child, while Wilfred Wong. 56, a non-practising barrister, held a knife to the face of his foster mother until, "screaming and hysterical". she let the boy go. The kidnappers drove off with the terrified youngster as two other women acted as lookouts on the bridges linking Anglesey to the mainland.

The kidnappers were intercepted four and a half hours later by police in armed response units on the M1 in Northamptonshire more than 150 miles away.

The court heard that the gang believed that the boy was being subjected to so-called Satanic Ritual Abuse by a cult that supposedly included the child's father. Police established that no such cult exists.

The trial was held in secrecy and its details are protected, but what we do know is that in late 2019, Wong was contacted by Hill. She lived on Anglesey and claimed that a child in foster care was the victim of Satanic Abuse. Police investigations found no evidence of this but Hill continued to pursue the allegation; she and Wong spent hours on the phone to each other, billing records showed. Wong put her in touch with Janet Stevenson, 67, a counsellor who specialises in working with victims of "satanic abuse".

The three cooked up an elaborate plan with five other suspects (one was found not guilty; another, Robert Frith, 65 was discovered dead in his prison cell not long after his arrest). It involved code-names and a clandestine rendezvous. They decided to kidnap the boy on his way home from school. After the child was wrestled out of his car seat, Wong slashed one of the car's tyres to stop his carer from following them.

The judge pulled no punches. Addressing Wong she said: "You purport to be an expert on Satanic ritual abuse. You have interviewed vulnerable victims yet have no training or qualifications in this respect." In her sentencing remarks she added: "Your actions have caused unspeakable misery and harm to [name of child redacted], his father and the foster family...[Name of child redacted] may never psychologically recover from the harm caused". The boy is due to be reunited with his father.

The case is the latest example of the resurgence of a phenomenon that has become known as "satanic panic" - a baseless belief that children are being abused for satanic rituals. It first emerged in the 1980s and led to allegations of abuse around the world. Now, in a climate of heightened paranoia and conspiracy, it is back with a bang.

The first known reference was in the publication in Canada in 1980 of a supposed true memoir entitled Michelle Remembers. The Authors, Michelle Smith and Lawrence Pazder (her therapist, whom she later married), relate how after a miscarriage and 200 hours of therapy, she remembered appalling child-hood abuse by a murderous, satanic cult. Published in the UK in 1981 the book became an international best-seller, but has since been convincingly debunked.

Nevertheless, the idea of satanic ritual abuse spread, notably among fundamentalist Christian campaigners, anti-occult police, social workers and childcare professionals. It reached the UK in the late 1980s and was spread mainly in evangelical Christian circles and among police and social workers. A case of multi generational incest in Nottingham in 1989 [SAFF edit: full background to the Broxtowe case here: http://saff.nfshost.com/broxtowe.htm ] leant credibility, as social workers became convinced there was a satanic element to the abuse. The police disagreed.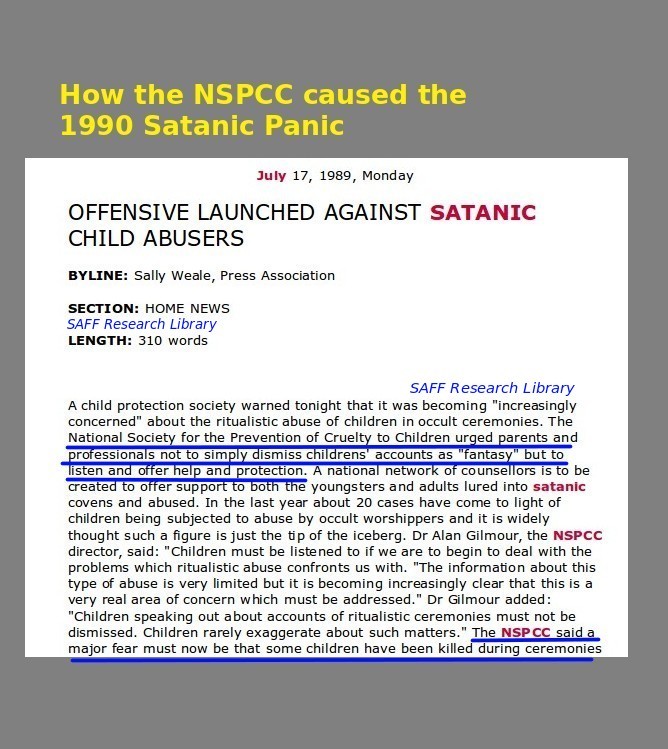 In March 1990 the National Society for the Prevention of Cruelty to Children used a press conference for its annual report to proclaim the existence of a new and terrifying form of child abuse: satanic ritual abuse, or SRA as it became known. Reporters were briefed that children were being subjected to unspeakable acts -forced to drink blood and eat faeces, raped, tortured and murdered and that babies were being bred for sacrifice by Devil-worshipping paedophiles.

I have been reporting on satanic panic for 30 years and have investigated the origins and spread of these lurid claims, interviewing detectives across the UK. They could find no convincing forensic evidence of the existence of SRA – no bodies, no bones, no bloodstains. But suddenly, after the NSPCC revelation, there emerged high-profile claims of satanic abuse, notably in Rochdale and the Orkneys, and accounts of children being snatched from their homes in dawn raids by police and social workers. All ended with no evidence and no convictions – just damning reports on the actions of over-zealous social workers, convinced that they should be on the lookout for satanic abuse. Only after a UK government-commissioned inquiry published in 1994 concluded that, in the absence of any physical, forensic or corroborating evidence, SRA was a myth, did the panic die down.

But it has never quite gone away. In 1995 two workers at a council-run nursery in Shieldfield, Newcastle upon Tyne, were falsely accused of sexually abusing children in their care during bizarre rituals. [SAFF Edit: full background to the Shieldfield scandal: http://saff.nfshost.com/shieldfl.htm ]

Another example on the island of Lewis in 2004 involved eight people, including a 75 year old grandmother, who were accused of abusing children as members of a secret satanic cult. The case was thrown out on the lack of evidence.

More recently SRA was lurking in the wings of the investigation into the so-called Westminter paedophile ring, which the Metropolitan Police halted for lack of evidence. It was also there in the allegations of sexual assault made against the late prime minister Edward Heath. Among the claimants were three women who said they had been abused by people in a satanic cult. [SAFF Edit: full background here: http://saff.nfshost.com/panoramavip.htm ]

Behind the scenes, a core group of committed believers have been fanning the flames. These people, who often work in psychology and psychotherapy, network through conferences, such as annual events held by the international Society for the Study of Trauma and Dissociation. Simultaneously , there has been a growth in the 'adult survivor' movement: people who claim to have recovered memories of historical childhood sexual abuse. [SAFF Edit: history of the Dissociation therapy network here: http://saff.nfshost.com/DIDpsychiatricvoodoo.htm ]

In the UK one of the most persistent proponents of a belief in the existence of SRA is a group formed in 1989; RAINS (Ritual Abuse Information Network and Support). Its influence has spread through social media. One supporter was sentenced in Wales last week – Wong. [SAFF Edit: See RAINS' fictitious 'Helen-G List' which caused the entire VIP false abuse allegations. http://saff.nfshost.com/colemanrains.htm ]

New moral outrages have arisen alongside satanic panic. QAnon – a conspiracy theory that believes that a shadowy cabal kidnaps and tortures children using their blood in satanic rituals – has eerie similarities. Proponents of a belief in the existence of SRA have built cult-like followings and against this backdrop, Wong's profile has grown. He and his gang are presented as child-saving heroes. In the UK and America, extremists are raising funds to set up "safe houses" where children "rescued" from satanic cults can be housed.

The commitment of this gang to the belief in the idea of satanic abuse is so strong that the judge was forced to consider it in her sentencing. She concluded that Hill and Wong were the ring-leaders. Hill was sentenced to an extended sentence of 19 years and five months; Wong was sentenced to a total of 22 years.
Stevenson, the counsellor, was jailed for 15 years. The judge told her that she still had "entrenched views on the victims of satanic ritual abuse" and like Hill and Wong, there was a danger she would re offend because of this belief. Their conviction of a conspiratorial world of satanic abuse appears to be more widely held than anyone would care to imagine.

Ends.


Violent Christian Crusaders on the March
The rise of militant Christian Crusaders from the religious right is now considered a growing threat by the UK anti-terrorist police.

Up to now, the SRA conspiracyloons have occupied themselves with campaigning to convince the public about the dangers of non-Christian beliefs but their narrative is becoming increasingly strident as, time after time, their serious accusations of child murder and sexual perversion prove to be a cover for their sectarian resistance to abortion, homosexual rights, censorship of media and entertainment, and, quite frankly, racist approach to Islam.

Now however, there has developed an overlap where ex military personnel who have 'got religion' are networking to produce vigilante groups like The Grey Men, and Halo, who provide security teams for radical Christian preachers and protests.

The SAFF saw this happening as far back as 2011 when we highlighted the background of Anders Breivik the mass-killer of Utoya Island here: http://saff.nfshost.com/norway.htm .

Breivik had been afffected by the West's 'abandonment' of the Bosnian people during the 1992-1995 Bosnian War which involved mass cleansing of Moslems which European forces stopped. Breivik hoped his killing of 70 young left-wing politicians on Utoya Island in Norway would mark the start of a holy Christian Crusade to rid the West of Moslems and reimpose biblical authority.

Despite the SAFF pointing all this out in detail the security forces have spent their time instead pursuing a handful of 'Satanic Terrorists' which are small beer compared with what is to come. See http://saff.nfshost.com.danyalhussein.htm.

James Zikic, an ex Bosnian soldier with the Christian crusader mentality which spawned Anders Breivik, attended as Jeanette Archer's body-guard on several recent Anti-Satanic marches. During which Archer ranted on about starting a war on Satanists and used a megaphone outside Number 10 Downing Street to accuse Boris Johnson and his entire cabinet of being Satanists who drink the blood of children. On one of these protest marches Zikic wore what looked like a stab-vest under his t-shirt. As this call to arms gains credence amongst the fundamentalist extremists Archer has increased her rhetoric to include demands for a Revolution which takes down the British government (transcript below).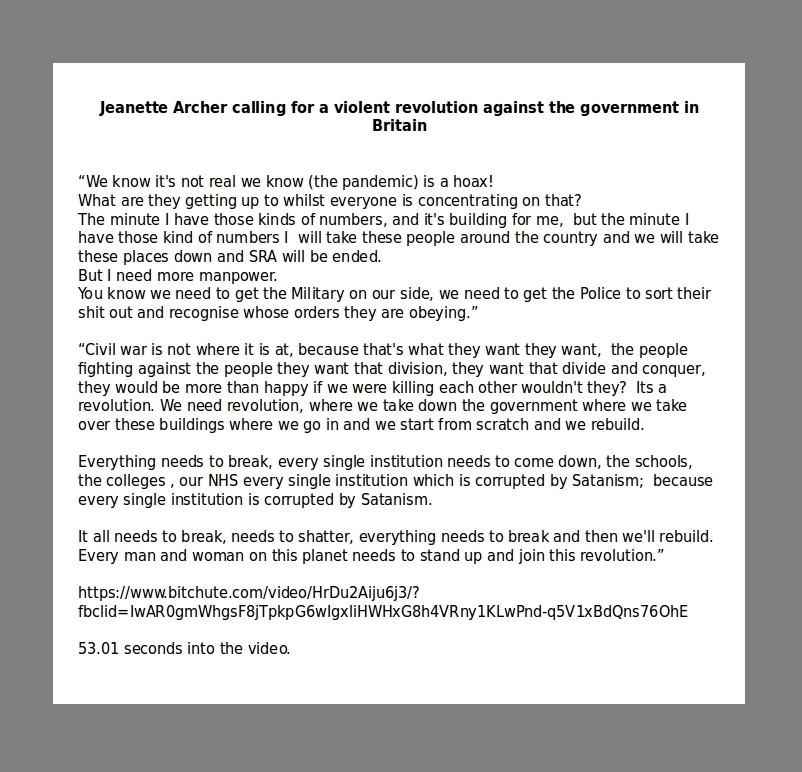 N.B. Double click the image to make it readable.


Here nr;peyou can see a video of Janet Archer,a close friend and aide of Wilfred Wong and organiser of support for him whilst in prison, talking tough about starting a war against 'satanists'; saying she will sacrifice her life and stating that Covid inoculation of schoolchildren is a Satanic Plan. Click on the image to view the 2 minute clip: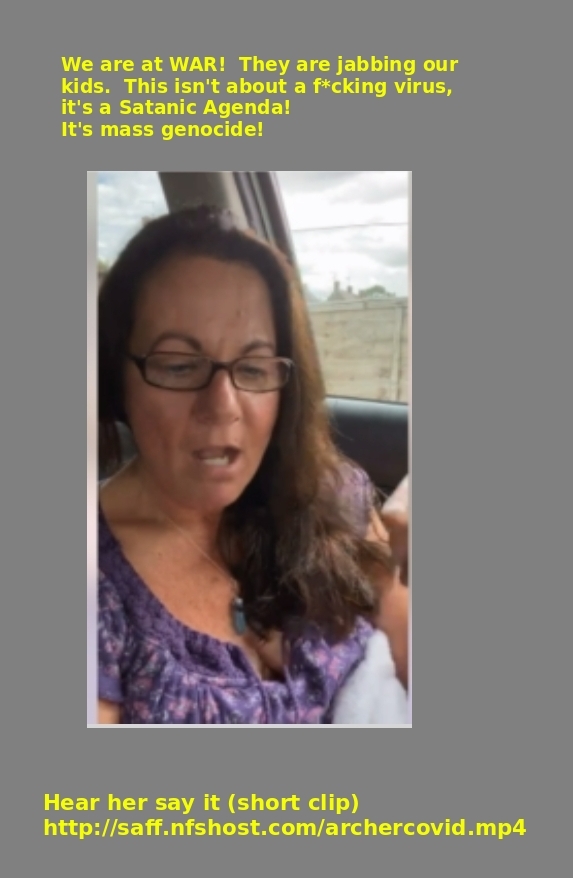 SAFF have been told that Zikic has been present as a bodyguard on Hatun Tash's meetings at Speaker's Corner where on 26th July she was attacked and stabbed with a knife.

The main news channels and authorities have made light of this saying that the forehead and arm wounds were superficial and non-life threatening, but had the knife been an inch lower it would have gone through her eye into her brain and she might be dead. The intent must have been to kill.

It is a serious escalation. Tash is a born-again Turkish Moslem convert to Christianity and directly challenges the 'counterfeit' nature of Islam in front of Moslems. You can see a full unexpurgated account on bitchute here:


https://www.bitchute.com/video/YOlaVIYArrnh/

Hatun Tash has a long record of directly and publicly challenging Moslems. Tommy Robinson attended to support her at one meeting at Speaker's corner last year and he has links with the Christian Right in the Balkans and Eastern Europe, which is historically a hot-bed of Christian vs Muslim friction. If Tash had died then reprisals would have surely occurred.

The SAFF have for decades maintained that the Satanic Child Abuse myth has always been part of a fundie campaign against abortion. The fundies assert that Satanists impregnate pubescent children in perverted ceremonies and use them as 'breeders' to produce babies which are then aborted and sacrificed so their blood can be drunk to endow Satanists with 'power'. A pseudo-scientific elaboration of this are claims of Adrenochrome, a supposed content of sacrificed children's blood. Jeanette Archer and many of her followers actually believe that adrenochrome exists.

It is all utter medieaval claptrap and no case of it has been found in the 32 years they have been pushing the idea. They are simply abominating all forms of abortion and stigmatising doctors who perform abortions as evil satanists so they can deplore them as inhuman demons and justify killing them as they did with Dr Gunn.

The complex QAnon-Pizzagate-New-World-Order beliefs to which most of this new generation of fundie activists belong is a development of the anti-semitic Zionist Occupation Government (ZOG) meme of the 1980s which itself was a development of the Jewish blood libel used to persecute Jews since the 15th century and revivified in the 1930s to power the Nazi Final Solution.

The idea that Jews sacrificed Christian children and drank their Blood in their rites was then commonplace. Swap Jew with Satanist and you have the source of all the nonsense which has occupied sick minds over the past three decades.

The SAFF have probed the history of this terrible false accusation which has unnecessarily ended the lives of millions over the years, in our expose of the New World Order myth here: http://saff.nfshost.com/nwo.htm

Norman Cohen has established that at times of high social stress those negative energies in a population create mechanisms to release it and almost universally it is the 'witch-hunt' which is used.

The European witch-hunts of the 12c and afterwards were created by the Black Death which decimated 50% of the population of Europe and brought Europe's economies to its knees. Naturally, the Church, being in total control of the lives of people at that time, blamed it on Devils and Witches and so the ignorant masses killed innocent old biddies in a futile attempt to assuage an unstoppable disease.

It is therefore not ironic that the societal stress created by Covid-19 has pushed people into irrational points of view and belief in conspiracies which don't exist. This was a double-whammy which collided with the ability of the masses to access hitherto unknown information about the way they were being controlled by Elites through old communication methods of print and broadcast media. They saw that reality was being dolled out to them in what was basically propaganda to keep the Elite's power-base going. As reality dawned the Brexit phenomenon provided the nearest thing to a revolution Britain has seen since Cromwell and conspiracy theories (many of which had a basis in fact) changed the Concensus landscape. In the cracks which occurred those religious fanatics saw 'evidence of the Tribulations', the last-battle with Satan which would herald the end of the world and whilst searching around to find examples of it their minds fixed upon the idea of the Satanic Ritual Abuse Myth.

The Christian masses have been particularly badly hit during the pandemic and the unrest that the imposition of Covid inoculations on all U.S. armed forces and government staff has caused in the U.S. The vast majority of forces personnel are right-wing Christians, precisely the ones making up that section of the populace which refuse to be inoculated. The fundie response to forced inoculation was to highlight the fact that all current Covid vaccines have been developed using the cell line HEK293 which was originally obtained from an aborted foetus and therefore it would be a Cardinal Sin to accept it, for it would damn one's soul.

To them this is more evidence of the Satanic conspiracy.

Strong Legal defences are being mounted based on constitutional religious rights and a viral campaign has crossed the net providing ready-made forms for Christian soldiers and others to fill in. This could be a fault-line not just across America but the rest of the world as well as modified forms/documents are presented to employers who insist on jabs in the UK.

To the average fundie mind-set this is just more proof of the Tribulations arriving soon; the idea that the End of the World is near. A belief guaranteed to push people into irrational violent acts and demands - as Janette Archer's outbursts typify.


The link twixt Covid and Abortion is now concrete in the minds of evangelistic Christians. To them it is Satanic Ritual Abuse manifested and proof of the immanence of the End Times. History is falling into the hands of agitators like Hatun Tash and Wilfred Wong and the loud-mouth outpourings from the likes of Wedger and Archer is being superceded by a real threat of violent Christian Terrorism.


Ends:


John Freedom: Lammas 2021