was carried out," he says, "and we found no evidence to support the allegations. In fact, we found evidence to the contrary."

But if Caroline Marchant wasn't a victim of satanism, she was certainly a victim of something.

Caroline's satanic past may have been a figment of her imagination, but the question remains: where did she get the idea?

The details of the story - ritual sacrifice, breeding foetuses, prostitution, sexual abuse, pornography - echo an American book called Satan's Underground, which has been accepted by anti-occult campaigners as a definitive account of long-term satanic abuse.

First published in 1987, it has sold 100,000 copies. Its author, Lauren Stratford, regularly appears on US television and radio shows and at seminars as a credible "adult survivor". Until recently, her book was sold in Britain by the Reachout Trust.

Satan's Underground has, however, been utterly discredited. Late last year, a small Christian magazine in the US called Cornerstone published an extensively researched article in which three co-authors concluded that the book was a fake.

"The hard evidence we have uncovered," they wrote, "and which we present here, speaks for itself. The story of Satan's Underground is not true. And the same exploited children it may have been designed to help have been cheated of the truth." Most so-called "adult survivor" books like Satan's Underground owe something to an earlier book called Michelle Remembers, sold by Reachout and also subsequently discredited. But even Michelle Remembers, published in 1980, was not the first of the genre.

Caroline's friend Sarah Polard never believed her stories, and had good reason for her scepticism. "Caroline first claimed to have been involved in satanism," she recalls, "some time after she read a book called From Witchcraft to Christ. I loaned her my copy of it while we were on a visit to Cirencester in the summer of 1986. She began to hear voices and believe she was possessed by demons."

From Witchcraft to Christ was written by Doreen Irvine in 1972. It has gone through 18 UK editions and is readily available throughout the country in the Church of England's SPCK bookshops. Like other adult-survivor books, this 188-page paper- back includes no dates, names or places which might be used to verify the author's claims of involvement in the occult.

Caroline's fragmentary autobiography plagiarises From Witchcraft to Christ in a number of key passages. Caroline wrote of her first encounter with the boyfriend who "introduced" her to his satanist family: "He explained the difference between being good and what good really was. Evil was right,.. It sounded crazy to me but I was soon brainwashed into that way of thought." Doreen Irvine's version reads: "I was taught that evil... is not wrong, but right and good. It sounded stupid to me, but I started to believe it... It was a kind of brainwashing."
Another Tragic Suicide Linked To Victim Impostering
Astonishingly the case of poor Caroline Marchant is not the only one. Some promoters of the Satanic Ritual Child Abuse Myth may have created hundreds of SRA Victim Imposters. Dysfunctional people who were lead into believing their own fantasies instead of getting proper psychiatric care. We warned the British public about this years ago but nobody listens.
On 29 June 2005 nurse Carol Felstead was found dead in her room following a course of recovered memory therapy during which she confabulated completely untrue accounts of being brought up in a multi-generational Satanic Cult. The therapists (all still convinced of the discredited doctrine of Satanic Ritual Child Abuse) believed everything she said and, without checking, immediately isolated Carol from her family.
The family's story is an astounding illustration of the way the police, the medical establishment and social workers can close ranks to deny decent people justice. The Felsteads have evidence that after Carol's untimely death one of those therapists involved in her 'treatment' actually tried to act as next of kin and have her body cremated even though she was aware of the existence of Carol's Family! They only got to know of Carol's demise by 'accident'...
You can see more of this astounding 'cover-up' here: http://www.justiceforcarol.com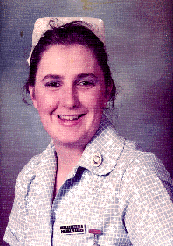 Carol Felstead: Every one of her SRA fantasies could have been dismissed with even a cursory investigation into Carol's true background but the therapists didn't bother with it.
---
Latest: Latest: Latest: Latest:
---

In another key passage, Caroline wrote graphically about her induction into the Norfolk coven: "When the time came I stepped forward up to the altar, an incision was made on my arm and some of the blood caught up in the cup with the cockerel's blood." Doreen Irvine's 1972 version reads: "The chief satanist approached, me and made an incision in my left arm, and my blood was caught in the cup that contained the blood from the slain bird [a cockerel]."

In 1987, shortly before she wrote her unfinished "life story", Caroline had met the author of From Witchcraft to Christ. She spent some time being counselled at the Zion Christian Temple at Yate, near Bristol. One of her tutors was Doreen Irvine.

Doreen Irvine provided one obvious source of Caroline's fictitious life as a satanist. What led her to make these claims?

All her friends at the time recall that she changed during her year at Park Farm. Always somewhat moody and difficult, from 1985 onwards she became depressed about her inability to find security in her life and her interest in Christianity grew more obsessive. She could neither hold down a job nor sustain any long-term relationships. She was regularly taking powerful tranquillisers.

The main shelter and support Caroline received was from evangelical Christians. Her tales of a satanic past were an effective way of bonding herself to this group. They were happy to believe her stories and, so long as they remained gullible, Caroline was happy to continue concocting them.

But the lies were to trap her. Caroline told Sarah and others that she hated living in the "healing ministries", with their strict regime of Bible studies. If she had told the truth about her uneventful life, however, they might have thrown her out.

The agony of Caroline's dilemma is clearly revealed in the diary she wrote at Easter 1988, while living at the Merriefield Christian centre in Eastbourne:

My old ways are still here. I'm really in for it. My heart is still so black & how can I deceive Christians. Jesus I don't know what to say to you, you know my heart, I don't [...] Jesus its Good Friday tomorrow & how can I possibly be true? I feel so guilty. I'm a traitor to you. Have been here 8 wks.

She was to carry the burden of this guilt for a further two years.

In Mid-1988, Caroline went to live with Peter and Mary Cole, members of the evangelical Christian network who offered her a home at their farm in the Wiltshire village of Grittleton. But as the months passed, her presence in the household became a constant strain.

By the end of 1989, Caroline was suffering from clinical depression and was taking increased doses of tranquillisers. She spent much time in her bedroom, with curtains drawn, smoking heavily, refusing to eat. She and Mary Cole — who later told police that she and her husband grew "tired of her manipulation" — had resorted to communicating by writing letters and posting them under the door. On Monday 18 December 1989, Caroline received a long letter requesting her to fulfill certain conditions — to cut down on pills and cigarettes, to take exercise, eat properly — as a condition of being allowed to stay in the household.

The second page of the letter consists of a check-list: Top of next column

1. GOD LOVES YOU - SO DO WE.
2. GOD HATES SIN - SO DO WE.
3. AS CHRISTIANS - we are not to tolerate or give room for sin, evil or demons THEREFORE THEY HAVE TO GO.
4. HANNAH - IS WELCOME HERE - the evil spirits in you ARE NOT. One way or another they have to leave. Only you have the solution. Like CAIN you are concealing your sin & GOD IN CHRIST can only forgive those who confess their sins. YOU MUST MAKE A DECISION.
1. Either you confess your sin & stay OR
2. Like CAIN, you will be cast out to be a wanderer & fugitive all your life... you can only return here if you are prepared to confess everything to Maureen [Davies] and to RENOUNCE SATAN AND ALL HIS WORKS.
Being "cast out" and living as a "wanderer & fugitive" may have seemed to Caroline like a description of her life to date. Now she was being told that it was possibly all she had to look forward to.
The "satanic past" invented to please her Christian friends was beginning to rebound on her. What else could she "confess" - more "ritual satanic abuse"? Yet if she admitted inventing everything, she risked being thrown out of the Coles' farm.
As Caroline turned over the page, she was in for another shock. Under a heading "THE KINDNESS & SEVERITY OF GOD. ROM. U.22", Mary Cole spelt out what Satan had done for Caroline:
He has stolen your youth, your beauty, your figure, your mind, your education, your ability to handle your life, your money, your parents, your family relationships, your children. He has made you an instrument of death, murder and destruction..."
Having lived with her for 20 months, Mary Cole knew that Caroline Marchant was a deeply disturbed young woman, in desperate need of positive help and encouragement. Above all, she had to discover self-esteem and emotional independence. More than four years after having "found Jesus", Caroline was being told that she was still "an instrument of death, murder and destruction". From her bedroom, she wrote a long reply including these passages:
The pills do help... otherwise I would be even more of a mess emotionally. [... ] At certain times of the year as much as I try I do drift back into the old ways (not in evil) but emotionally the memorys of activities, the guilt and what certain things mean at certain times of the year, the force of nature etc. [ ... ] It's not easy opening up & I've already said ile try and see this lady from Reachout...
Oh Mary I wish you were my mam or some relative then I could come in your room & ask you things. I wouldn't be frightened of sharing & there would be that natural love there. I wouldn't be fearful of making the wrong. move... and wondering if ile get chucked out..
CAROLINE got in touch with "the lady from Reachout" - Maureen Davies - by telephone and recounted her story.
Following Mary Cole's ultimatum, Caroline had moved further around the network, going to stay with the Rev Tony March, vicar of St Luke's, Brighton, and his wife, Gill. From St Luke's Vicarage she wrote to Mary Cole, describing a call she had received from Reachout's director:
Maureen phoned me last Thursday [probably 18 January]. She has got me a solicitor. She's going to send me more information on him. She has six other people that she is hoping will try and speak to him. He's willing to fight even if it takes him more than two years and his reputation is ruined with it.
It will be taken to the highest court in the land with him as our mediator. He is a Christian... His name is Marshall Ronald. Maureen has given me his phone number. He reckons to get me compensation not that I deserve it. I really hate myself for what I've done and I'm not sure that it will ever go.
I'm praying and feel that my life when exposed will give evidence of some top S [Satanists] and know that I will be in real danger then, but I'm praying God will help me..."
Later in the letter, Caroline wrote about a visitor to St Luke's:
I had Chris League [of Reachout]... come and see me the other day (Maureen wanted her to) to give me an interview so that Chris could have more information on what goes on.. .It was hard and very painful but I tried my best...
It was not until 11 or 12 February that Caroline and the Liverpool solicitor finally spoke on the telephone. Marshall Ronald wrote a short note about their conversation. In it he says that Caroline:
.....had been involved in Satanic rings from the age of 13 to 21. She can tell me information about recruitment, snuff videos, political hierarchy systems, places of rituals, Satanic financing etc.
She is very difficult, devious. She has been involved in a significant amount of child sacrifice including her own child. She has also been involved in arms involving the IRA, Baader-Meinhof, Libyan connection. Lined up dates for provisional debrief on the 2nd 3rd March or alternatively 30th and 31st March...
I was quite tough with her on the telephone on the basis that she is very dangerous indeed. The debrief although taking place at MR's house she will sleep elsewhere for security reasons...
On 12 February, Ronald wrote to Maureen Davies confirming dates for his meeting with Caroline. He asked Davies to supply as much information as possible so that he could "de-brief and effectively interrogate" Caroline.
Caroline had been struggling to learn more about satanism, borrowing videos and books. She made incoherent notes trying to turn the myth of her past into evidence that would stand up to cross-examination in a court of law. But she did not live to attend Marshall Ronald's "de-briefing". She cut short her unhappy life only days before their appointment and within hours of arriving at Kevin Logan's vicarage.
Angela Porter's words convey the angry disbelief of Caroline's friends: "Caroline wasn't a satanist. She was a Christian. When we were at Border House Stables, she was the one who always insisted on going to church every Sunday."
Such a protest may have come too late. The story of "Hannah" has already joined the growing mythology of contemporary anti-satanism.
The End